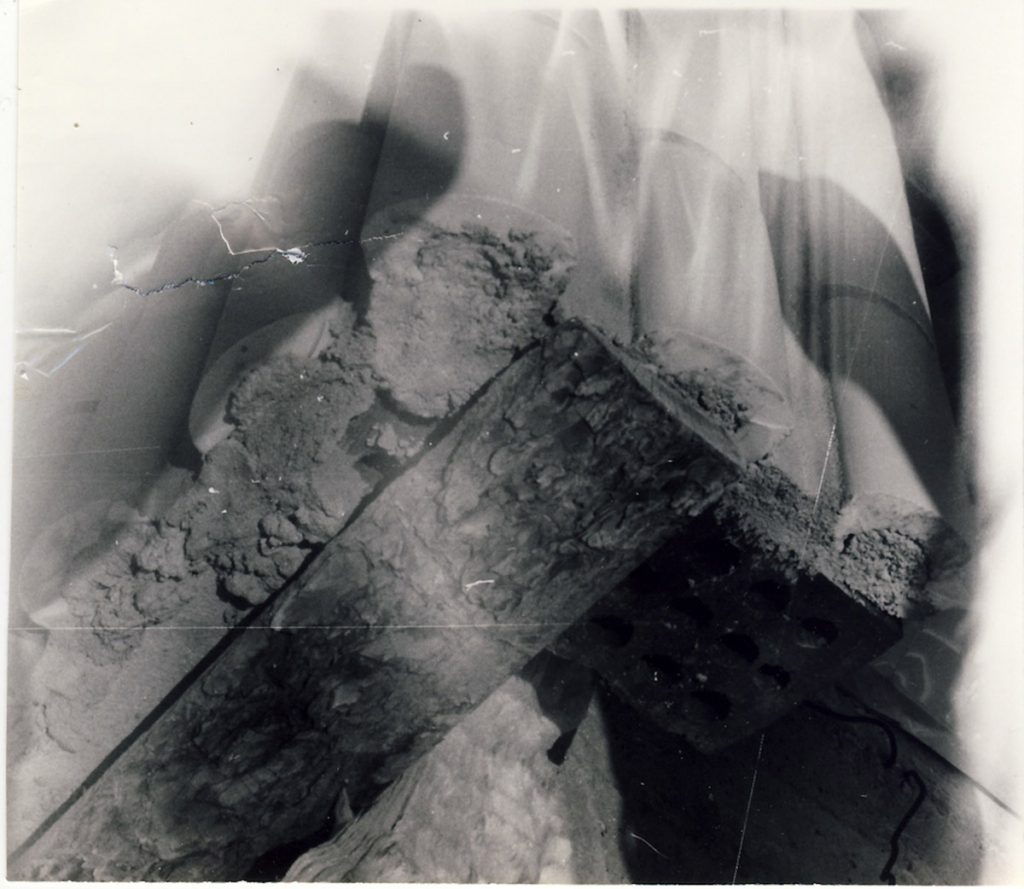 Both Aalto's ceramic pieces enter the study of my father in 1974 after his viaje1 to Finland. He had thirty eight years, I had nine, and it would be late some others in knowing of his creator, but since then the Finn occupies a place emphasized in my architectural being.
The pieces are of perfect invoice, carefully proportionate, smooth and strangly sensual in his forms. They are beautiful.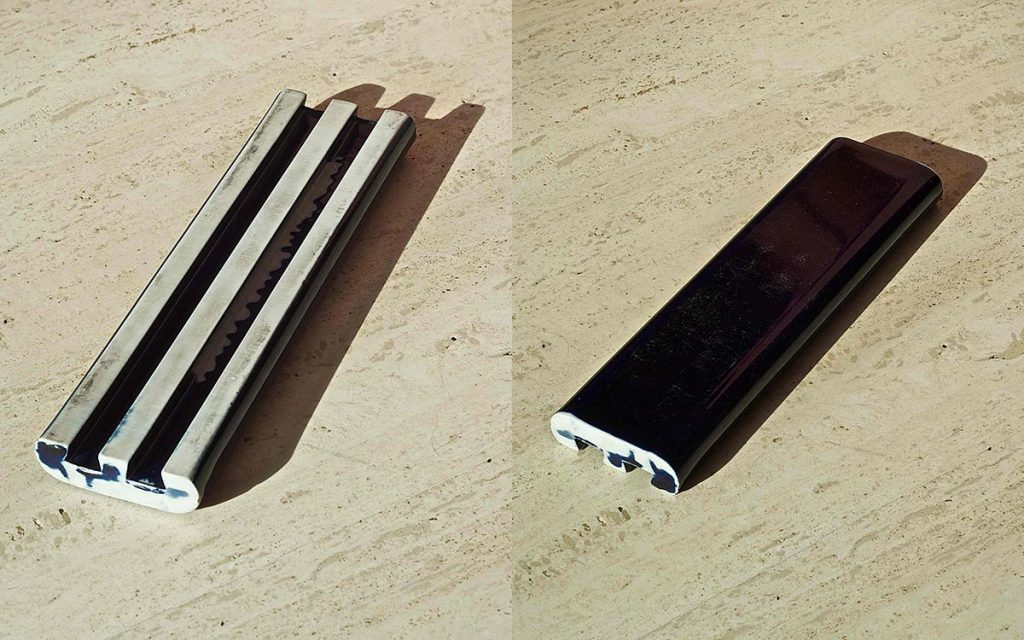 Both come from Rovaniemi's Lappia Hall, more concretely from the building of the theatre, for then in construction. Also they can think, the same ones or variations of them, in other buildings that they compose the civic set projected by Aalto like great civic piazza in 1963: the town hall, the first one in there being projected (1963-66) and the last one to (1985) be constructed; the library, the first one in (1965-68) being constructed and projected after that of Seinäjok; and the theatre, the Lappia Hall, which includes also the studies of radio and music, and whose project develops in two phases, between 1969-72 (the studies of radio and music) and 1972-76 (the theatre).
The ceramic pieces are the covering of the fronts, formed by a combination of ceramic white semicylindrical pieces and flat so called Halla pieces, the Finnish word for frozen. All of them made by the house of Finnish porcelain Arabia2. Aalto refers to it in the memory of his museum in Jyväskylä (1971-1973).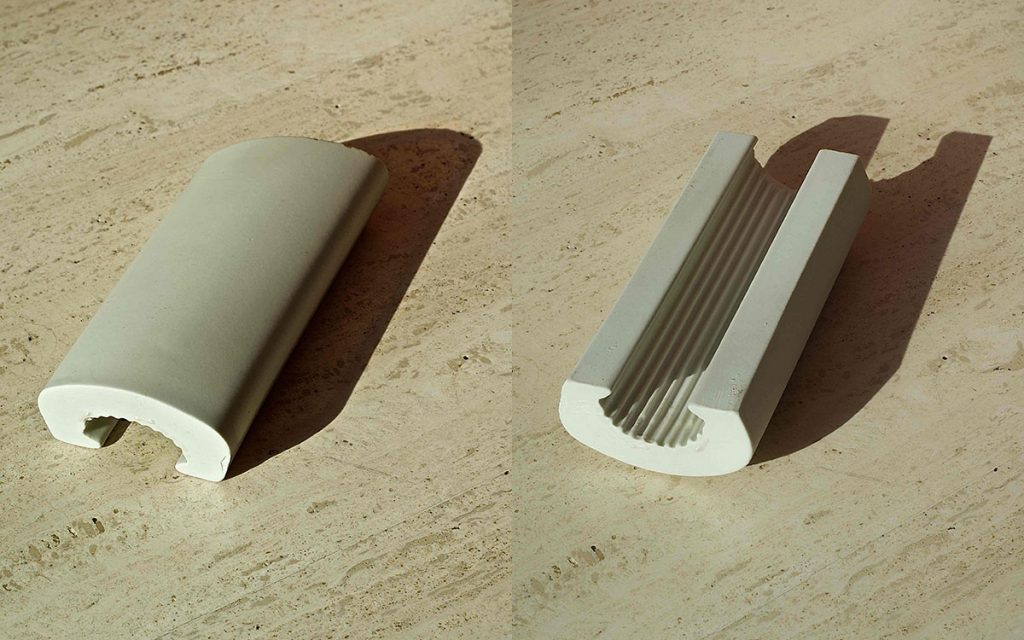 Both pieces are different, enameled in blue cobalt, page and with rounded edges one; and white, dull and semicircular other one. Though they are different both possess the same relation of family that makes them recognizable. Both transmit in his forms don Alvar's elegance, carefully up to the details, his dimensions, form and design, reflect it. It is difficult not to think about them as in small you divide completely that understands the totality of the work of the Finn.
Jorge Meijide . Architect
Coruña. November 2017
P.D: Some day I think to plant them, as if of seeds of it was treating, to seeing if me a small Aalto grows in the garden … but I am afraid that not.
Notes:
1 In the suitcase also a knife was coming of I Block Wirkkala signed in the leaf and with a case of leather, which was what really fascinated me and not these two "tiles". Today I have it in a showcase (the pieces are in the altar …).
2 From the same house Arabia came in the suitcase.
Brief text for TectónicaBlog asked for C. Quintáns to the thread of two pieces of ceramics of To. Aalto. September, 2011, checked in November, 2017.
Arquitecto por la ETSA de A Coruña desde 1991. Colabora en el estudio de Juan Navarro Baldeweg entre 1991 y 1992. Máster de proyectos integrados por la fundación camuñas, madrid 1992. A la vuelta A Coruña se incorpora al estudio de su padre, Carlos E. Meijide Calvo con el que trabaja hasta 2001. Desde 2004 hasta 2009 colabora con los arquitectos Patricia de Marichalar y Fernando Martínez. En el año 2009 forma, junto con Patricia de Marichalar meijidedemarichalar arquitectos.
Desde 2014 trabaja en solitario colaborando con estudios y arquitectos amigos. Es profesor de proyectos arquitectónicos en la Escuela Técnica superior de Arquitectura de A Coruña desde 1997; es tutor de proyecto fin de carrera y ha sido presidente del tribunal de PFC. Colabora con blogs y publicaciones de arquitectura.