Next February 9 begins a new edition of the cycle Forums ESARQ, in which national and international architects of prestige will visit the Technical Top School of Architecture of the Universitat Internacional of Catalonia (ESARQ-UIC) and will share his vision of the architecture and of the profession across his works.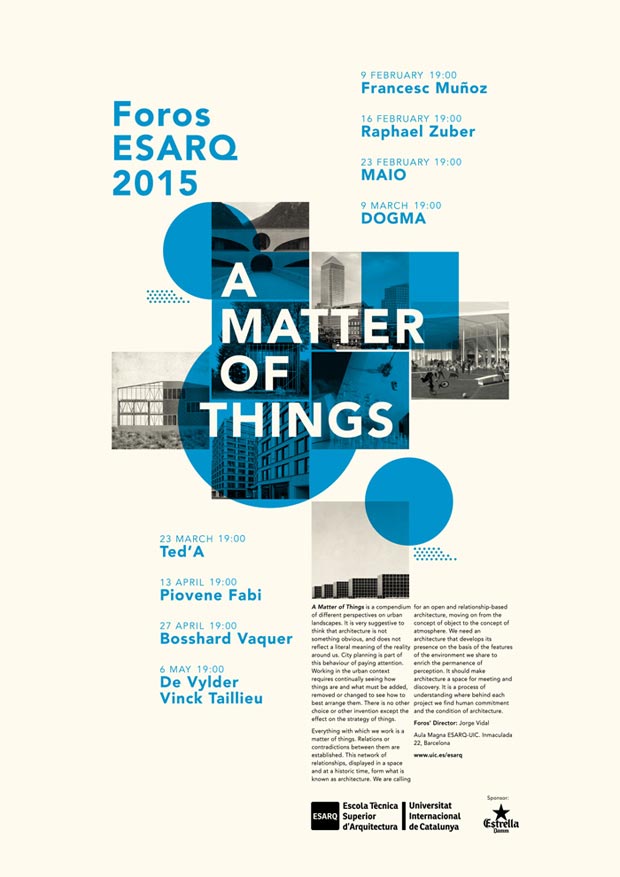 Under the title of "A matter of things", the director of the cycle, Jorge Vidal, proposes to think about the work of the architect in the urban context:
"Everything with what we work is a question of things. Relations or contradictions are established between them. This set of relations, exposed before a space and a historical time, form what is the architecture. We claim an architecture of relational and opened, going on from the concept of object to the concept of atmosphere. An architecture that develops his presence attending to the qualities of the environment that we share in order that it enriches the permanency of the perception. That does of the architecture a space for the meeting and discovery. A process of comprehension where behind every project we will find human commitment and condition of architecture."
During Forums ESARQ 2015, from February to May, they will accompany us:
Francesc Muñoz, 9 february
Raphael Zuber, 16 february
Maio, 23 february
Dogma, 9 march
Ted'A, 23 march
Piovene Fabi, 13 april
Bosshard Vaquer, 27 april
De Vylder Vink Taillieu, 6 may
All the conferences will take place in the Assembly hall of the ESARQ-UIC.
(C/Immaculada 22, Barcelona) at 7 p.m..
Búsqueda para satisfacer el conocimiento de la actividad arquitectónica y tangentes que se generan. La idea es crear un espacio para divulgar los diversos proyectos en busca de nueva inspiración y de intercambio.