Next Tuesday, the 24th of April, inside the programming of the cycle of conferences " Forums Esarq 2012: Manners of seeing " that there organizes The Technical Top School of Architecture of the Universitat Internacional of Catalonia, ESARQ-UIC, the recognized architect Peter St John, one of the founders of the signature Caruso St John of the United Kingdom, Almost Everything will give the presentation (almost quite), whose title takes the same name that one of his last books and he gathers great part of his professional path. The act, which will be opened the public, will take place at 18:00 in the assembly hall of the Campus Barcelona of the UIC and will serve to know his creative positioning. The isolated theories cannot catch the complexity of the architecture of the moment, but with the opening towards a great variety of cultural possibilities, the review of the daily details, the fragility of the constructed spaces and his transformations from the economic situation, questions can be provoked on our implication in the history.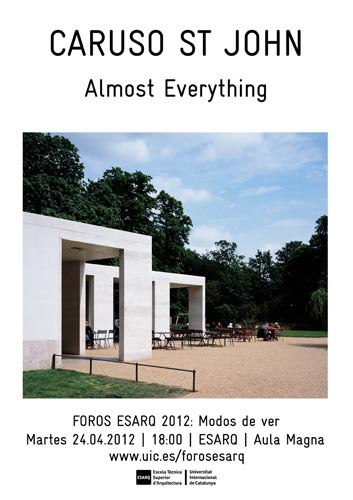 " The contemporary architecture is obsessed by the formal invention and a constant search of the innovation. We are interested in the culture of the architecture and our work is an extension and a critique of the same one. The originality is not our worry, we want to be honest and to declare the artistic influences of our forbears as creative resource. The innovation in if same it seems to us to be useless and pathetic. We prefer the unsightliness of the characteristic thing to the perfection calculated ", assures the architect.
+ info
CONFERENCE OF THE ARCHITECT AND THEORETICAL BRITISHER PETER ST JOHN IN ESARQ-UIC
Tuesday on April 24. 18 hours
Foros 2012 Modos de Ver "Almost Everything"
Aula Magna ESARQ-UIC
Búsqueda para satisfacer el conocimiento de la actividad arquitectónica y tangentes que se generan. La idea es crear un espacio para divulgar los diversos proyectos en busca de nueva inspiración y de intercambio.