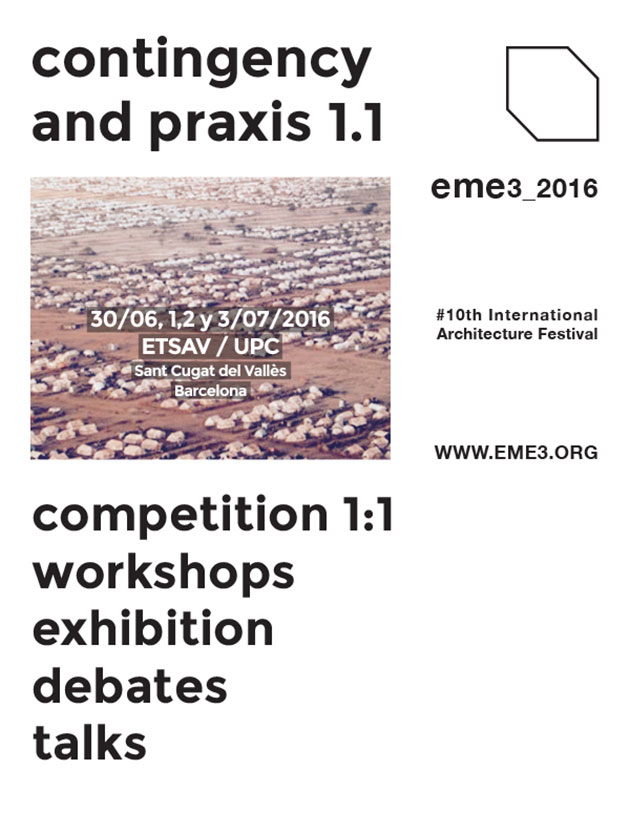 This year the festival eme3 will take the Emergency architecture as a subject matter.
Constructions of rapid assembly and disassembly, which could relieve the refugees' dense agglomerations in different regions of the planet and under diverse circumstances. Taking as parameters the innovation, the economic and ecological cost both in the constructive aspect and in the use responsible for the new technologies and materials. Always under the slogan of adaptability to the context and way at which one is employed. The environment is vital to understand the needs and efectivizar every instance of the development of design and production.
Compromised with this current problematics, and plunged in being able to answer with versatility to the contemporary needs that the company raises. We propose to generate a sham to royal scale in the campus ETSAV (Escola Superior d'Arquitectura del Vallès). Where they will install the prototypes designed and constructed by the participants and that, they will work as his own ones you will live during the dates of the event.
Also they will be carried out workshops, you debate and talks, with the aim to extend and deepen the different aspects that involve the topic that crosses the festival. Hereinafter in November the second instance of the event will be carried out in the COAC (Col.legi d'Arquitectes de Catalunya).
For the selection of the activity in scale 1:1 there will be summoned a contest opened for some of the participants, and special invitations will be sent to professionals emphasized in the areas who approach problematic, these so much of the local, national as international area.
The aim of this event is to share during four days, common activities and to generate an atmosphere of constant learning and investigation by means of the conviviality and the experience.
One expects to manage as tangible result, to manage to apply the prototypes presented in practice for organizations that they could develop and they be of usefulness.
CALL FOR PROYJECTS
Búsqueda para satisfacer el conocimiento de la actividad arquitectónica y tangentes que se generan. La idea es crear un espacio para divulgar los diversos proyectos en busca de nueva inspiración y de intercambio.