The " Feira do Moble de Galicia " has his origin in the Lounge of the Furniture, founded in 1985 promoted by the manufacturers of the furniture of To Highway and organized by they themselves during the first six editions. Seeing the great repercussion that was reaching this Lounge of the Furniture, and having the region estradense an industry of the very notable furniture and with great tradition, one feels the need to promote it. With the support of the Autonomous government of Galicia of Galicia there is created the Foundation of Exhibitions and Congresses of To Highway, beginning this way his second periplus in 1993 with the celebration of the Edition VII of the " Feira do Moble de Galicia ".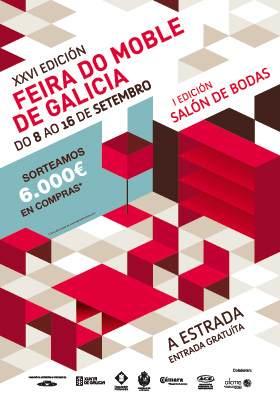 This one is an event of annual character, which begins on the second Saturday of September, with a duration of nine days. It is a question of the principal contest of the Foundation, for the number of exhibitors, for the editions XXIV already celebrated and for the great number of visitors that year after year they visit the enclosure.
+ info
[mappress mapid="73″]
Búsqueda para satisfacer el conocimiento de la actividad arquitectónica y tangentes que se generan. La idea es crear un espacio para divulgar los diversos proyectos en busca de nueva inspiración y de intercambio.