Next 24th GIVE JANUARY there inaugurates in the center Atinne (A Coruña, Galicia, Spain) an exhibition organized together with Global Asento and Study efece architecture. Inaugural chat " The culture of the seat " at the expense of Cristina Nieto–Luis Gil Pita.
From 20:00 – 20:30 the inauguration will take place and in the event there will have the premiere also the Documentary of equal title " The chair of the architect " realized expressly for this occasion for the company of audio-visual production Damelume. In addition in the same event the DRAWING will take place between the assistants of 2 packaging of miniauturas of chairs, gentility of Global Asento Contract.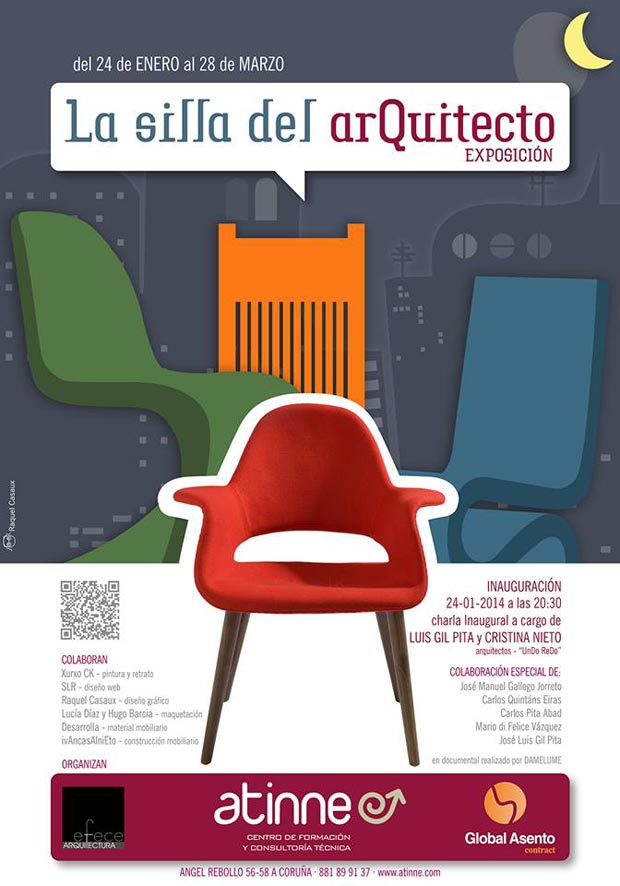 The chairs have been the object excellent fetish of the architects, probably because there treats itself about one only object capable of assembling design, comfort, stability, ergonometría and much more. It is a question of an indispensable element in the architecture and his elegant design puts completely to the service of the users. Many architects have developed interesting designs of all kinds of seats, turning many of them into icons and modals into the world design.
From Atinne and of the hand of Global Asento and efece architecture we take advantage of this opportunity to expose a collection of furniture designed by recognized architects of world character.
Búsqueda para satisfacer el conocimiento de la actividad arquitectónica y tangentes que se generan. La idea es crear un espacio para divulgar los diversos proyectos en busca de nueva inspiración y de intercambio.