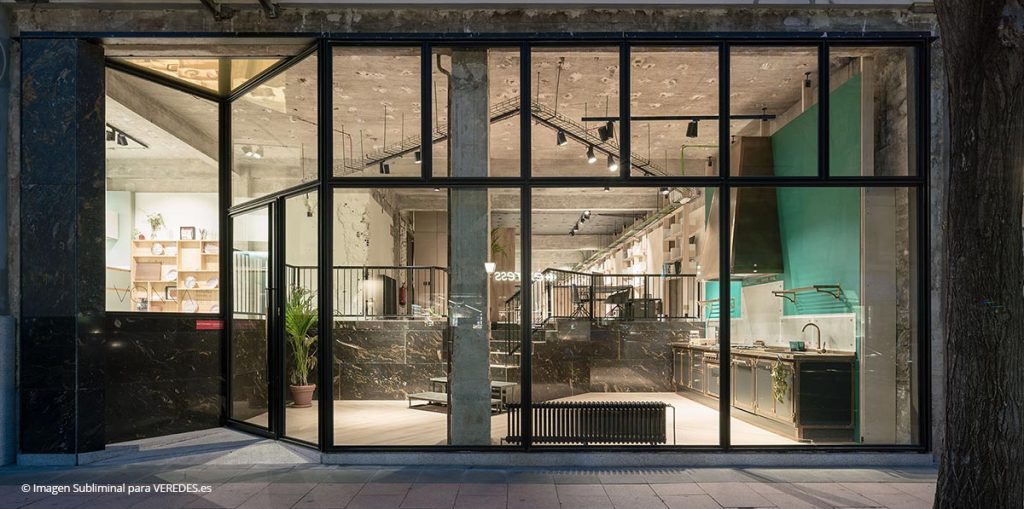 The project for Estudio Vonna is built with distances.
Distances with the existing.
Distances between materials.
Distances between spaces.
Distances between objects.
Distances between times.
The new separates from the existing. Thus, the shop window carpentry is attached to the facade anchoring from the outside, "presenting" the existing structure, appropriating its qualities, detaching itself from it and putting it in value. Its execution, its assembly and its detail are a presentation of the interior intervention.
The carpentry is folded to distance itself from the street and welcome the client in a "domestic" space. Its delicate materiality steps away from the bare space that surrounds it and from the movement of the street. The marble that defines the interior showcase plinth leans out of the street and invites to enter.
The intervention on existing materials is focused on recovering their "gross" qualities. The terrazzo tiles are diamond polished. The suspended ceilings are dismantled and the building concrete skeleton appears. The surfaces are undressed revealing their folds, their superimposed accidents, allowing a glimpse of excavated time.
In the main space, the new materials near the existing ones through joining elements like brass profiles in the marble cuttings, wood strips in the partitions supports, or metal anchors in the pine wood uprights of the samples exhibition wall.
There is a writing of time, in which each line can be thought of as a boundary between two incessantly forking and crossing times. The project juxtaposes in the same space two successive cuts, revealing the space between them: a temporary space, in which the trace acquires thickness, an architecture built from the experience accumulated in the traces.
Work: Estudio Vonna
Architects: PYO arquitectos / Paul Galindo Pastre, Ophélie Herranz Lespagnol
Team: PYO arquitectos / Héctor Rivera Bajo, David Freijeiro González, Lorenzo Grieco, Jungmin Lee, Eleonora Lo Buono
Location: Castelló Street, Madrid, Spain
Year: 2015-16
Type: Commission
Status: Built
Area: 240 m2
Client: VONNA
Construction: Aetas Servicios Generales SL / Ioan Bezdedan
Photography: ImagenSubliminal / Miguel de Guzman+Rocio Romero
+ pyoarquitectos.com
Búsqueda para satisfacer el conocimiento de la actividad arquitectónica y tangentes que se generan. La idea es crear un espacio para divulgar los diversos proyectos en busca de nueva inspiración y de intercambio.