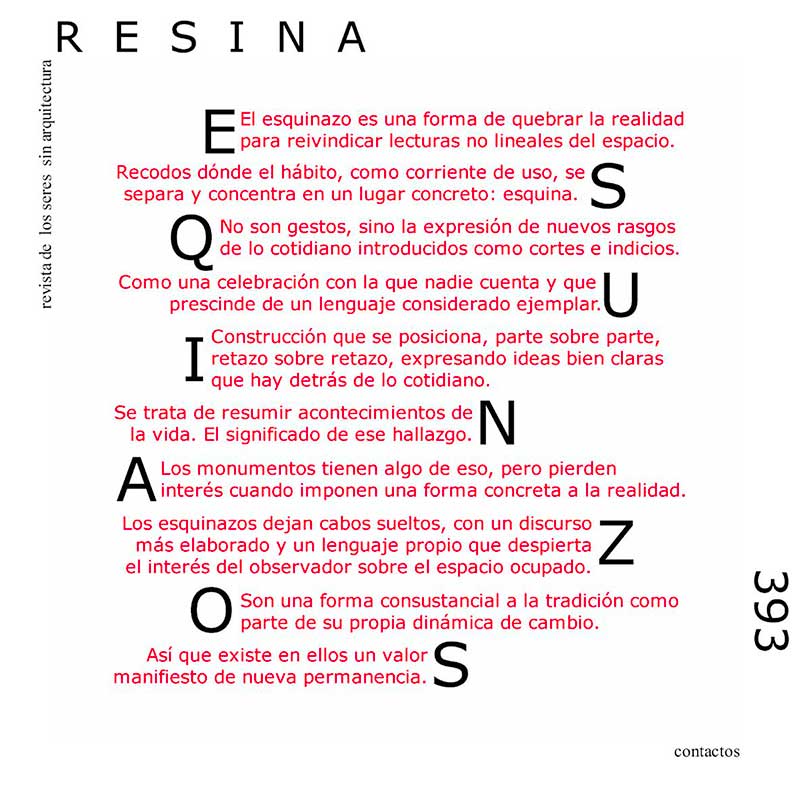 E
The corner is a way of breaking the reality
to claim not linear readings of the space.
S
Bends where the habit, as current of use,
separates and concentrates in a concrete place: it forms a corner.
Q
They are not gestures, but the expression of new features
of the daily thing introduced as courts and indications.
U
As a celebration which nobody possesses and which
does without a language considered exemplary.
I
Construction that is positioned, divides on part,
remnant on remnant, expressing clear well ideas that
exist behind the daily thing.
N
It is a question of summarizing events of
the life. The meaning of this finding.
A
The monuments have something of it, but they lose interest
when they impose a concrete form to the reality.
Z
The corners leave ropes, with a more elaborated speech
and an own language than wakes up the interest
of the observer on the busy space.
O
They are a consubstantial form to the tradition as
part of his own dynamics of change.
S
So there exists in them a manifest value
of new permanency.
Juan Creus · Doctor architect
a coruña · juny 2015
Juan Creus Andrade (Cée, La Coruña, 1966) ETSAC 1992. Premio Extraordinario. Doctor Arquitecto. Profesor ETSA y EICCP La Coruña desde 1996, Departamento de Proxectos Arquitectónicos y Urbanismo UDC. Miembro de la Sección de Arquitectura del Consello da Cultura Galega desde enero de 2007. Co-Director de la revista O Monografías.
Covadonga Carrasco López (Ribadeo, Lugo, 1965) ETSAC 1993. Premio Isover Fin de Carrera.
Miembro del Aula de Rehabilitación del Casco Histórico de Santiago de Compostela, 1997. Ambos son miembros fundadores del colectivo "O Cerne da Deboura" implicado en la realización de estudios para la recuperación del patrimonio abandonado (1988-1993). Editan RESINA (REvista de los Seres sIN Arquitectura) a través de su web y en formato caja de fichas.