Refurbishment of a ground floor located in the neighborhood of Ca n'Aurell, in the city center of Terrassa, close to Barcelona.
The building is from 1925 and highlights its reinforced concrete structure, very innovative for its time, with spans up to 10 meters. However, the successive transformations of the space over the years have hidden the original structure after a chaotic superposition of partitions and false ceilings.
We must segregate the space into two premises with independent accesses. The main one, with a surface of about 180sqm, is a workspace for psychologists that includes, on the one hand, an area with private consultations and, on the other, an open space to develop activities for groups: workshops, conferences, exhibitions, etc. The second premise, about 50sqm, is for renting.
Beyond the program, the project is basically conditioned by the lack of natural light and a very tight budget, of around €500/m2.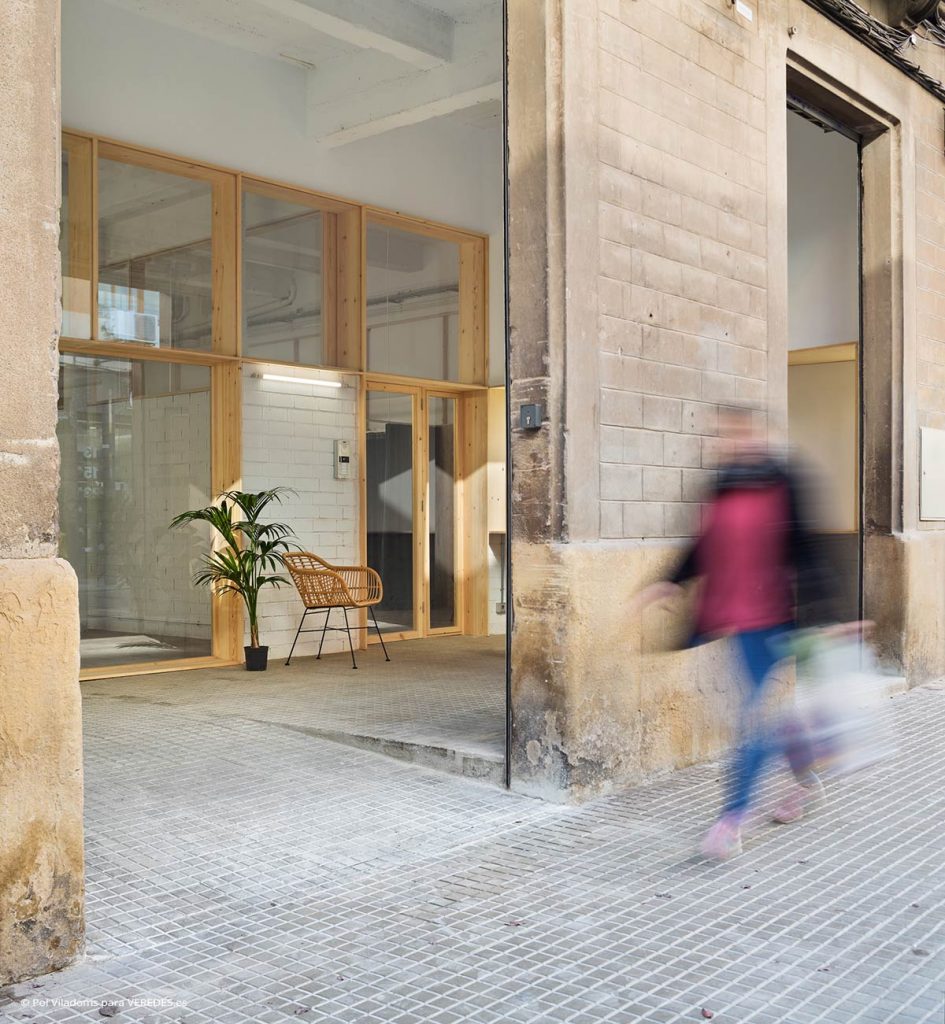 The proposal is organised into four functional areas that define a sequence of chained spaces.
The first one is an outdoor covered space without specific use through which you can access both premises. It is conceived as an extension of the street that defines a gradual transition between exterior and interior. An 'intermediate space' suited to our climatic and cultural environment.
The second area is a single open space of 35sqm with a free height of 4.40m where to develop activities for groups. It can be segregated with a curtains system for the simultaneous development of incompatible uses a priori as dining room, workshops, talks, circulations, waiting room, etc.
In the third area the services are placed: a kitchen diner, an adapted toilet and a storage room, which are connected through a low-ceiling corridor. This area has a different materiality from the rest of the project in order to remark its secondary role.
In the fourth area, at the back, the consultations are located: seven offices of variable dimensions between 7 and 13sqm organised around a central space located under a skylight. An archetypical central plan formed by a set of rooms located around a void that provides light and ventilation. It also can be interpreted as an eighth room resulting in a structure of linked rooms where the circulation areas disappear.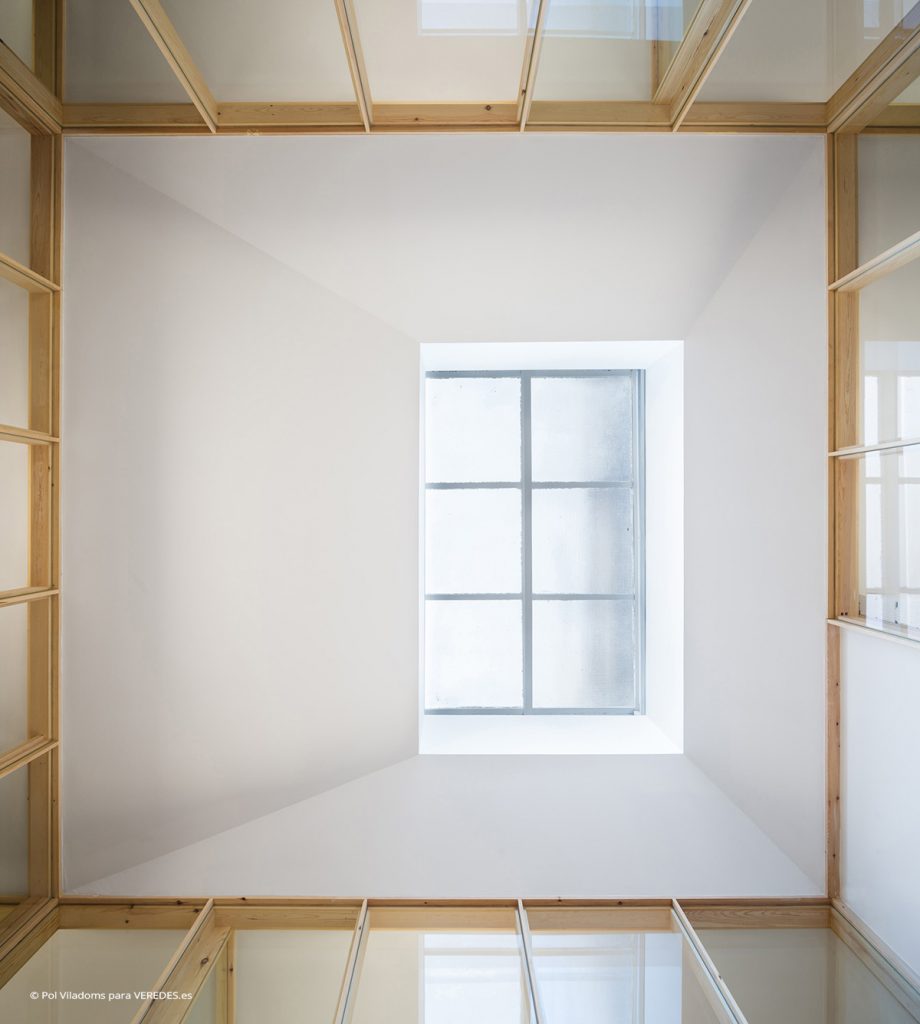 The material and constructive strategy aims to reveal the original structure, to bring natural light to everywhere and to improve the energy behavior of the building.
The first action -almost an exorcism- is to remove all those constructive elements accumulated over the years that are not part of the original building. In the first two areas the ceilings and some original walls will be left uncoated.
The new ceramic walls, 2.20m high, are painted white to enhance the natural light. From 2.20m up, the walls are completed with pine wood frames and glass in order to bring the light to all corners of the project. Some points where it's convenient to create a warmer atmosphere are solved with OSB boards.
A series of passive strategies in order to reduce energy consumption are defined. In the first place, the common spaces are not heated, becoming 'buffer spaces' that improve the energetic behavior of the '100% indoor spaces'. Secondly, hot air in the consulting area is evacuated by the 'chimney effect' through a forced extraction located in the skylight. Finally, insulation is improved and thermal bridges are eliminated by placing 10cm of rock-wool on the inside face of the skin.
Work: Therapeutic Center in Terrassa
Site: Ca n'Aurell, Terrassa (BCN)
Surface: 240m2
Budget: €120,000
Project: November 2016 – April 2017
Construction: April 2017 – October 2017
Authors: estudi08014 (Adrià Guardiet, Sandra Torres)
Structure consultant: Xavier Gimferrer
Services consultant: Silvia Ros
Contractor: Zenlet (Josep Font)
Client: Espai Gut
Photos: Pol Viladoms
+ estudi08014.com
Surge enero de 2009 como búsqueda de satisfacer el conocimiento de la actividad arquitectónica y tangentes que se generan. La idea es crear un espacio para divulgar los diversos proyectos en busca de nueva inspiración y de intercambio. Además de ofrecer la inmediatez de las noticias, se puede buscar información a través de distintas clasificaciones.