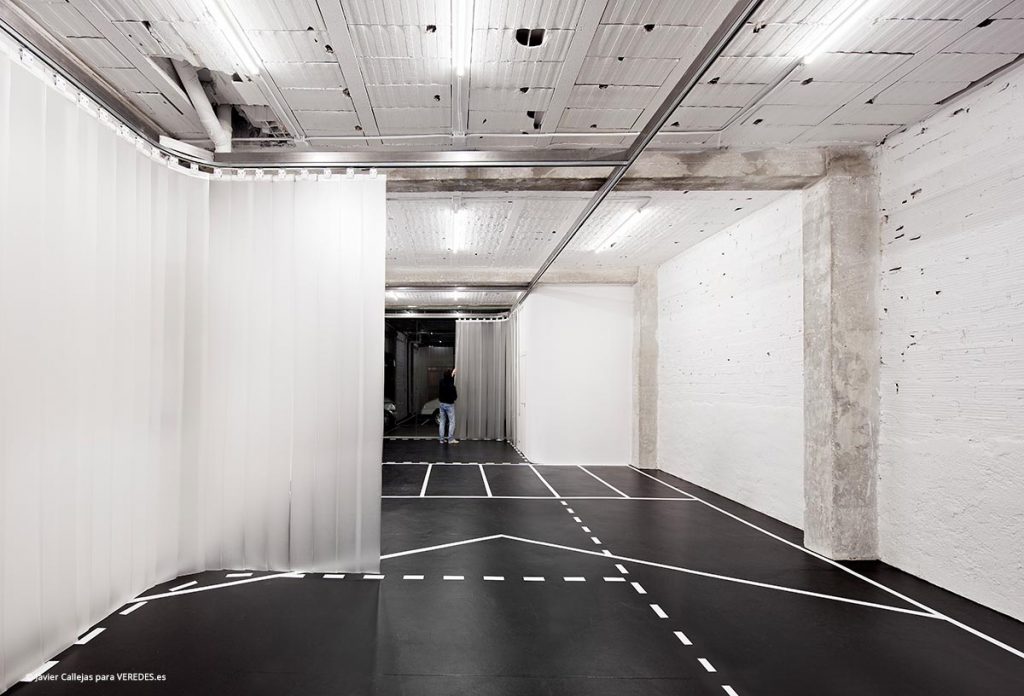 Handisports is a company that manages and provides sports services to handicapped people, whether intellectual, physical or sensory impairment, and at risk of social exclusion. In late 2014 the company commissions us to build its new headquarters to host their offices and classrooms at a location of 80 m2.
The project responds to the client demand by offering a playing field where they can not only make the work of management and training but also where they can host sports activities, normally performed in other rented places. In this way, the office work becomes another game in a space designed to be transformed depending on requirements, days and times.
Our proposal consists in the development of some game instructions for the using of the designed space, establishing a set of tactics or rules for the management of the playing field depending on the different activities.
The construction was simple and consisted in removing all the existing coatings, revealing the original building elements. To create the new playground we arranged a black vinyl sport ground, where we drew overlapping white lines for the various activities. Mobile translucent curtains suspended from the ceiling help to define these activities as needed but do not prevent the light to pass through producing a shadow game that helps to perceive the space as dynamic and active.
Work: Playground. Multi-purpose sports space for athletes with disabilities.
Location: Zaidín, Granada, Spain
Authors: Juan Antonio Serrano García and Paloma Baquero Masats
Collaborators: Maxime Rousseau, Ziwei Li.
Typology: Espacio Inclusport
Client: Handisports Servicios Deportivos Adaptados S.L.
Budget: 20.7OO euros
Area: 80 m2
Photography: Javier Callejas Sevilla | Estudio Serrano+Baquero
Year: March 2014 – May 2015
+ serranoybaquero.com
Awards
Selected in 5ª Edición (2O14-2O15) de los premios de la fundación Arquia Próxima.
Selected in Bienal Iboeroamericana de Diseño de 2016. BID'16
Publications
24 Seleccionados en Arquia Próxima. Convocatoria 2014-2015. ISBN: 978-84-617-4584-5
Catálogo de la Bienal Internacional de Diseño. BID 2016
Búsqueda para satisfacer el conocimiento de la actividad arquitectónica y tangentes que se generan. La idea es crear un espacio para divulgar los diversos proyectos en busca de nueva inspiración y de intercambio.