Next Thursday, the 6th of March a new session of the session will take place colloquium of architecture, So they say. In this occasion, the guest will be a UnDo ReDo Project. The session will divide in the half hour of presentation of the architect and other thirty minutes of informal colloquium with the public.
So they say is a cycle of meetings – colloquia that is celebrated on the first and third Thursday of every month between them 20:00h and them 21:00h in the ground floor of the No Importa Creative Workshop (street San Andrés, 46); in him there take part Galician architects belonging to different generations with the intention of presenting a wide spectrum of approaches of the discipline, always with a reflection it brings over of the paper of the architect in the current moment as backdrop.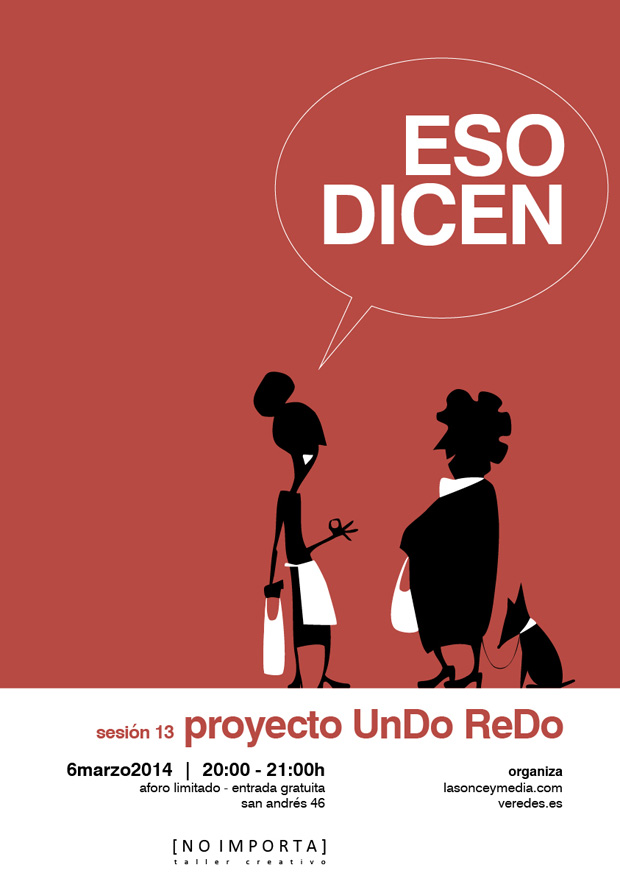 UnDo ReDo Project.
UnDo ReDo is a place of meeting and reflection on the furniture, very specially the chairs, inside and about the architecture. Meeting, rehabilitation, interpretation and care of the furniture according to the philosophy of work of the missing person artist Louise Bourgeois I do, I undo, I redo.
SO THEY SAY · UnDo ReDo Project
Thursday on 6 March 20:00 – 21:00h
Limited appraisal – admission free
[NO IMPORTA] taller creativo
C/San Andrés 46 Ground floor
A Coruña [Spain]
Organize:
Alberto Alonso Oro [veredes.es]
Maria Olmo Béjar + Borja López Cotelo [lasonceymedia.com]
Búsqueda para satisfacer el conocimiento de la actividad arquitectónica y tangentes que se generan. La idea es crear un espacio para divulgar los diversos proyectos en busca de nueva inspiración y de intercambio.