Concept
Infantile School, for children between 1 and 3 years. The building develops in ground floor, leaving the zones of service in the north side of the plot and, due to the slope of this one, excavated in the area. The infantile zones remove to the parts of the plot cleared and better orientated, and relate to the exterior spaces of game by means of courts. Between these two zones the access to the school takes place.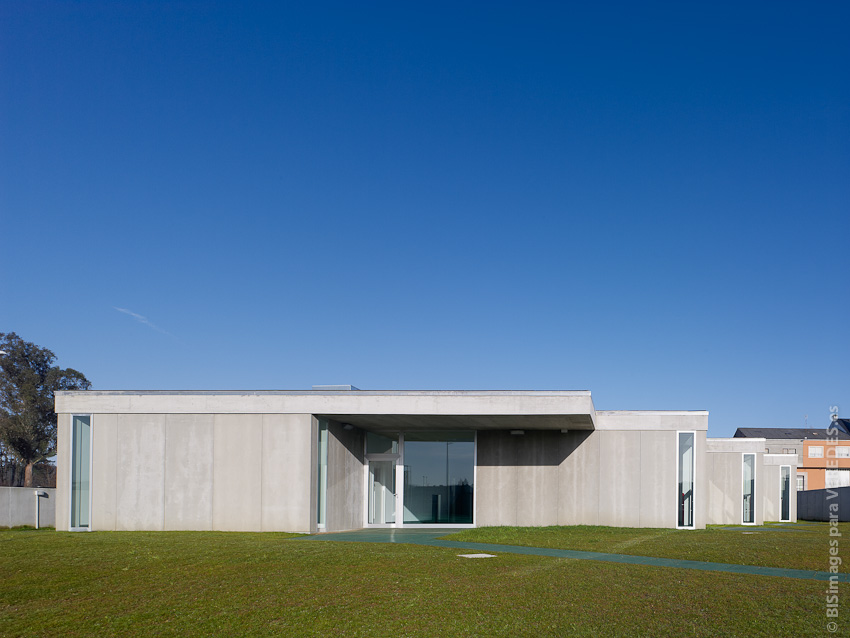 The element of item is the classroom, which is individualized strongly, like cabin. The group of classrooms constructs a central space that, on having unified zones of step and common uses, obtains a notable extent that allows his use as zone of games in the days in which it is not possible to go out on the outside, and it will treat itself with light and mobile partitions, which allow to develop simultaneously other activities as that of dining room, zone of television, space for holidays of the school, cuentacuentos …
Conceptual, the infantile school constructed as sum of pieces, will be a great camp between the trees. The cover serves us to unify all these pieces and to create a soft transition between interior and exterior, which will correspond with the experience of the school.
Construction
The construction of the school is based on the general concept of the same one, and makes work to the classrooms as the structural elements of the building (with props of steel and screens of arriostramiento of reinforced concrete) on that there rests the slab of concrete that covers the common spaces and the zones of entry.
In the elements of construction and ended the major simplicity is looked, yielding the protagonism to the children who will live the school: the closings are realized by board of wood – cement on an interior wall of masonry, white walls and soils of gray linoleum, carpentries of natural aluminium.
It remains hanging, but we hope that there am realized soon, the plantation of the woodland foreseen for the school, that it must serve to tint and to protect the exterior zones and the spaces of games.
Work: Infantile school in Carballo
Authors: Villacé y Cominges (José Villacé and Martín de Cominges Carvallo)
Structure: Antonio Reboreda Martínez
Installations: Antonio Reboreda Fernández
Studio Collaborators : Lucas Gándara and Juan Pons
Quantity surveyor: Ernesto Fernando Calvo
Promoter: Concello de Carballo
Builder: UTE Construcciones Paraxe y Decoraciones J. Bello
Date: 2010 – 11
Location: Polígono 19 do PXOM, Carballo
Photographies: Héctor Santos-Díez | BISimages
Búsqueda para satisfacer el conocimiento de la actividad arquitectónica y tangentes que se generan. La idea es crear un espacio para divulgar los diversos proyectos en busca de nueva inspiración y de intercambio.