The school is located on the edge of the urban area, where it is already confused with the rural one. And with the collective memory, physical even still, of the old industrial facilities nearby present. A series of volumes, almost childish, gather like little houses from one of the "rueiros" that follow one another a little further on. And in lands of carpenters,
Of what, if not wood, could it be our school?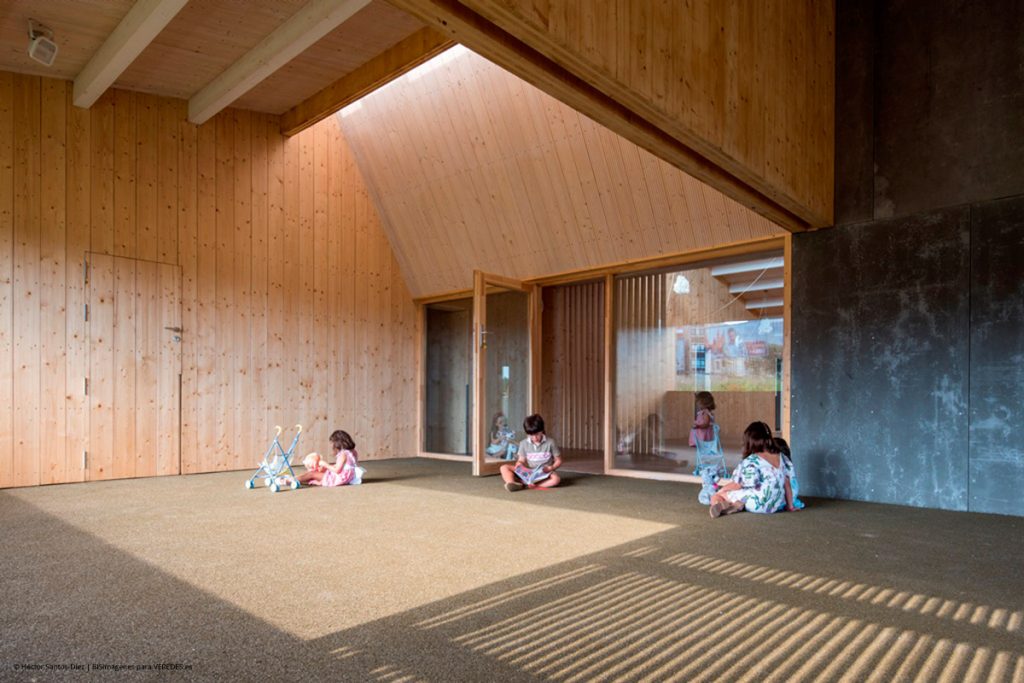 The functional scheme is very simple. Three longitudinal bands collect the needs of the program. To the north, administration and services; to the south the classrooms and, in the center, the multipurpose room and the general distributor of the building.
The main access is from the east façade, the only one in contact with the street. Along the north façade a service route is proposed, for the entry of personnel, supplies and maintenance of facilities.
The central body, although lacking in partitions, is spatially modulated by the set of roofs and skylights that animate and qualify the space; they tone the acoustic impact and favor the entry of natural light and ventilation. This spatial qualification, without being drastic, allows us to differentiate visually successive areas and, consequently, to use them at different times of the day or for different activities.
The southern fringe contains the classrooms. Sensibly square, with a part of games from side to side, another of hygiene and another of rest. The hygiene area, on the facade, allows us to enjoy control, light and natural ventilation. The rest area, towards the interior, facilitates uses related to audiovisuals or, simply, to structure the classroom in different areas.
Structural system of fir load walls against laminate, insulated on facades and backings with treated pine table to the autoclave finished with lasur. Deck of double board on straps of laminated wood, insulation and zinc. Wood joinery; plaster and partitions of plasterboard and industrialized pavements.
Work: Infant School in A Baiuca.
Location: Avenida Benito Vigo 106. 36680 A Estrada. Pontevedra. Spain.
Project: abalo alonso arquitectos. Elizabeth Abalo, Gonzalo Alonso, Francisco González.
Construction management: abalo alonso arquitectos. Elizabeth Abalo, Gonzalo Alonso.
Technical architect: Francisco González Varela.
Collaborators: Luis Adrán, architect. Besteiro Woods. Adolfo Montero Calculation of structures. Gaia Enxeñería. Calculation of facilities. Spotlux. Manuel Carazo. Lighting advice. Cis Madeira. Manuel Touza, Azahara Sólan. Wood advice.
Promoter: Concello de A Estrada. Consorcio Galego de Servizos de Igualdade e Benestar
Building Company: Ute Petrolam Construcciones Galasur. Jefe de Obra, Cándido López Blanco. Encargado: José Manuel Luna.
Industrial: Wooden structure: Egoin. Ornamental lighting: Arturo Alvarez.
Drafting of the project: Contest 11.12.2015, adjudication 08.03.2016,
Basic project: 25.04.2016, execution project 26.07.2016
The end: 10.07.2018
Total budget: 777.504,86 €
Builded surface: 767,50 m2
Photography: Héctor Santos-Díez | BISimages
+ abaloalonso.es
Awards
– 1º premio concurso de proyectos 2016
– Premio GdA 2018. Coag Vigo
– Premio Luces de Arquitectura. Arquitectura con Eñe. Ifema Coam. Madrid 2018.
– Mención Premio Ventana. Arquitectura con Eñe. Ifema Coam. Madrid 2018.
– Finalista XVIII Premios Coag. Ferrol 2019.
– Seleccionado Premios Fad. Barcelona 2019.
Búsqueda para satisfacer el conocimiento de la actividad arquitectónica y tangentes que se generan. La idea es crear un espacio para divulgar los diversos proyectos en busca de nueva inspiración y de intercambio.