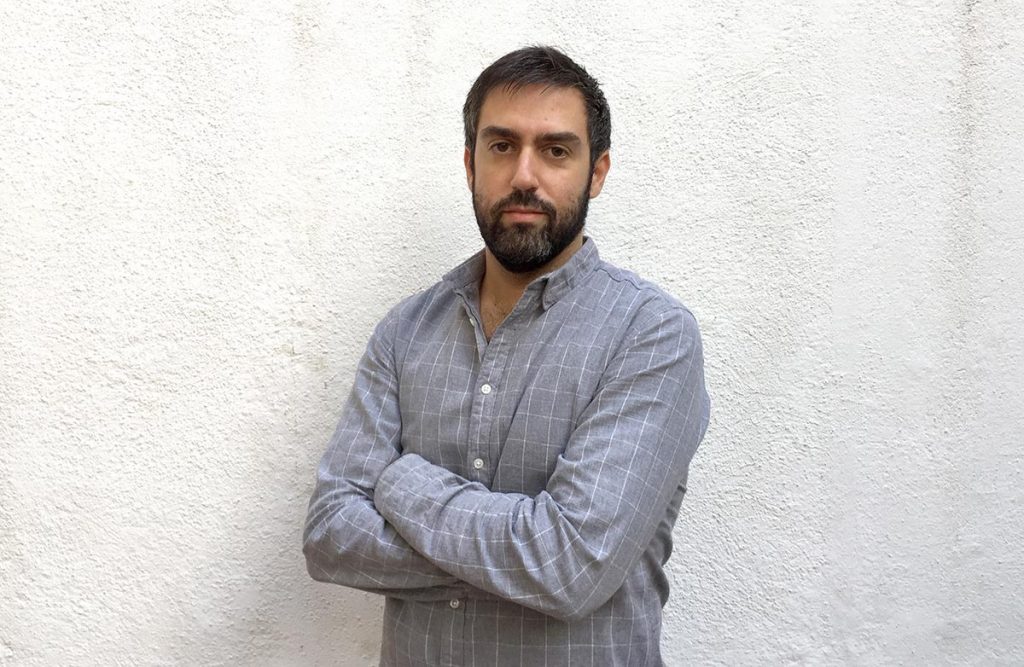 In this new interview of the Baliza section we contacted Ángel Camacho (Madrid, 1983) architect and Master in Analysis, Theory and History of Architecture by the E.T.S.A of Madrid to discover ArchiMaps,
"an app that facilitates architects and architecture enthusiasts to locate buildings of interest in different cities or regions".
This young Madrid-born architect started his professional career in 2008 as a collaborator in a well-known architecture studio. Three years later, he established himself independently and resumed his academic and research activity. Since then he has combined this with self-employment and collaboration with other studies.
But in 2017 he founds ArchiMaps,, a mobile application of architecture guides for smartphone and tablet. Today ArchiMaps has more than 2,000 buildings in its database, organized in several maps. The majority are centered in cities or regions (Barcelona, Chicago, London, Madrid, New York, Los Angeles and Southern California), although recently a new collection of monographic maps has been started with the one dedicated to Mies van der Rohe. From time to time, ArchiMaps also hosts temporary maps dedicated to an event related to architecture, such as those made in collaboration with Open House Madrid for the 2017 and 2018 editions.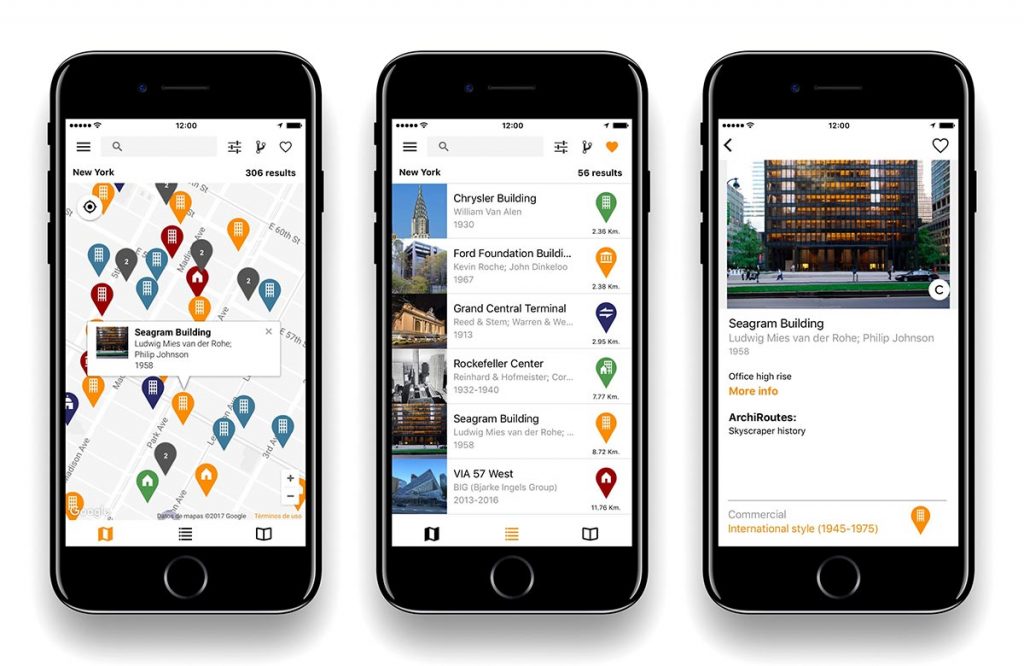 How, when and why does ArchiMaps arise?
ArchiMaps arises mainly from a need. As a good architect I love to travel, and I always try to find out about the architectural works of interest that I can visit wherever I go. This is not always an easy task, it takes time, and even more so if it is not a "typical" destination, such as London, Tokyo, or New York.
In the best case, you can get an architecture guide. There are really good ones, but they are not usually a very practical material. It always seemed to me that, while traveling, one especially needs to know the exact location of the works. Many already know enough, and your main interest is to reach them to appreciate them live and direct. Read about them, you can do before or after, but during the visit the important thing is the experience. So what I missed was more like a map than a guide.
Practically all the guides include maps, of course, but many -especially the best ones- are conceived as reference works, with the maps at the end, almost as an annex. And even when it is not, its management is not simple. While traveling around a city, it is not convenient to be aware of a thick volume, marking on one side the page that contains the information about the buildings and on the other hand, the one that shows the map. All this, at the same time that you try to control your own location on the map and not lose yourself.
Smartphones have radically changed all this, and now it's hard to think of other support for a project like this. But ArchiMapss started as an idea a few years ago and this medium did not seem so obvious then. In fact, the initial concept was the development of a series of maps on paper, with the information on each building reduced to very few essential data (author, date, typology) and always available in a comfortable way based on a particular folding of the Map.
Did you encounter many difficulties? Which were the most problematic?
I spent a lot of time and energy until I assumed that, if I was looking for practicality, the smartphone was unbeatable as a support: geolocation, infinite extension of the map, possibility of adjusting zoom and level of detail, and information and images in virtually unlimited quantities and instantly updatable. Of course, when I made the leap to the App, a field opened up before me, that of computer science, in which I was just an amateur, and the project took on a much greater scope. Maquetación and designing a plan, or a series of them, I had not moved too far from my usual job as an architect; launching an App was something else, and it was necessary to focus it in a much more ambitious way.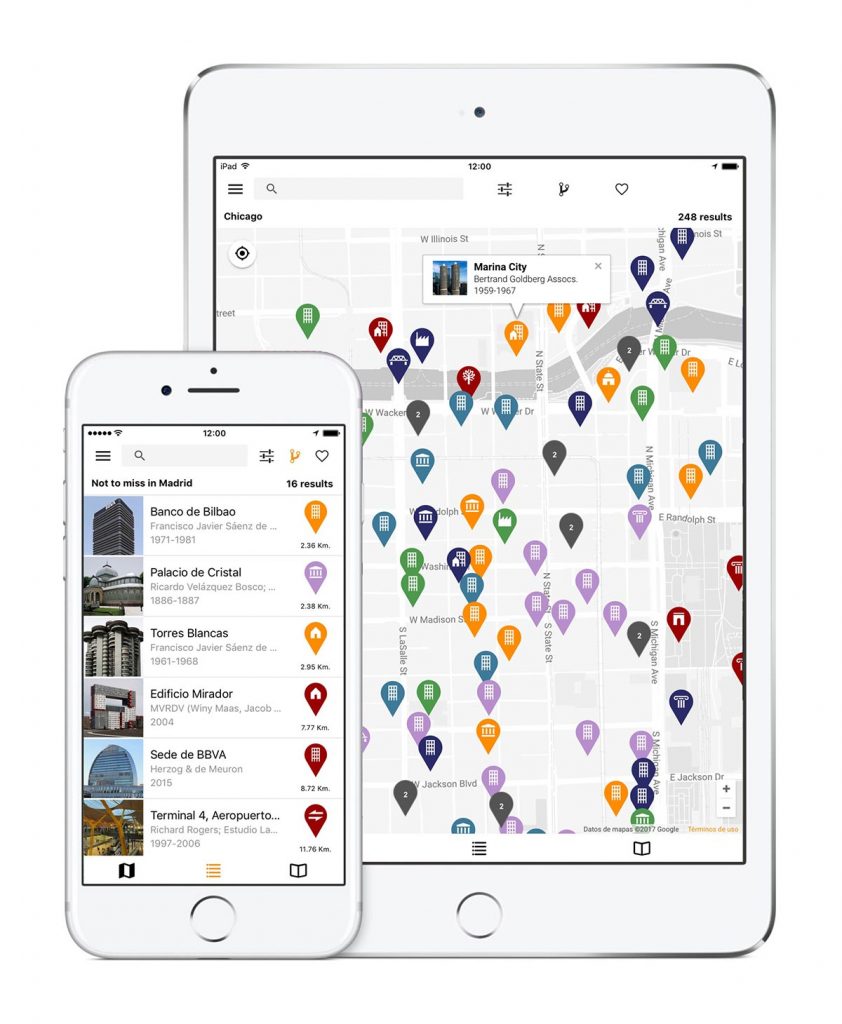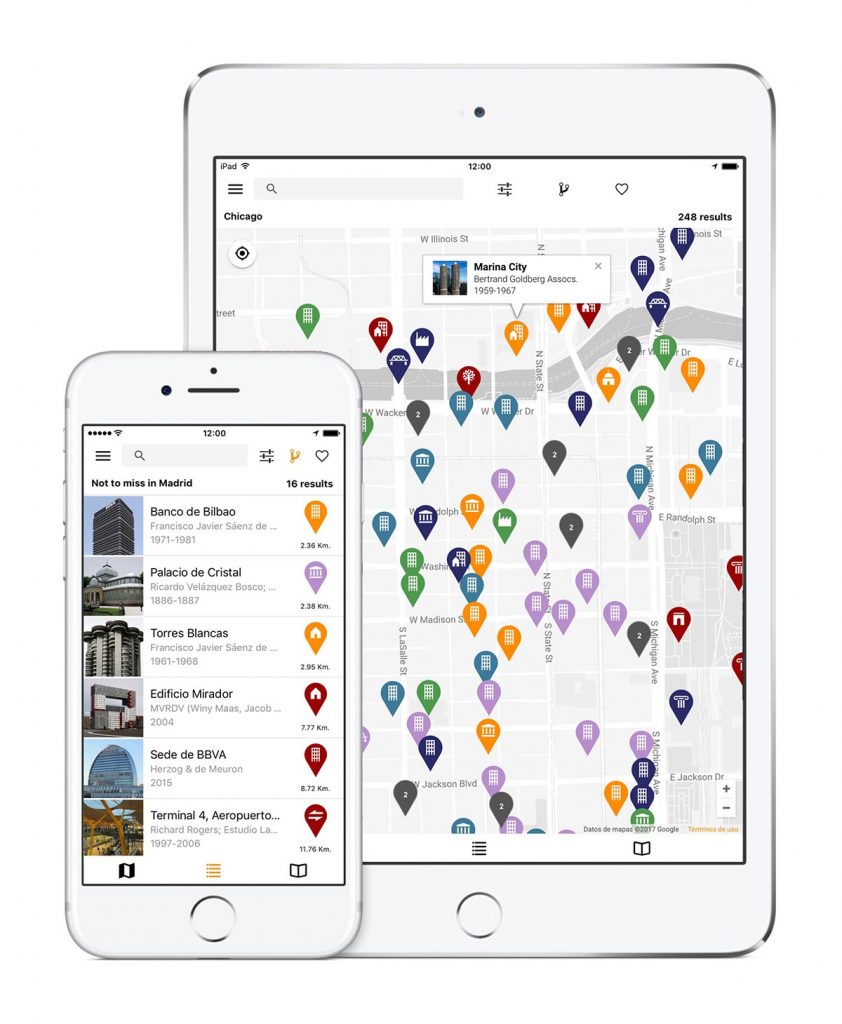 How is the work process in ArchiMaps?
The preparation of a new map goes through several phases. The first thing is to select a destination or, in the case of the new monographic maps, an architect. We must evaluate their potential interest on the part of the public, although I will not deny that they influence the desire that we have to study it more thoroughly. It is also necessary to investigate if we can have images (with adequate rights for reproduction) of a large majority of the works that will appear on the map.
Once the theme is selected, the first is a general approach to the architectural panorama of the city or the architect's work, to have a global vision: outstanding buildings, authors whose work is numerous, present styles. The temporary fork is very important: the earliest works that appear in our ArchiMaps of Chicago are from the mid-nineteenth century, while in the map of Mexico City that we are currently developing, buildings appear from the first century.
Then begins the selection of the works, starting from what we can consider "essential", and opening the frame little by little. At the same time, a classification is established by historical periods that is different for each ArchiMaps. It is very important that each map forms a coherent and balanced whole; We try to cover all currents, periods and present styles, trying to put aside the usual prejudices that architects may have. We also try to be rigorous, and any data is contrasted before being included.
Finally the ArchiRoutes are elaborated, thematic routes within each map and centered on an author, a historical period or a particularly relevant area of the city. These normally arise during the elaboration of the map, although from time to time we add new routes to the existing ArchiMaps.
What segment of the public do you address?
The target audience of ArchiMaps are clearly the architects, but we also seek to reach the general public, or at least the one with certain cultural concerns. In this sense, we want to contribute to the dissemination of good architecture: ArchiMaps can be used to locate a building that is interesting to know, or conversely, to know something more about a building with which we have met and has caught our attention. We hope that our App exercises some informative work.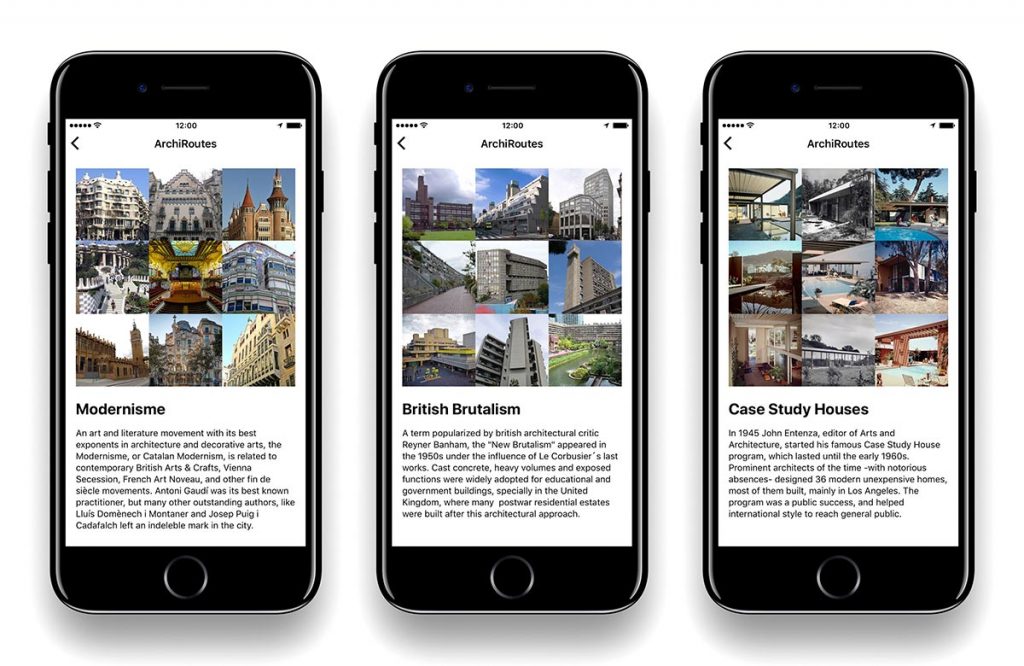 Do you combine or complement this activity with other tasks or in other fields?
I have not stopped practicing the profession of architect, and I combine the best that I can with my dedication to the App with the daily work in the studio. ArchiMaps is a very personal project, and offers me the possibility to continue, in a certain way, in contact with academic research, something I do not want to lose.
In times of more work is when I can spend less time, but never leave it completely aside; for me it is the best excuse to continue reading and learning about architecture, something that we often stop doing when we leave the race behind and increase the pace of work.
The architecture, has many battle fronts open (LSP, Bologna, unemployment, job precariousness, COAs, ETSAs, emigration, communication, etc.), will not they be too many for the existing polarization within it?
I believe that having many open fronts is inherent to our profession, luckily or unfortunately; for me it is one of the things that make it interesting, and it shows how complete it is as a discipline. Architecture can be exercised in many ways: from a social, technical, artistic, or legal perspective, to say the least. All are valid, and all influence something as essential as are the spaces in which we live. But of course there are issues associated with it that are complicated. Job insecurity, especially the issue of false self-employed and unpaid internships in studies. This is something that does terrible damage, and that as long as it is tolerated, or is looked the other way, it will continue to exist.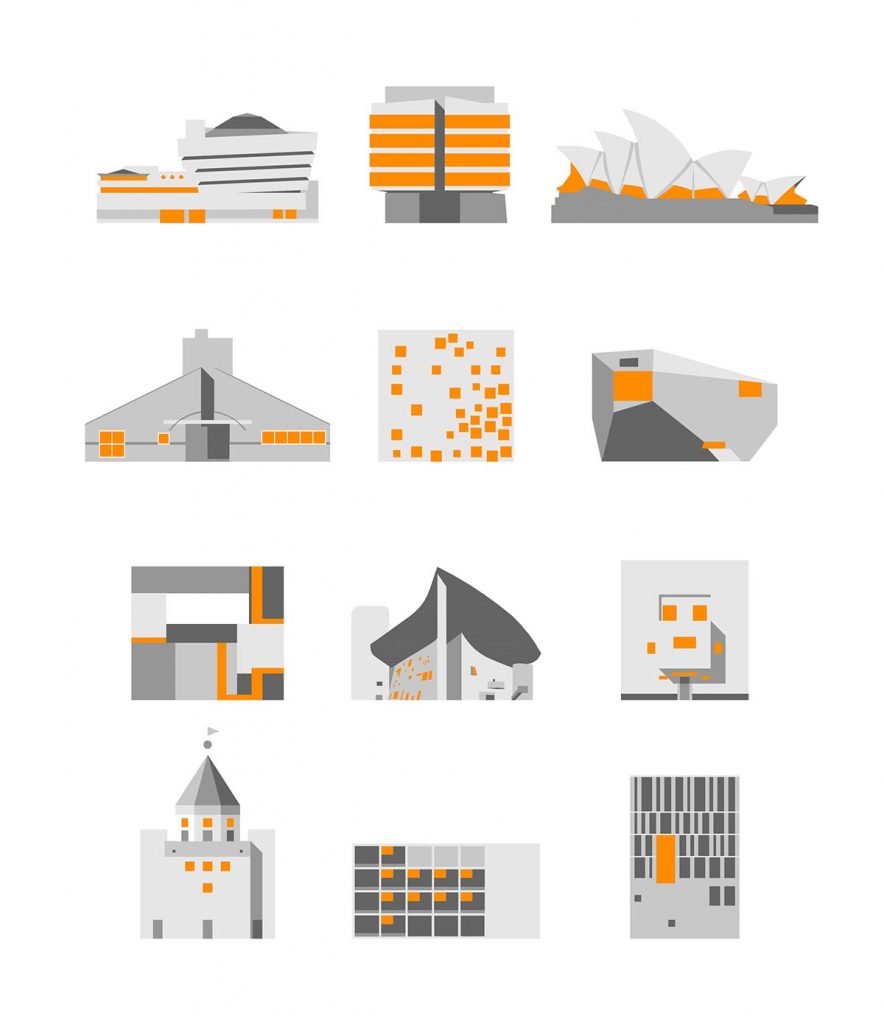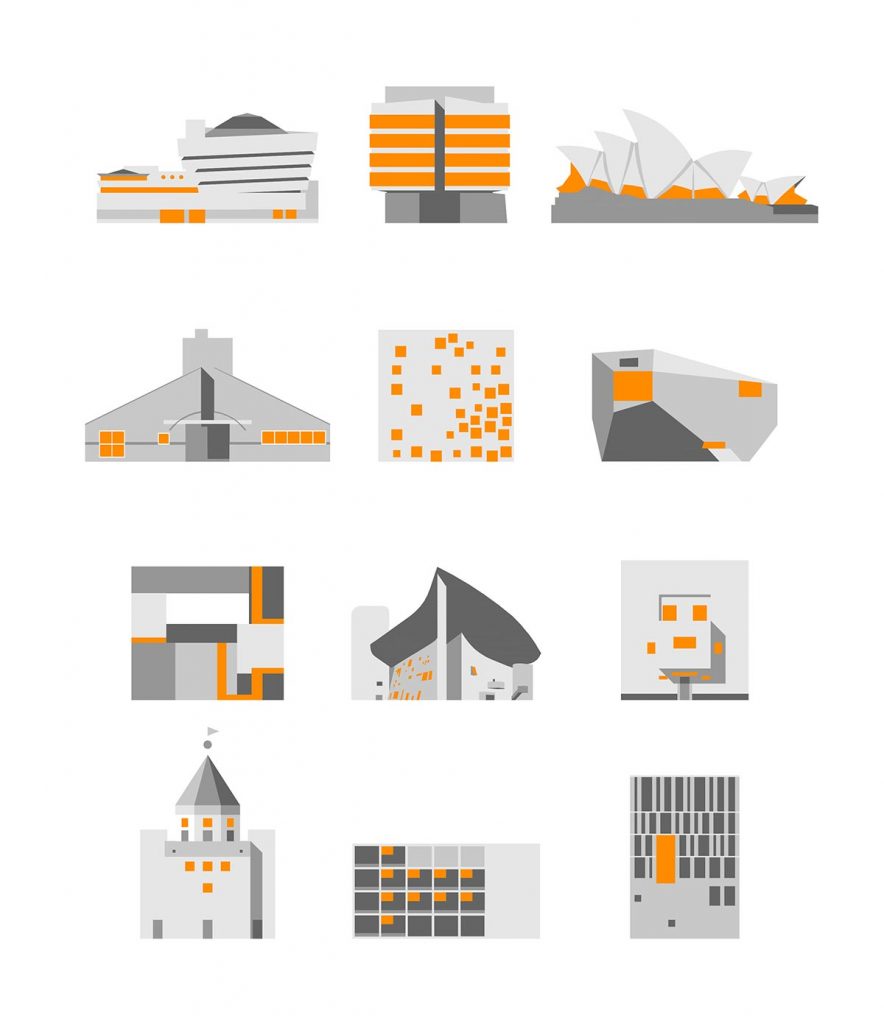 How do you see the future of architecture? And the one of the profession? What improvements do you think are fundamental and should be implemented immediately?
Lately there seems to be more interest from the general public towards architecture; This and its implications are valued and debated, and there is a lot of presence in generalist news media related to architecture. All this is good, of course. But sometimes, although not always, a limited interest is perceived in the image, which must be dazzling and is of fast consumption. I imagine that all this is also linked to immediacy, to social networks, to that liquid modernity in which we are submerged. There is more presence of architecture in society, but as in many other issues, it does not deepen; the impact is sought, the alleged "genius": but good architecture, like almost everything, is not only born from a great idea, but from working hours modeling that idea; about inspiration and perspiration. Many people today want easy and quick answers, white or black, to questions that are always complex. Not only in architecture; we see it also in politics.
On the other hand, I am concerned about the perception that architects sometimes have of society. And let it be known that we, as a collective, are the main culprits. Sometimes we have transmitted (aided by some publications) the idea of an elitist professional, with pretenses, very concerned about its creation and very little for what the client needs, or in other words, to solve the problems that arise. If we add to this that what most transcends is usually the public work (that is, paid for by all), the controversy is served. The new Hamburg Philharmonic is a tremendously interesting building; but its final cost multiplied by ten! In any other discipline, this would be a failure, professionally speaking. We need debate, and also self-criticism.
As an "entrepreneur", what do you think of the architects who "open and/or recover" new fields and / or approaches to the profession?
What I'm gonna say? It seems perfect. I think reinventing is usually positive, as long as one is realistic. Sometimes we can sin of "Adamism", believing that we are the first to try a new path, or that we are going to be much smarter than others who tried it and did not succeed.
But in general I see it well, and even necessary. You have to be flexible and keep in mind the world in which we live; today more than ever. Many changes are taking place, and no matter how long they are delayed, they are inevitable.
Communications, transportation, many things are suffering their small revolution, derived in turn from the technological revolution. What is happening with taxis, what happened to Kodak a few years ago … The examples are countless.
To finish, what would you advise current students and future architecture professionals?
That weigh the various possibilities that a profession like this offers them. The subject of projects is the most important, but it is not everything; studying architecture, one can be a fireman. That they learn to value good architecture for what they have behind them, for what they get; A good project is usually for the same reasons today, in the thirties, and in the seventeenth century. During the race they are immersed in the history of architecture; Today we can still learn a lot from, for example, Borromini. And never lose interest in architecture, traveling, and learning.
And of course,
Download ArchiMaps!
Ángel Camacho · ArchiMaps
October 2018
Interview by Ana Barreiro Blanco and Alberto Alonso Oro. Thank Angel for his time and predisposition with this small space.