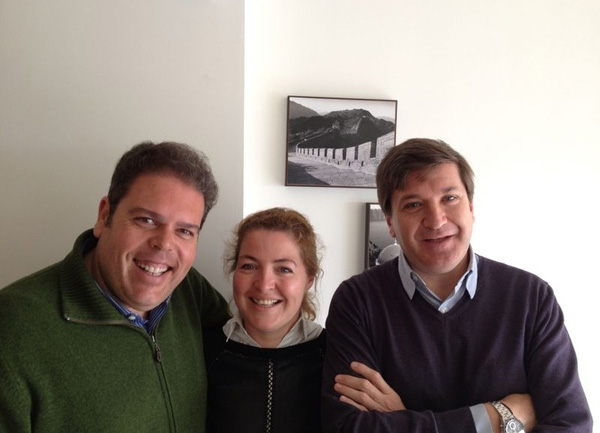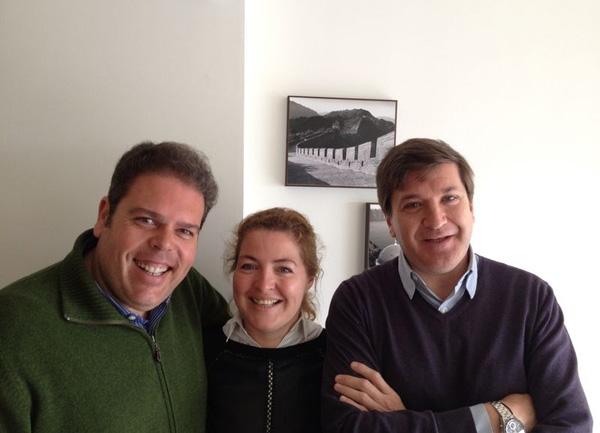 Sonia Sanz Gavián and Enrique Padial Hidalgo dealed his studies of Architecture in Madrid and for more than one decade, they direct his own Study of Architecture, "Padial Gavián Study. Architecture and Urbanism, S.L" and Carlos Rincón Perez, Technical Architect, has been collaborating, every time with more assiduity.
Which has been your formation and professional path before Arquirutas?
Enrique Padial Hidalgo (44 years) and Sonia Sanz Gavián (40 years) dealed his studies of Architecture in Madrid and from 1996 they direct his own Study of Architecture, "Padial Gavián Study. Architecture and Urbanism, S.L", with that Carlos Rincón Perez (45 years), Technical Architect, has been collaborating, every time with more assiduity, since they were known at the beginning of last decade.
The Padial Gavián Study has been characterized for never realizing projects entrusted by private clients and by the participation in numerous contests of Architecture, of bidding, of that they have gained some of them, being 95 % of his work, projects of new work, though in exceptional occasions there have been carried out projects of extension, conditioning and reform.
Probably the fact of having been kept to the margin of the big promotions that have been realized in our country years behind, as well as of the temptations of turning into architects – promotores-constructores to that there succumbed so many of our companions, they have done that our Study, a today, continues having work. Not so much like before, since the summons of contests of Architecture every time they are more non-existent and if before it was difficult to gain them, in these conditions, you consider to compete, since in many of them, the scanty guarantees of the same sound, the number of new recruits is overwhelming and the object of the contest, in most cases of little interest … but continues remaining the private client. Well it is true that the orders realize with great caution and are impreganados of the insecurities that there produces the economic uncertainty in which trístemente our Country is immersed, but regardless, continues taking charge.
Did you appear in some moment, present, past or future, to look for work abroad?
Yes. Roundly yes, since at the beginning of 2011, in spite of having several works in march and being writing some projects in the Study, we began to receive the first calls of other friends architects who were requesting work us since in the different Studies at which they were employed, or they could not support his contracts or, lamentably they were condemned to the closing and logically they had to do without them.
This situation that initially was sporadic, with to pass of the first months of that 2011 was becoming increasingly constant, and what initially they were called of friends, they were alternating with more calls and hundreds of e-mails of architects, friends or not, that were requesting work in our Study or in any other one of which we could have knowledge that they needed to Architects, Engineers or Riggers, and it was adding every ésto to see as Studies, for consecrated us, they were throwing the closing and how they began to fall big companies and construction, with some of which we had been employed at someone of our works, … It Is at the time worried and fearful when you appear: and we, till when are we going to last …?
We begin to shuffle several possibilities for if one was coming everything below, since we are of the option of which it is necessary to have the possible looked solution before it begins to enter water in the ship, since if we try to begin to look for her when this one is flooded, ráramente the option is good shuffled like alternative, since the distress of the situation and the hurries in to make ourselves the things sometimes, creémos, they lead us to taking hold to a nail burning.
Between the possibilities that we shuffle the one that more force received it was her of leaving Éspaña and transladarnos to the Coast West of The United States, trying to search until there was coming the moment to emigrate, some professional contacts that were allowing us to be working there, but always with the aim, so soon as out possibly, of installing there our Study, defending the concept of Architecture in which we believe and which we project and to open new market in the American continent.
What did you lead to starting this project?
Before all these reflections and the possibility of emigrating there was a series of factors that were inclining the scale to the opposite side wherefrom the whole weight of the emprendimiento must incline – that we understand that it has to be to 100 % in the same side – but that for reasons, principally of age, we have a series of bows: women, husband and children, to what we have to add the equipment formed for years in the Study and that is in the same familiar situation that it does who, to take such a seemingly easy decision, it is not, since it is not easy to move to another Country in search, initially, of an uncertain adventure, to this small family that we understand that we are in the Study.
 With the worry of what to do in case the things were coming badly given and with the conviction of that to go out of the Country probably was not the suitable solution, at least at the moment, we continue shuffling possibilities, trying to give response to this question that was tormenting us internally: "And if I do not devote myself to the Architecture, … to what I can devote? " And in one of these days, already of June, 2011, going out of a Direction of Work, one came (His) (Enrique) a phrase of the brilliant Francisco Javier Sáenz de Oíza to the head that more or less he was saying:
"The best School of Architecture would be that one in which there was a bus in the door in the one that it was putting: "Trips" …"
And after ésto, we appear: "and if we could not continue working since till now we it have come doing with our Study, why we do not unite our two big passions, the Architecture and traveler?" And this way it was born what was the embryo of arquiRUTAS, that after year and a half of work turned into a travel agency created by several Architects (Enrique, Sonia and Carlos) that it was born with the will to announce to all kinds of public the Contemporary Architecture of a nearby, divulgative, educational way and always, pleasant.
To make real this aim, we elaborate a selection of Architectural Itineraries that always, with the exception of the arquiPASEOS, will be realized in minibus, from the simplest and of more short duration, in that we announce to "building foot" each of the selected works, up to those of major duration, that they start by taking a Coffee of Welcome before intending to visiting internally the projects that every arquiRUTA integrate and that in addition, we will enrich with a lunch in one of the restaurants chosen by our equipment, in which gastronomy and interiorismo will do surely, the delights of our clients..
For the international character with the one that it was born arquiRUTAS, we have realized a complex selection in which they control many factors until a fantastic equipment has created of arquiGUÍAS that are, Architects Guides and that in addition will be able to realize the itineraries offered in different languages besides the Spanish: Englishman, Frenchman, German, Italian and Portuguese, which allows us to receive to the tourism of the most different nationalities.
Did you meet many difficulties in his putting in march?
The principal difficulty that we are was to negotiate with the persons in charge of each one of the buildings that we wanted incluír in our routes to be able to visit and cross it internally of a constant form throughout the year, since in this Country, unlike others, there is no tradition of showing and often, it of valuing, the Contemporary Architecture with which we coexist daily.Once conquered – in almost all the cases – this difficulty and turn of a side for other one trying to take advice itself of how what we us had to constitute in this new company, we meet that to be able to work, since we do it nowadays, we us had to constitute as Travel agency and from there we are treading on a world initially not known for us, that of the Tourism…
As often we say, from the moment in which we knew that arquiRUTAS would be a Travel agency, are doing day after day an authentic master in tourism, since from the Official Presentation that we did of our company in the space of coworking Studio Banana last September and the reception that had from this day our "product" for all the mass media: written and digital press, radio and television, of national and international areas, arquiRUTAS has been evolving, adapting to the different demands that we have been having to satisfy to the different sectors that include the International Tourism, and to the beginning of the year, as in the Study we possess a specialized architect in calculating structures and with two engineers who calculate the facilities, in arquiRUTAS contract professionals of the tourism who are those who a today take our Council and Business management, bet for having our own stand in the International Fair of the Tourism that is realized in Madrid, FITUR 2013 and thanks to these last two bets, arquiRUTAS began to enter in touch with the Professional International Tourism,…Initials like DMC, MICE or OPC, which us were completely unknown are with that more acquainted we are a today, since they are the persons in charge of the Receptive Tourism (DMC), Tourism of Incentives, Meetings and Events (MICE) and of the International Organization of Congresses (OPC) and everything what it represents, ésto it is, they are the professionals who move the international large-scale tourism in our country and for those that we are quoting, every time, more assiduous and with whom we continue learning, also almost daily, new aspects and concepts of this exciting world of the Tourism in which we enjoy day after day the Contemporary Architecture.
Are you satisfied with the reached aims?
Totally.
Many things have happened in a few months and before such an intensity of events, a thing is taking other one to us … Is like a long-distance race in which you can relax not even one only minute and in addition it is, and ésto is the most important thing for us, totally exciting. Every day we enjoy more of the Architecture and learn more of her and of this learning, in arquiRUTAS, try to share this way of enjoying the First one of the Fine arts, an attractive, didactic and pleasant way persons proceeding from the most diverse cultural and professional areas, often come, from different parts of the world.
In only eight months arquiRUTAS already it offers his destinations in Madrid, Tenerife and the Island of The Iron, but in the next months we will be able to enjoy this Architectural Experience in Granada, Oviedo, Bilbao and Barcelona, in addition we will offer the possibility of knowing across the explanations of some of our magnificent arquiGUÍAS cities as Madrid and Tenerife from The Air, on board of helicopters; we will overfly and explain some examples of the best Architecture in globe and will know and savour the best Architecture of the Wine that has been projected in the Bank of the Douro and La Rioja.
In the international aspect, we are preparing a series of trips of several days of duration in which beside knowing the history, culture and better gastronomy of different countries, also we will visit internally an important selection of the Contemporary Architecture. Oporto, Paris, London, Milan, Chicago, Berlin and Beijing, they are some of the destinations at which nowadays we are employed.
Do you believe that the architects in Spain we should continue opening new routes of work to go out of the "most "traditional" cabin of projecting given the current situation of the construction in our country?
We are totally sure, but the good thing is that in Spain, in the Schools of Architecture, they give us a technical and humanistic formation that separates us from other countries and the result is that each of us, can develop professionally in the most diverse areas of the Architecture, though only, in these last years, these other architectural disciplines have carried out them very few ones.
Anyhow, which if it is clear is that the architectural Spanish panorama, for years, is not going to demand, to project, a minim does not even depart from the professionals who exist in our Country, group that continues growing, year a year, with the numerous qualifications proceeding from the numerous Schools of Architecture that have been created in Spain in the last decades, but our preparation is such, not only to academic level but at the personal level, where the spirit of work, the witness, the risk, the valor, the bet, to be able to win and especially, be able to lose and return to raise, that all these factors us impregnate with a patina that we show in a natural way, to almost all that we have happened for the classrooms of a School of Architecture, and with this patina besides the formation that we we all have, we are sure that we are capable of doing with major or minor I strengthen everything what we propose and enjoy of the Architecture, differently, since we do it in arquiRUTAS, since we see that they enjoy many architects that, as it is said now, "they have been reinvented", and the most interesting companies have created where they enjoy, if it fits more that projecting, of his profession.
What do you think of those that they have been going to work abroad?
Since we think that if three partners of arquiRUTAS nowadays we had veintitantos years, we were newly qualified or having more age, we did not have the ties about which before we speak, since it is to be married, to have done our houses to ourselves on those who weigh important mortgages and to have children of short age, that is to say, if we were completely free, without any kind of doubts that we had bet for leaving the Country and to throw to the adventure of professional to develop ourselves and personally abroad. If we were not so free, that we it are not, but there was no any more remedy, with more or less "ties", we would try to develop our professional future out of Spain, it was necessary to resign to what it was resigned, but at the moment, thanks to God, that Oíza's phrase has done that exists arquiRUTAS, and that we dedicate all our time and effort to continuing keeping our Study alive and to seeing how there is materializing, day after day, this new company that it does, almost two years, just was a dream.
Enrique Padial Hidalgo · arquiRUTAS
Juny 2013
Interview realized by Ana Barreiro Blanco and Alberto Alonso Oro. Be grateful for Enrique Padial, Sonia Sanz and Carlos Rincón, for sharing his experience and for his predisposition with this small space.