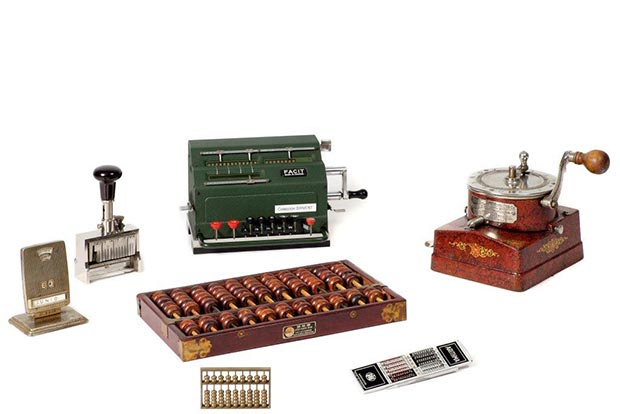 The design in the office in the 20th century. From the typewriter to the personal computer it establishes a point of item from which to appear to the sophistication of the writing and to the development of the design in the office up to his definitive displacement to the digital universe. The integration of the woman to the labor market like typist, the rural exodus, the technological innovations, the increase of the consumption and the consistent evolution of the design and the advertising they were some of the aspects that took place during the last century and that they will be able to warn in the exhibition.
In the sample there appear so much traditional as peculiar exemplary models who allow to understand the step of the mechanical thing to the technological thing. From machines of encrypted writing, machines of toy, keyboards of writing braille, electrical and electronic machines up to the first models of computers, who in his first manifestations were constituting a hybrid between the typewriter and the personal computer. On the other hand, the Collection Sirvent exposes also a wide set of pósteres, you come out in photographs and cartels that exemplify the different strategies of the design and of the advertising in the last times, as well as a series of objects and utensils used in the office like paperknife, easels, pencil-sharpener, staplers, telephones, numerators, clocks, letter-scales, protectors of checks, etc., that are exposed by the first time and that belong also to this Collection.
Along the exhibition, enriching the digest of machines, office utensils and pósteres that presents the Collection Sirvent, the works of Jose Lourenço, Misha Bies Gullets and Ignacio Uriarte illustrate the plasticity of the typewriter, thinking about his singularity and expanding his use.
THE DESIGN IN THE OFFICE IN THE 20TH CENTURY
Fromf the typewriter to the personal computer SIRVENT Collection
Centro Torrente Ballester
C/ Concepción Arenal s/n.
15402 Ferrol, Galicia, España
Búsqueda para satisfacer el conocimiento de la actividad arquitectónica y tangentes que se generan. La idea es crear un espacio para divulgar los diversos proyectos en busca de nueva inspiración y de intercambio.