From April 22 to May 28, 2014
19:00 h. Assembly hall of the Museum. Patio Herreriano. Valladolid. Spain
Documentales-Arquitectura-Sostenibilidad
To approach the architecture with different eyes, with foreign looks, with the will to share different visions, which enrich the speech. We show the mixture, the heterodoxy; the teacher turned into politician understands the industrial thing close to the historical thing, the image as reading of the architecture, the museum that is a museum of yes same… up to a Catholic doing "pagodas", and… GRAIN. Our bet returns to be to share the vision of the ARCHITECTURE (the big one) with profane companions ("even "pagan") confronting the essence of the contemporary architecture with … the urgency of the SUSTAINABLE THING.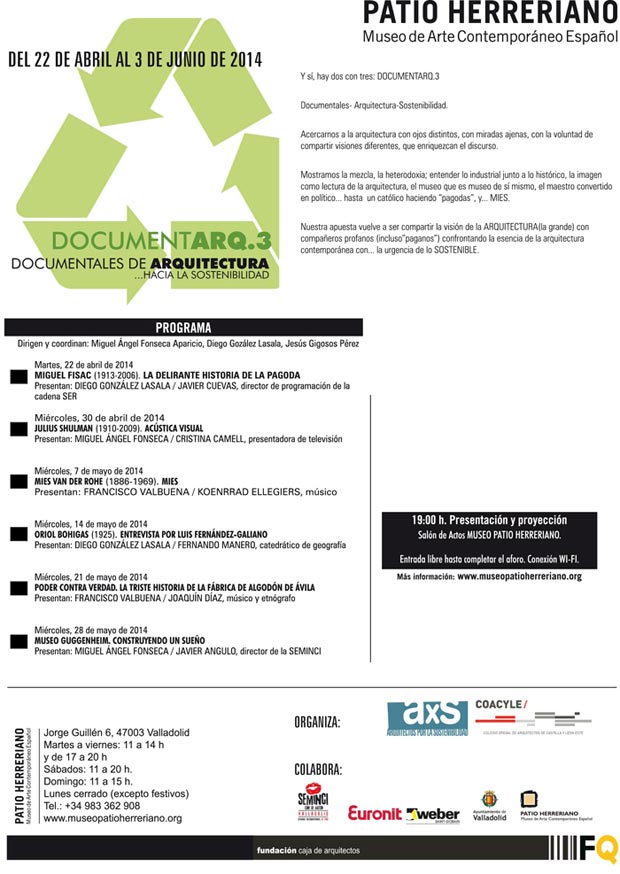 PROGRAM
Direction and coordinate: Miguel Ángel Fonseca Aparicio, Diego Gozález Lasala, Jesús Gigosos Pérez
Tuesday, on April 22, 2014
MIGUEL FISAC (1913-2006)
LA DELIRANTE HISTORIA DE LA PAGODA
Presentation: DIEGO GONZÁLEZ LASALA / JAVIER CUEVAS, the director of programming of the chain SER
Tuesday, on April 30, 2014
JULIUS SHULMAN (1910-2009)
ACÚSTICA VISUAL
Presentation: MIGUEL ÁNGEL FONSECA / CRISTINA CAMELL, television presenter
Wednesday, on May 7, 2014
MIES VAN DER ROHE (1886-1969)
MIES
Presentation:FRANCISCO VALBUENA / KOENRRAD ELLEGIERS, musician
Wednesday, on May 14, 2014
ORIOL BOHIGAS (1925)
ENTREVISTA POR LUIS FERNÁNDEZ-GALIANO
Presentation: DIEGO GONZÁLEZ LASALA / FERNANDO MANERO, professor of geography
Wednesday, on May 21, 2014
PODER CONTRA VERDAD. LA TRISTE HISTORIA DE LA FÁBRICA DE ALGODÓN DE ÁVILA
Presentation: FRANCISCO VALBUENA / JOAQUÍN DÍAZ, musician and ethnographer
Wednesday, on May 28, 2014
MUSEO GUGGENHEIM. CONSTRUYENDO UN SUEÑO
Presentation: MIGUEL ÁNGEL FONSECA / JAVIER ANGULO, SEMINCI director
Free entry up to completing appraisal.
Connection WiFi
Búsqueda para satisfacer el conocimiento de la actividad arquitectónica y tangentes que se generan. La idea es crear un espacio para divulgar los diversos proyectos en busca de nueva inspiración y de intercambio.