The architect and from Santiago de Compostela artist Pablo Tomé presents in Espazo in Branco his last individual qualified exhibition Drawings.
This his last work is an offer to seeing our city, his surroundings, his inhabitants and his turns from the point of view of his architectural curiosity, not only for the cut of the buildings or the streets, but for every human or animal form that composes it, enjoying ourselves in his fluid and suggestive style.
Drawings full of expression and of life, drawings that catch the moment as boxes of time, drawings in which exhalta the daily thing, drawings that transport us to seeing and to meeting from a personal look, intimist one and flood of feeling.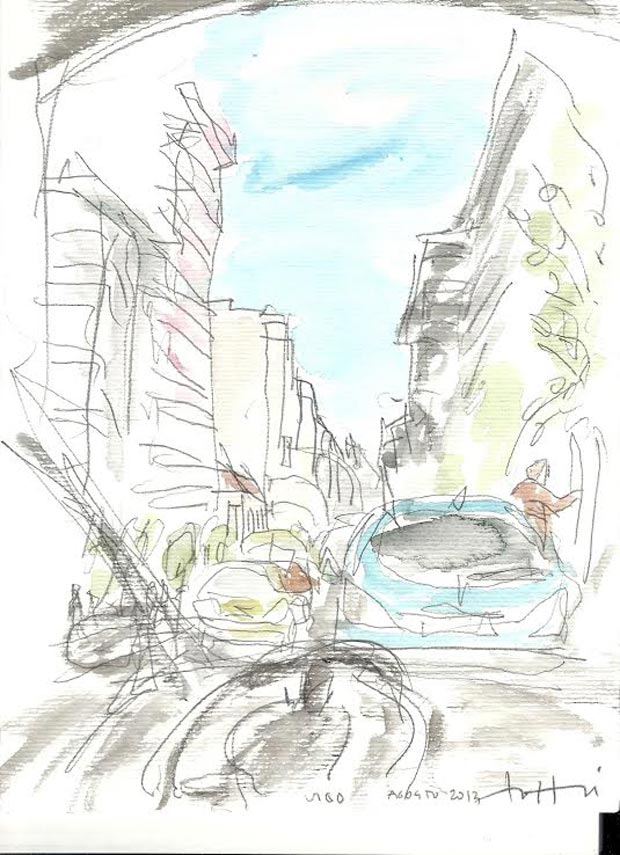 PABLO TOMÉ HERRERO is an architect for the School of Architecture of Madrid (1984). Teacher of Representation and Architectural Theory in the School of Architecture of To Corunna between 1986 and 2010. Coordinator of Projects and Works of the Consortium of Santiago de Compostela from 1996. Person in charge of design of Gallery Trinta in Santiago de Compostela from 1999.
Espazo en Branco. Friday On January 10, 2014. From 8 p.m.
Rúa de San Pedro 83, Compostela.
From January 10 to January 24 in schedule from Tuesday until Saturday of 7 to 9h.
+ info
Búsqueda para satisfacer el conocimiento de la actividad arquitectónica y tangentes que se generan. La idea es crear un espacio para divulgar los diversos proyectos en busca de nueva inspiración y de intercambio.