The whole life of photographies enclosed in a shed of wood, a chest he was saying. As if they were stolen works, in that place they were hiding good part of the best images of the architecture of the 20th century. Julius Shulman portrayed during the second half of last century the better of the modern architecture of the coast west American, since the Austrian architect emigrated to California, Richard Neutra, was initiating him in the contemplation of the architecture, Shulman did not stop photographing Wright's works, Grain, Ellwood, the Eames or Koenig; the clarity and optimism with that each of the houses portrayed of Hollywood construct icónicamente the image that we possess of the residential architecture of the sweet American postwar period. That year we could speak with him and to share a frozen tea, to our back, in a bend of the garden of his house angelina designed by Raphael Soriano, one was finding the shed replete with cliches, movies and photographic plates, a summary of the modernity of the American architecture imprisoned between planks, the own cabin, hermetic and of wood ruffled by the outdoors, there seemed in yes the same work of art put in the garden. Inside that shed there were stored thousands of photographies arranged in boxes of plastic labelled or accumulated in undecipherable heaps. Only the rhythmic dance that Shulman began to interpret when we enter him, locating here and there each of the images that wanted to show us, convinced us that that one was the best of the imaginable museums for that collection of prints. In the end, what building it might shelter half a century of the best American architecture of the 20th century without evil stopped in the comparison goes out. Taking advantage of something of light in the darkness, the photographer was revealing skilfully the wished image, when someone of those plates it was crossed by the light beam the space it seemed to catch fire, the cockpit was turning then into the only possible place for that collection, a dark chamber ignited by the exhibition in the light of the images. Shulman confessed his fear of a fire to us, though without losing the smile, it knew that his work was doing time that had escaped of that domestic museum.
Three months after Shulman's death, October 18, 2009, it burned a big hut with the work of the whole life. It was not in The Angels, happened in the south zone of Rio of Janeiro and in this shed they were finding Helio Oiticica,´s two thousand works, between paintings, audio-visual material, facilities, books, projects and annotations of the artist, all this valued for approximately 200 million dollars, according to estimations of the family. As a premonition, between the calcined works they were finding some of his Bolas de Fuego or Bólides, a set of objects that Oiticica was naming "Trans-objetos" in which the color of those was seemingly  "inflamed" by the light, according to the artist. These Bólides were including a series of booths or panels that on having moved back were revealing his content (raw land, pigment in powder, rinds …) or the different colors with those who were identical.
It is not difficult to imagine in the Oiticica´s Bólides the architecture of a museum: a hermetic chest that on his compartments having opened and to be discovered allows us to observe textures and colors that catch fire under the light. As if the scale did not exist, there is no essential difference between a Bólide, the shed of Shulman's flushed images and any of the best chests of the modernity as the Museum Whitney of the architect Marcel Breuer in New York, the three hide matter dyed of the breath of the emotion that expects to be for a tart. We accumulate things in chests because we have hope of future, because we aspire to contemplate them in forward under a new light, the museum understood as ark that encloses a valued digest, unlike what it would be necessary to think, he neither recalls a past nor recreates a present but it turns into an appliance to transport ourselves to the future, to send a message to those that wait for us in forward. In the end, what was claiming Duchamp on having designed the Bôite en Valise more that to pack the present in order that it could be transported towards a future, or what sound Joseph Cornell's Boxes but a way of providing of one tomorrow to the opposing recollections of the past, a luck of probe Voyager that was returning us themselves in future times tell us those who we were.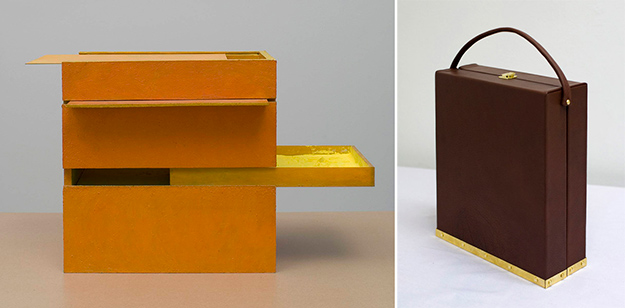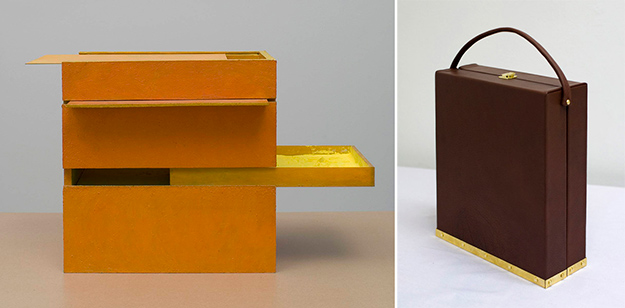 To a few apples of Marcel Breuer's chest in New York, in the Bowery, the Japanese architects of the study SANAA piled up several booths where they guard objects. In the fragile feigned balance of the Museum of Contemporary Art of New York, a few white boxes move with regard to others allowing the entry of the light and the meeting with the city. From the distant perspectives of the Prince street, to the bottom, there is spied the set of gathered and hermetic chests that contradict the scale of the city and seem to guard his relics. In the place of work of these architects there are accumulated models of this project that get confused with his own store, are heaps of accumulated boxes of carton that in his humble materiality they send to his last end: to receive objects that to guard for a future. The size returns not to matter, Shulman, Oiticica, Cornell and Duchamp, together with the Japanese architects Sejima and Nishizawa, they share fascination for those opaque and unpredictable places that hide an exchequer. The origin of each one of the chests here assembled is unlike, the motive that never pushed Duchamp to enclose his work, known completely, scarcely it has to see with that of the Bólides de Oiticica or the apilamiento of SANAA's boxes, nevertheless, exists an architectural common reason to all of them, which also there was residing original in tiny museum of Shulman's photographies, is the mystery of the secret and impenetrable space, the dense place that expects to be discovered in one tomorrow to catch fire under the light.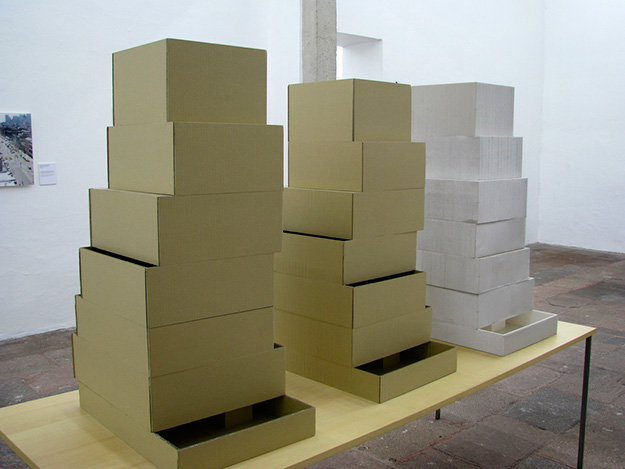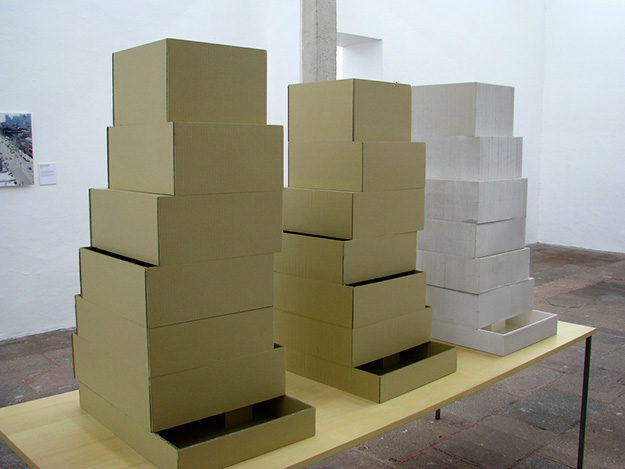 María González-Juanjo López de la Cruz
architects and teachers
Sevilla, november 2015
Note: From the architecture to the museum. Chets, it is the second one of three parts of a text published originally in nº6 of the magazine of contemporary art The green stripe in April, 2013, graduate De the architecture to the museum. Absences, chests and fingerprints.
María (Huelva, 1975) y Juanjo (Sevilla, 1974) son arquitectos por la Escuela Técnica Superior de Arquitectura de Sevilla en 2000, números 10 y 3 de su promoción de un total de 348 egresados, con la calificación de sobresaliente en sus Proyectos Fin de Carrera y ambos premiados en la 13ª edición del Premio Dragados Fin de Carrera. Después de un año de estudios becados en L´École d´Architecture de Paris-la Seine en Francia, trabajan con los arquitectos Javier Terrados y Guillermo Vázquez Consuegra, tras lo cual fundan SOL89, un estudio desde el que intentan conciliar investigación, docencia y profesión.
Durante estos años han podido desarrollar y construir proyectos desde los que indagar en los espacios intermedios de la ciudad y la reutilización de estructuras obsoletas, trabajo habitualmente difundido por publicaciones especializadas de ámbito nacional e internacional y que ha obtenido múltiples premios, como el Primer Premio de Arquitectura de los Colegios de Arquitectos de Sevilla y Huelva en diversas categorías (2006, 2015 y 2016), la Medalla de Plata del Premio Fassa Bortolo (Italia, 2013), Primer Premio Wiener Berger (Austria, 2014), Medalla de plata del Premio Fritz-Höger (Alemania, 2014), Primer Grand Prix Européen d´architecture Philippe Rotthier (Bélgica, 2014), Primer Premio Enor de Arquitectura Joven (España, 2014) y el Premio 40under40 para jóvenes arquitectos europeos del Chicago Athenaeum (EEUU, 2015). Son finalistas de los premios FAD en 2013 y 2015, finalistas de la Bienal Española de Arquitectura y Urbanismo en 2014 y premiados en la de 2016, nominados al premio europeo Mies van der Rohe en 2015 y elegidos para formar parte del Pabellón español en la XV Bienal de Venecia en 2016, galardonado con el León de Oro.
Son profesores asociados del Departamento de Proyectos de la Escuela de Arquitectura de Sevilla desde 2005 y másters en Arquitectura y ciudades sostenibles por la misma Universidad en 2008. Su labor profesional y docente se extiende a la difusión del pensamiento arquitectónico mediante la colaboración habitual con escritos en publicaciones especializadas y la organización y dirección de diversos encuentros y seminarios junto a Ángel Martínez García-Posada (Sevilla, 1976), como el Congreso Internacional dedicado a Jørn Utzon en la Universidad Internacional de Andalucía en 2009 y el seminario Acciones Comunes sobre arte y arquitectura de la Universidad Internacional Menéndez Pelayo en las ediciones de 2013, 2016 y 2017. Son editores de Cuaderno Rojo (Universidad de Sevilla, 2010) y Acciones Comunes (Universidad Internacional Menéndez Pelayo, 2014), y autores de Proyectos Encontrados (Recolectores Urbanos, 2012) y El dibujo del mundo (Lampreave, 2014), libros en los que reflexionan en torno a la reutilización en la cultura arquitectónica y sobre los dibujos y la obra del arquitecto noruego Sverre Fehn.