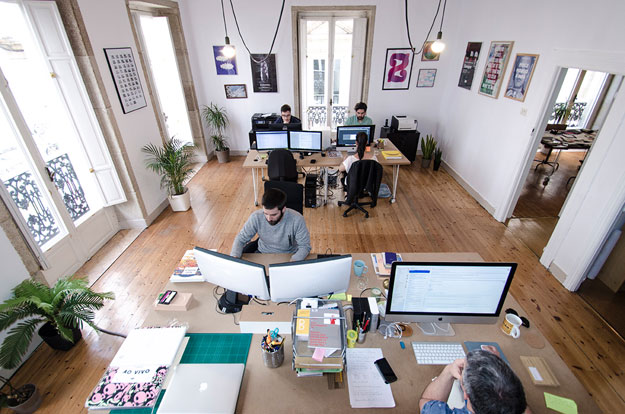 As we were approaching the study COSTA Comunicación visual,bought property in Corunna (Galicia, Spain) and in spite of being to scanty meters that separate us, we notice (probably influenced by subtitle that the interviewed ones put to the study) of the abundance and iteration of all kinds of releases, which were attracting our attention, good is for his typography, color, form, disposition, etc.
This increase of the perception of the reality that was surrounding us, motivated undoubtedly by the interview, made us remember the simple definition but simultaneously complex of Bruno Munari on visual communication, "it is practically everything what our eyes see".
Once come to our destination, the founders received us, David Silvosa, architect and graphical designer and Daniel Bembibre, graphical and co-founding designer of Winnows. Both decided to join forces and experiences in this new project in May, 2014 "to solve the creative needs both of the small client and of big companies, helping to emphasize them promoting his identity."
"Whereas the dream of the artist is to come to the Museum somehow, the dream of the designer is to come to the local markets."
In words of his founderss "COSTA  wants to be a small study of visual communication dedicated to different disciplines: graph, publishing house, illustration, packaging, branding, audio-visual production, digital supports and design of campaigns or events."
Ado preambles we leave you with the interview that we were lucky to realize in his own study.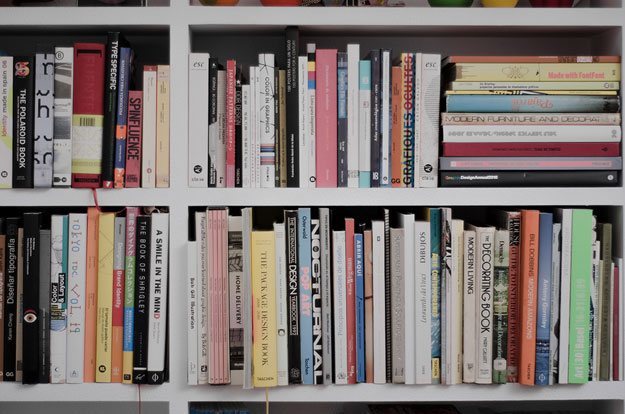 Which has been your formation and professional path before Coast?
David was employed at different Galician studies of architecture during his stage as student of architecture, something very habitual at the profession, and also at Carlos Ferrater's office thanks to the Scholarships of the Caja de Arquitectos. On having finished the career his activity initiates as architect simultaneously that reconciles it with that of designer. The architect's exercise realizes it of independent form, taking a promoter as a principal client and accepting any type of order that was appearing; small business premises being formalized only or of hotel and catering business. At par he was accepting orders as designer guaranteeing clients increasingly permanent, agencies of production and edition or companies with constant needs of graphical solutions.
Dani for his side also was employed at local studies of design after studying Fine arts. In the year 2005, and thanks to a Scholarship of the Foundation Barrié, it extends his formation in Finland as graphical designer. To his return city remained several years in Barcelona, in the one that coincides and knows David. During this time it was employed at studies of great prestige as Ruiz+Company and agencies of national reference as Summa, in which it took part in projects as relevant as the redesign of RTVE's corporate identity. In 2010 it decides to return to Corunna and case Winnows, together with Maria América Díaz and Noa Bembibre.
What did lead you to opening way you in the graphical design and the visual communication?
Both we decide to specialize in our careers in this field, though in Fine arts the formation was more orientated to it, in Architecture also it has his speciality and always the visual factor has been important and of design for the communication of a project of architecture. From this moment, simply opportunities start arising: personal projects, works, orders… And always we have seen the projects as long-term opportunities.
Had you some previous experience?
In case of Dani it is clear, in of me, as architect, the previous experience has been every project of the school or every work in the studies at which it was employed. Only it is necessary to see the magazines of architecture to know the value of the graphical design or any contest of architecture in which the power and the visual information performs vital importance.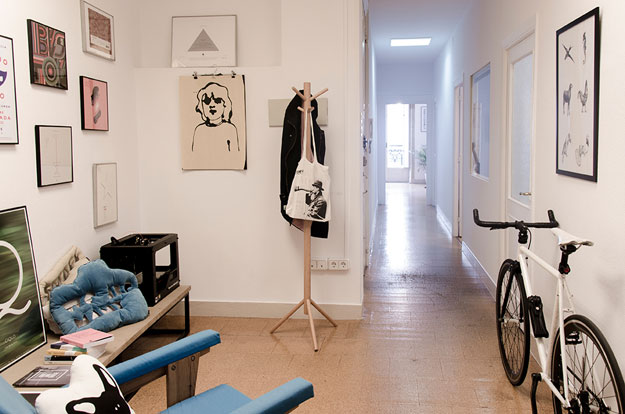 Did you meet many difficulties? Which were the most problematic?
Certainly, and we continue finding them. Initially it is the form in which you manage to do a hollow to you, later the voyages in the desert when new clients do not appear. Now, thankfully, it seems that the union has done the force and this has brought new projects; but to obtain it has supposed assuming more síes of which probably we should, for what endless days or a calendar without vacations have been the keynote, now and all these years. The maximum difficulty is to harmonize the professional life with the personnel, we live in a very bad epoch that often you have to prefer the work to many circumstances. And, nonetheless, we be to be grateful of that it is like that.
Are you satisfied with the reached aims?
Yes, contentments and as we were saying before been grateful. We have had the great luck of thinking professional clients, that they knew that we were unrolling role each of the parts. It has allowed us to develop the most interesting projects that we could have raised with the independence that we all search in our professional exercise. To be where we are is an aim reached in yes same.
What expectations and projects of future have you for "Costa"?
To establish and to gain. To hope that the uncertainty some day manages to disappear and continue like till now, being able to do what we like for clients that they know that they need us.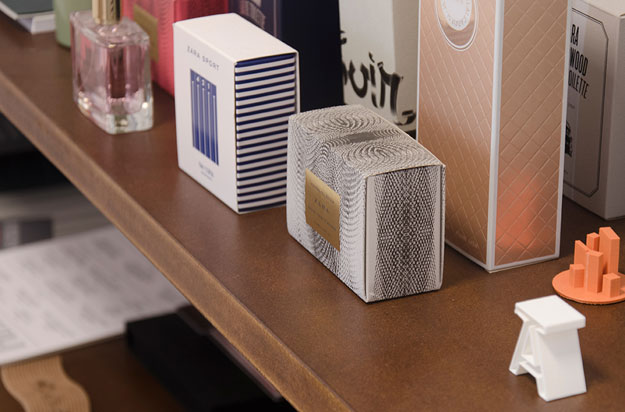 Do you arrange or complement this activity with other labors or in other fields?
David continues exercising the architecture.
Are this type of initiatives profitable? Do you feel good remunerated by the labor that you realize?
To follow for what you look always is profitable. To manage to be independent, that a client comes to you because it knows that he needs you it is profitable. That knows that he needs you means that it knows the value of your work, and it moves to the fees.
Every time we are remunerating ourselves better. Since there is another mouth more that to feed, the own infrastructure that needs a company, we are we bet because it grows healthy and healthy sacrificing ourselves uo to a point we.
Do you think that to study Architecture has been a fundamental passport to have come to your current work?
On the part that me concerns, yes, it has been fundamental. Though always it had had this creative side, it is necessary to bear in mind that I entered thinking of dedicating my life to calculating structures. To go out of there hating them, but discovering other disciplines of which before he was fleeing, it is a fruit of studying Architecture.
Would you encourage other architects to follow your steps? What steps do you consider that they should give? How to complete his studies? What other advices would you give them?
Yes, as we were commenting before, to follow for what you look always it is profitable. We all know this speech and in our case we believe ourselves it. The steps that we believe necessary to obtain it it is a will and not to get weak in the attempt. Being formed always is important and today thankfully the information is very accessible; but the important thing they are the hours that you him throw above. And also it is very important to value any project, for small that is, as an opportunity; you never know wherefrom the next project is going to arise or immediately after what.
Do you think that the architects in Spain we should continue opening new routes of work to go out of the "most traditional" cabin of projecting given the current situation of the construction in our country?

In our case it is not that we look for new routes of work in the architecture, is that directly you change discipline. Yes that we think that it is necessary to adapt to every moment; thankfully the architecture gives you many routes to exploit the activity. There are multiple scales and there are multiple options to approach each of them. Ultimately our work consists of putting the things in order: the needs of the client, the own ideas… Only it is necessary to look for this client to whom we him can solve his problems. Not always it will be a house, an equipment, a building…; but it is necessary to exploit any opportunity.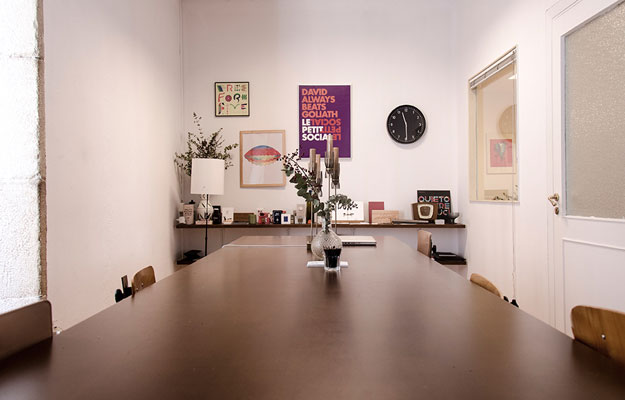 What do you think of those that they have been going to work abroad?
That is a shame. We do not stop being resources that are getting lost. Ojalá that when the situation changes also reverts this situation. If the people go away, here it is never going to spend anything. And if we want to avoid again the emigration, we will have to construct all that for that we look in moments of crisis abroad.
How do you see the future of the profession?
Bothered. Probably great part of the problem comes from that us exist / they have turned in a bureaucratic reef that it is necessary to expire. Do you want to do a house? Since you have to ask for license, you have to pay a few rates, have to contract an architect, have to contract a rigger, have to contract a coordinator of safety and health… You have that; but the people do not know why. And we all know that we are essential; but the client not. We need that the client comes to us because it knows that he needs us for something and now, in many cases, only it comes for obligation.
There is no major "unnecessary" ctivity that the graphical design. Any brother-in-law makes you a logo, any nephew mounts a web and any press does a label to you; but there are people who contracts our services. There is interference, there are neither assigned competitions, nor colleges that regulate the activity, and the clients demand designers equally.
But all that began in the past, when we gain ourselves the reputation of being a few remunerated well professionals who were not treading on a work or we were sowing our landscape with projects seriados to prices of unpublished. This reputation that precedes us now, joined to that our clients think that they do not need us, supposes that they do not value our work and therefore, less still, our fees. And at present, the situation of survival in which we are, only abounds in this dynamics in the opposite sense: let's lower the prices at the cost of not being able to assume, due to the costs, the work for that they contract us.
Or we start making ourselves cost, and know what costs the professional exercise, or let's assume that we will end for some devour others.
And to this step, nobody us will miss.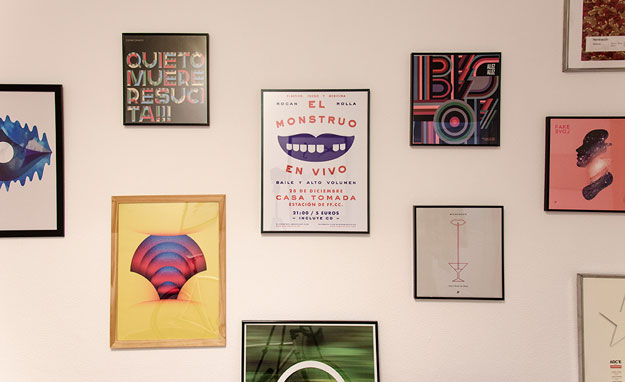 David Silvosa – Daniel Bembibre · Visual Communication | COSTA
April 2015
Interview realized by Ana Barreiro Blanco and Alberto Alonso Oro. To be grateful for Daniel and David his time, patience and predisposition with this space.