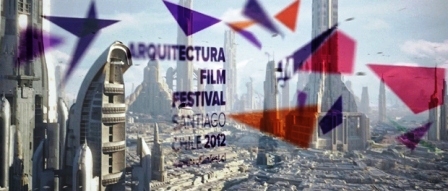 In a previous entry of this blog already the interesting initiative commented to itself that a group of enthusiasts have raised in Chile, the ARQFILMFEST (AFFS), the first festival of Cinema and Architecture of a country of Spanish language.
A few weeks ago, these pioneers requested a text me on the relations between Cinema and Architecture, a topic most ample and difficult to synthesize with few words, but that I confronted with interest.
As soon as I sent them, they titled it as this entry «which is the relation between cinema and architecture?» And they it have placed in his web page in a too out-standing place, next to the image that I accompany them of Coruscant, giving him more importance of the one that has, when actually it is a reflection that can and must be completed and improved.
This text is the following one:
"When one speaks about Cinema and Architecture the people are in the habit of thinking about the buildings where the movies are projected or in the sets that appear in them. Probably more movie fans remember Antonioni's empty landscapes or Gary Cooper's image throwing you scorch individualists in a court …

Undoubtedly, all this belongs to the relations between these two disciplines, but they are not the only ones, because to the Architecture and the Cinema they are joined – and they separate them – by many and any more complex connections, if we bear in mind that the first one consists of constructing a space, the second one, already from his beginnings, he needed two spaces, one to be able to be created and other one to be exhibited. To this it is necessary to add that both the documentaries, and the fictions, they show environments royal or created for the filming and these environments are in the habit of being interconnected by the Architecture. There can continue being enumerated the numerous points of union and of friction between both disciplines, but the place is not this. Lucky every time there are more investigators who study the relations between the Cinema and the Architecture, discovering and analyzing new and unsuspected aspects increasingly exciting.

One is in the habit of considering to the Cinema as the discipline or the artistic manifestation – what is more debatable – in that others meet, as the Literature, the Music, the Photography and the Architecture, and even it has managed to write that it assembles "all" other. The danger that arises on having tied two of them is that the weight relapses exclusively into one, forgetting other one, and also that the importance of one annuls to other one, for this reason, the challenge it consists of achieving the difficult balance between both. The ideal thing is that a good movie shows a good architecture, with all the doubts that could be established on the "kindness" of each one of them, bearing in mind that the one who has to weight them will not be able to avoid to do from one of two disciplines, and this one to be only one of great and exciting challenges that there has ahead a Festival of Cinema and Architecture as the ARQFILMFEST.

A contest that will serve to open fertile ways that the architects, the filmmakers will travel joined and, which is more important, all those who, without belonging to these professions, are interested in studying, modifying and improving the constructed environment."
Jorge Gorostiza, arquitecto. Author of the blog Arquitectura+Cine+Ciudad
Santa Cruz de Tenerife, juny 2012
Doctor arquitecto, proyecta y construye edificios y desarrolla trabajos de urbanismo. Desde 1990, publica numerosos artículos sobre cine y arquitectura en medios de su localidad, revistas como Nosferatu, Nickleodeon, Academia, Lateral, Cahiers du Cinema… y en varios volúmenes colectivos. Entre el 2000 y el 2005 dirige la Filmoteca Canaria. Imparte conferencias sobre arquitectura y cine en instituciones como el CAAM en Gran Canaria, la UIMP, el CENDEAC en Murcia, INCUNA en Gijón, Fundación Telefónica, la ETS de Arquitectura y el CCCB de Barcelona, las ETS de Arquitectura de La Coruña, Sevilla, Valencia y SEU madrileña, La Ciudad de la Luz en Alicante, la UNED en Pamplona, en varios colegios de arquitectos, así como en las universidades del País Vasco, Gerona, Valladolid, Málaga, Granada, SEK en Segovia y CEES de Madrid. Jurado en varios festivales cinematográficos, como los de Alcalá de Henares (2001), San Sebastián (2002), Sitges (2003), Las Palmas (2005) y Documentamadrid (2005), y comisario de las exposiciones Constructores de quimeras. (Centro Conde Duque, Madrid, 1999) y La arquitectura de los sueños (Capilla del Oidor, Alcalá de Henares, 2001).
He publicado bastantes libros y muchos artículos, he impartido conferencias, he sido comisario de exposiciones y jurado en muchísmos festivales. Si quieren saber más no duden en consultar mi blog ARQUITECTURA + CINE + CIUDAD.