In this new delivery of beacon, we continue knowing the projects in which there have embarked and focused some of our companions. Because of it today we move up to Valladolid to know Cristina Aparicio, who decided to found Cleoveo, his own project inside the textile sector, and focused on the infantile mode.
This arquitecta, licensed in 2004 by the High school of Architecture of Valladolid, has been employed at this sector of the architecture during more than 10 years at different areas: in studies, afoot of work, as liberal professional, as expert of the court, giving formation, consultancy BIM or realizing diverse works of graphical, shaped design 3D and animation.
Nevertheless, in 2015 the maternity changes his course and allows him to find a different way, his. Fruit from it arises Cleoveo, a project in the one that overturns all his previous experience and that has turned into the second son to whom to produce, to love, to grumble and to extract forward.
Sin embargo, en 2015 la maternidad cambia su rumbo y le permite encontrar un camino diferente, el suyo. Fruto de ello surge Cleoveo, un proyecto en el que vuelca toda su experiencia anterior y que se ha convertido en un segundo hijo al que criar, amar, regañar y sacar adelante.
"What does happen to us when we are parents? They say that everything puts topsy-turvy but we think that what happens, rather, is on that every thing puts in his place. Behind this project an arquitecta and designer is, but first of all a large-headed person unconformist and dreamy. An enthusiast convinced of that the made well things and with meaning they can work."
Ado preambles we leave you with the chat supported with Cristina in order that you know a bit more the Spirit Cleoveo.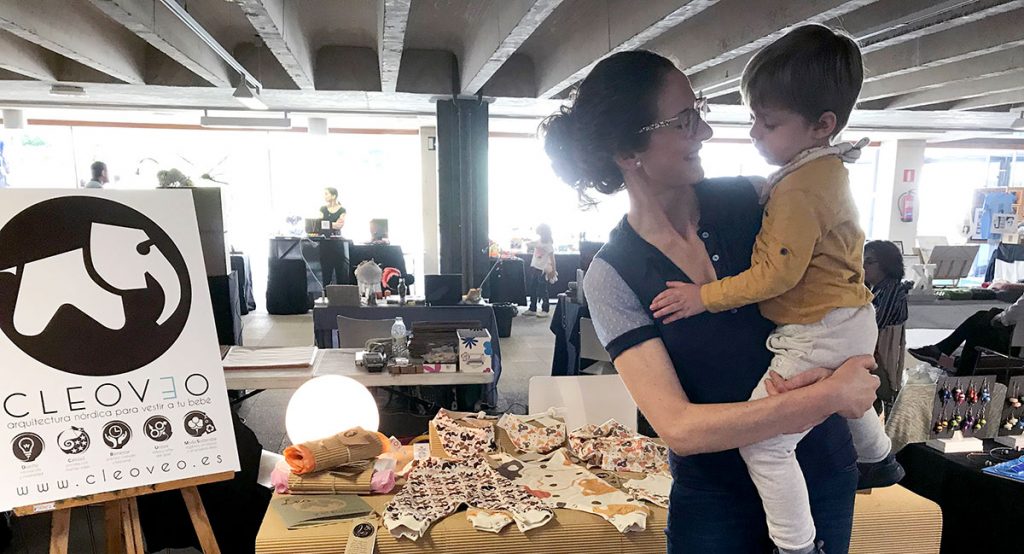 How would Cristina Aparicio be defined?
As an idealistic woman, unconformist and very large-headed person capable of working thousand hours when it him motivates something. Enough donkey, fry as the ice for a few things and very vulgar for others. In general very passionate, responsible and awkward. Confused, with memory of fish, creative and lover of the northern and Japanese culture. Demanding and up to a bit embroider sometimes but never trying to fall down in the pride. Tolerant with almost quite and with much that to learn. Obsessed with the lack of time and nowadays trying to go more slow for the life.
How, when and why does Cleoveo arise?
It was going years, the whole life, looking for my identity and the way for the accomplishment personnel – professional where they all were saying to me that it had to be nevertheless was finding her. The maternity gave to me the opportunity to break what they will say, to face to me itself, and to meet on this route. The opportunity to know myself better and of excelling myself every day.
Cleoveo's germ arises in this moment, on having turned into mother, in 2015. I had to leave some of the works that it had since they were incompatible with the maternity that wanted. It was going years queriendo to create something own that was assembling my capacities and values and I found in the clothes for babies a problem to resolving and a very creative route. This way the mode was born for babies intelligently and bio of Cleoveo that you can discover in our shop online.
Did you meet many difficulties? Which were the most problematic?
I was and I continue meeting many difficulties. To begin, I am an architect for what I was not knowing completely the world of the mode and the textile industry, which supposes throwing a new brand from zero, the most specific sector of the sustainable mode, the treatment with suppliers, the sales online and attend, the fabrics, the pattern design, the marketing online, the fashionable lounges in Spain and abroad, the B to B and the B to C, and in general the whole wild world of the entrepreneurs.
In addition, in a model of business like this one, which is not digital, the necessary investment is very high since you play with physical products and estocaje. To throw every new collection is like to give a jump to the emptiness and to pray in order that from below they are waiting for you to catch.
How did you detect the need of this service?
He was detesting the clothes for baby that they were giving us. He was finding her, besides vulgar and ugly, inconvinient and slightly practical. There wanted a comfortable, functional and versatile article, of quality, rapid of setting and removing, ideally inside and out of house, different and creative, atemporal and that lasted more than other articles before it him was remaining small.
I know all clothes will have guarded, given or wire drawing even her neither put on because already it was not costing him or with only a couple of puttings. Later I discovered the world of the sustainable mode, the organic fabrics, the danger of the toxins in babies, etc. And they looked like to me important values that also had to be present in the project.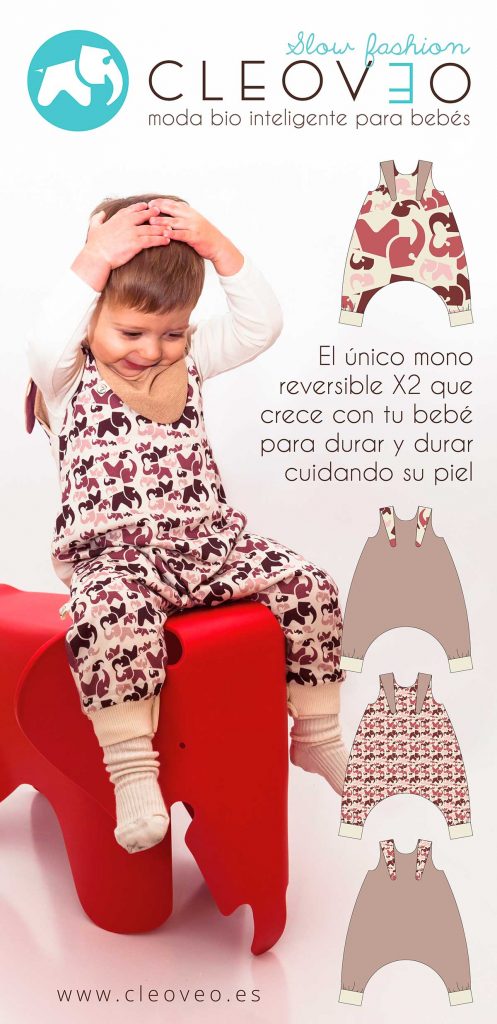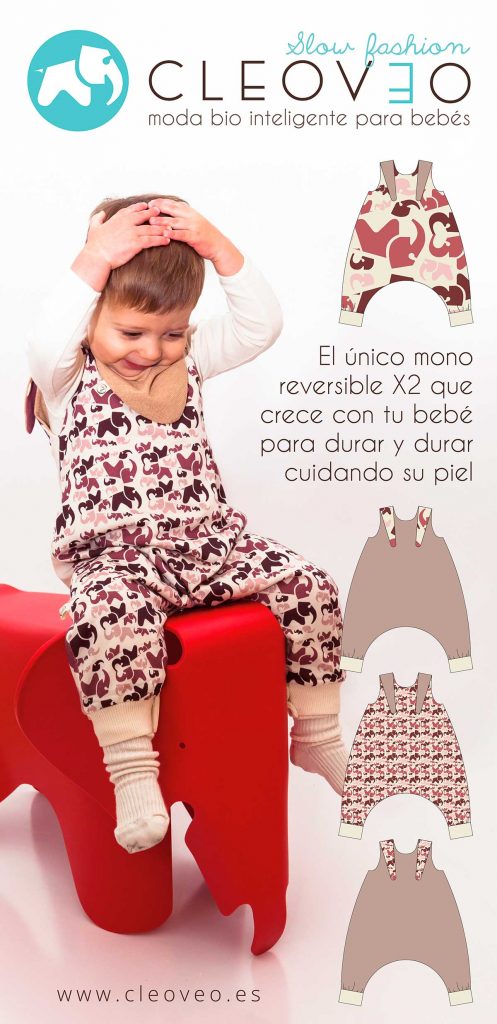 How is it day after day in Cleoveo? 
Basically a madness. Though every week we try it it is very difficult to structure day after day or to fulfill a schedule when you do not know when it will enter an order, they will call with an urgent problem or any unforeseen other one will take place.
We try to establish well which are the priorities (not always it is easy) and pull much calendar. We block those tasks that it is necessary to make yes or yes every day as for example the creation of content, the update of networks, the design or redesign of products, the preparation of campaigns, the planning and organization of fairs, capture of decisions, formation, called suppliers or collaborators, answer post office, acquired commitments, etc.
From there it is never known, but I must confess that I like this certain uncertainty that it does that every day is unforseeable. To live almost always to the limit keeps me alive.
How is it the process of design, development and commercialization in Cleoveo?
The process of design and development of a product in Cleoveo is not far much from the development of a project: thousand ideas, bocetaje, predimensionamiento, it tries and mistake, final planes, creation of the prototype…
The commercialization is another history: to know the cost prices and the commercial margins is indispensable to have your model of business clear and to know to whom you go. To have clearly if your client is the person who is going to use the product or to be a professional who is going to distribute or sell it in other shops, to contact with commercial, to get in the world of the fashionable lounges and of the gangplanks, to decide which are really interesting for your brand, social networks, creation of content, treatment with clients, to be able to report … and an endless number of new things more.
Have you delegated functions and have centred on concrete parts inside Cleoveo?
Yes, the production and manufacture of all the products is had by us representative, also the maintenance and web programming, and the fiscal and countable part, but of everything else I am still dealing I for the present time.
Which did be (or it will be) the critical moment once begun Cleoveo?
I imagine that many will come more but the most critical moment I lived through it year ago and a half approximately when after throwing the first collection, and after the great effort that he supposed, tied to a recent maternity, the things did not work since he was thinking.
Let's say that I began the house for the roof and met without forces, with the whole collection that could not sell because anybody knew me, and with all my savings invested in her. From there I had to begin to make for me little by little way, to announce myself, to report online and offline, etc. What is in the habit of calling " to puncture stone". To be formed, to learn and to continue learning, to find my public and to know how to come to him.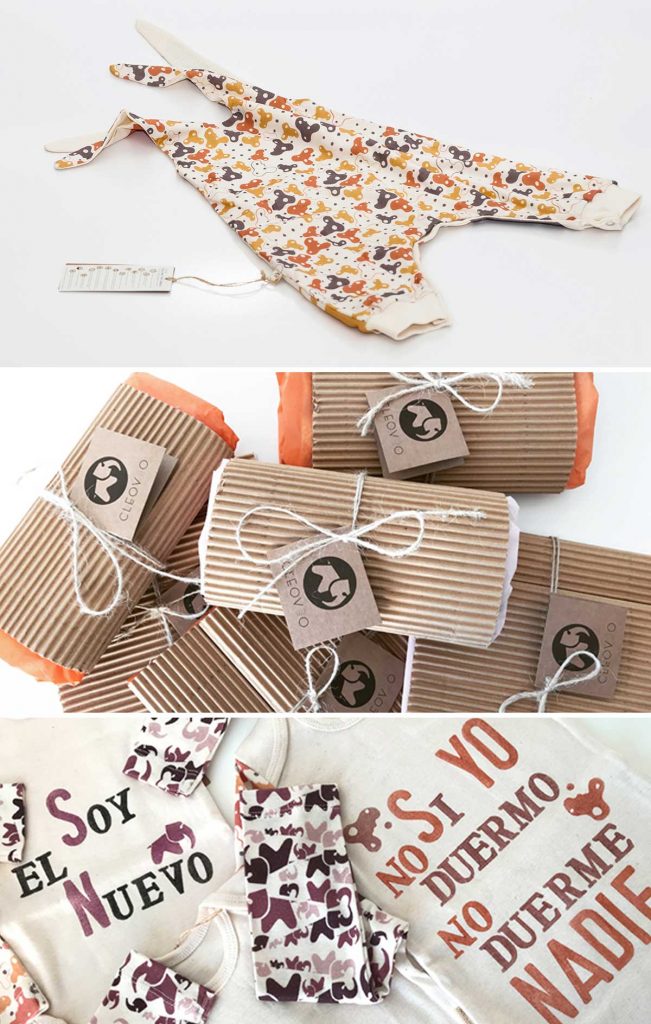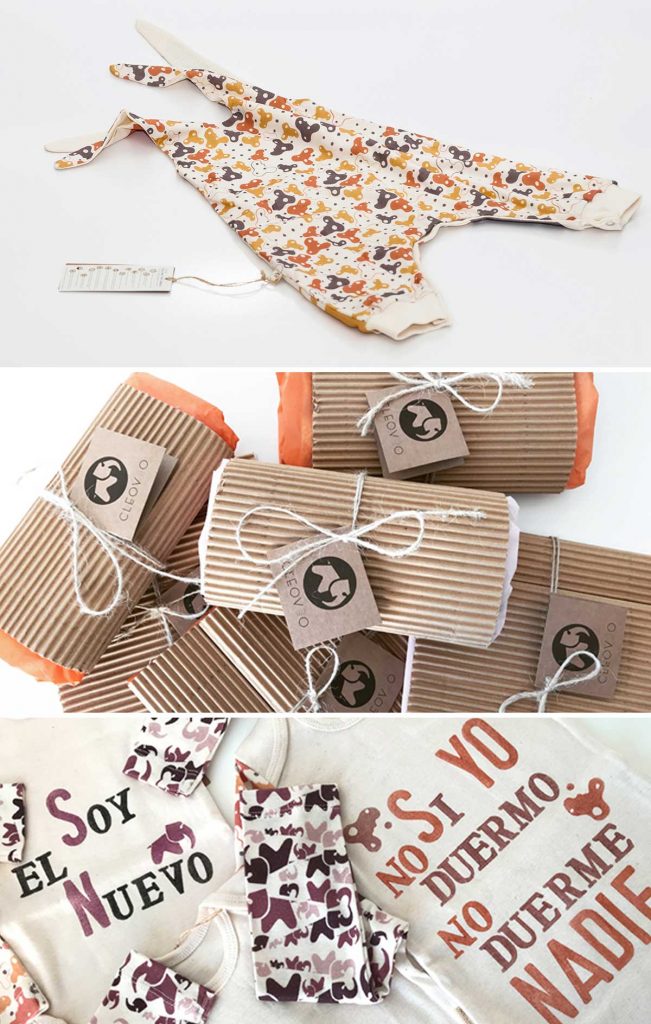 Which are your references? 
As for communication, I am Lucia Be's great admiradora for his nearness and his way of connecting with the people, of Ecoalf for his design and his revolutionary spirit or of Hemper that also has could transmit very well his brand identifying her with the whole way of life.
With regard to the design, the architecture of Alvar Aalto, designers since Charles & Ray Eames or artists like Saul Bass are some of my modals. I am carried away of the architecture and the northern and Japanese design.
Finally, as for models of business Vigga it is one of my major modals. His creative one, the Danish Vigga Svensson, has created a company that allows to the parents to rent the clothes of his children in order that always they have the indispensable thing in these first stages in those who grow so rapidly. Organic, free products of toxins and of quality within reach of any family.
At Cleoveo already we are employed to help a model who meditates, not only the purchase of our new products, but also of the second hand, and the rent for membership. But still a long way stays in order that this model could work in Spain, this is not Denmark.
To what clients' segment do you go? Which are the orders more defendants?
Mothers between 30 and 45 pregnant years or with children from 0 to 3 years, economic level and cultural way – high place or high place, normally hard-working, enterprising or anxious, I please for the design and sustainable conscience.
The orders more defendants are our reversible monkeys for babies and bodys personalized with the name of the baby or with some message. Many of them for gift since we accompany it of an exclusive packaging that also have designed we, ecological only one and 100 %. The clients who buy it for gift see in Cleoveo a way of surprising the new dads with the only, very personal, original gift and simultaneously totally functionally and practically.
How and why do you use the "new technologies "? Has "network" facilitated your labor?
We use the new technologies for almost quite, are very handcrafted and simultaneously 100 digital %. The new technologies are present in the design, manufacture and sale of our products and certainly there plays an important paper in the communication across the blog, social networks and across our podcast Slow Fashion Life, a podcast on trends, sustainable mode and life slow that includes interviews to personalities of the sector.
In a business like ours the physical treatment and presencial with the client it is indispensable to generate confidence, to touch the product, to prove it, etc, but doubt does not fit that Internet and the new technologies have facilitated our labor and promote very much this another facet presencial from you to you.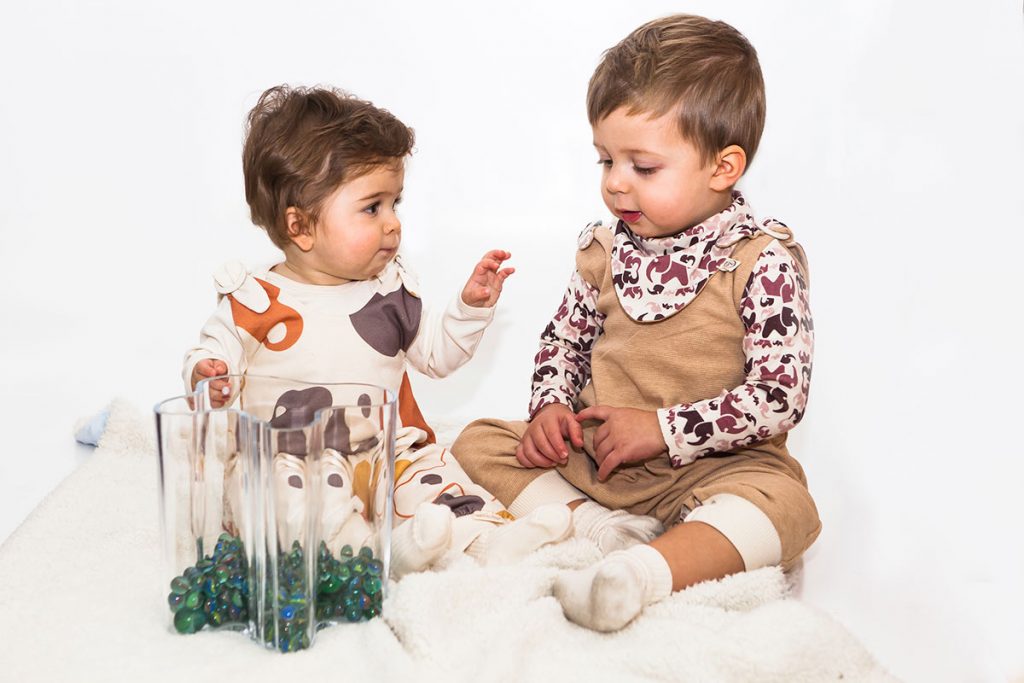 Do you arrange or complement this activity with other labors or in other fields?
Yes, I support my collaboration with the COAVA, Architects' College of Valladolid, where I am a member of the Board of directors and of sporadic form give some classes or chats of design and / or sustainable mode.
The architecture, it has opened many fronts of battle (LSP, Bologna, unemployment, labor precariousness, Spades, ETSAs, emigration, communication, etc), will not they be too much for the existing polarization inside the same one?
I do not know it, the situation is complicated, I think that we are not accepting the future of the architecture, we refuse to see the changes that are taking place. We have to adapt to a very different company with completely different needs.
It gives me the sensation that the architecture has remained stagnant while the world continues advancing. In the bottom, though we deny it, we continue thinking that the crisis will happen and we will return to the previous situation and it will never return (less badly on the other hand). We must see this economic crisis, of values and of changes like an opportunity to improve and not to complain hoping that it happens.
How do you see the future of the architecture? And that of the profession?
It does little architect was commenting on it with a companion: I think that in a few years the figure of the architect that we contemplate still today in Spain will disappear. This "humanist" architect capable of including many areas will give step to a profile more specialized since it happens in other countries.
It is a shame because I think that it is important in architecture to possess a figure capable of coordinating a multidisciplinary equipment. To realize this function of a competent way seems to me to be indispensable to have at least basic knowledge of how there works the structure, the facilities, and a length etc of disciplines.
Probably I am too critical, but the truth is that in my last years of exercise like architect I finished very disillusioned with the profession already out in contests, realizing housings for the construction one or with particular clients. Biddings for which only the economic amount and the fall is valued, construction that alone think about the edificabilidad and the useful meters, and clients who alone love you for your signature. I hope that we are capable of giving one overturn to this situation with the step of the crisis.
What improvements you believe that they are fundamental and that they should be started of immediate form?
I think that the administration, and the company itself, they have been valuing and respecting less and less our profession. I think that it is the moment to learn to sell as architects, reporting, looking for our client and to inspire love in it since we would do if we had a brand. This is something that also I have learned with Cleoveo. If it was returning to the architecture, – that is not my intention-, it would try to apply it.
Nevertheless, while there continue existing architects ready to work for wretched salaries and to accepting works with rash falls it is difficult that the situation changes. Probably let's should begin for we themselves value more our profession and to reject in block these offers.
On the other hand, I think that the architects have not could be useful these years of little work to put a day with the new technologies. Specially with the methodology BIM that I consider to be already indispensable and that nevertheless is late too much in be implanting. The architecture and the construction, at least in Spain, scarcely has evolved in the last decades and so much the way of projecting since her of constructing is far from being very much efficient and modern since it happens in other disciplines or in other countries.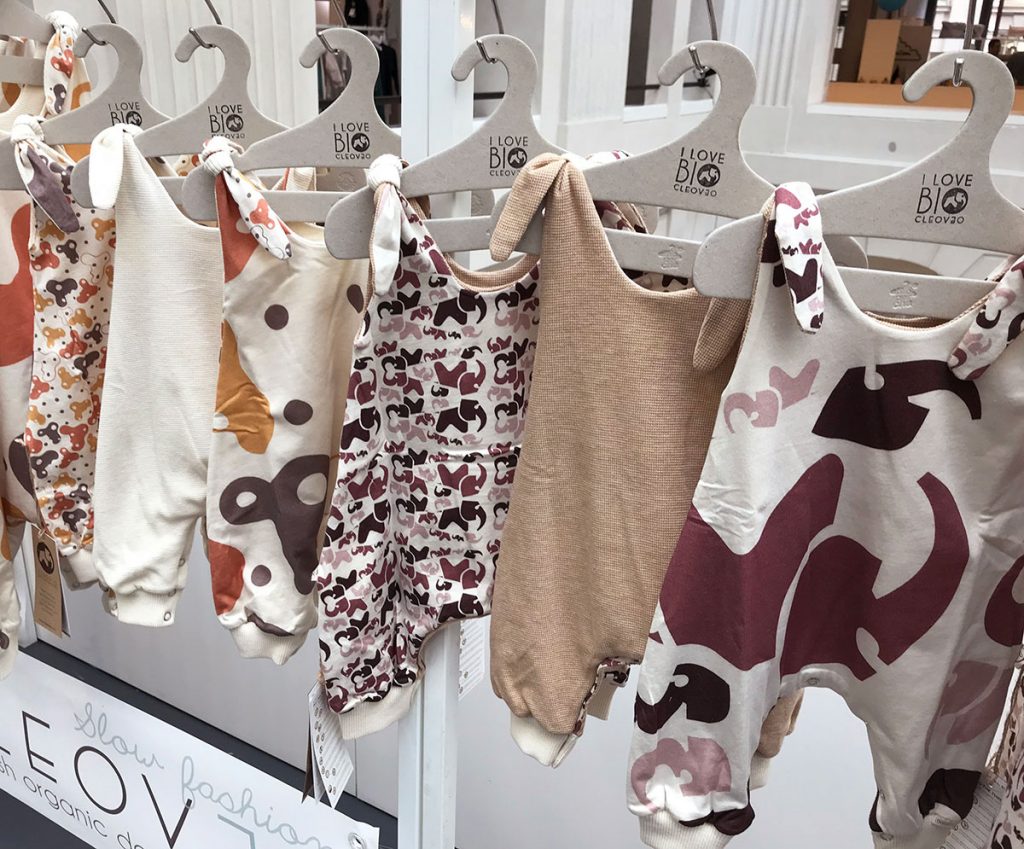 As "entrepreneur" what do you think of the architects who "open and / or recover" new fields and / or approaches of the profession?
Any change of gun-sights or new approach seems to me to be wealth-producing, forces us to put us in inconvinient situations and allows us to overcome us opening new routes.
Are you satisfied with the path realized till now? What projects of future do you wait for (you)?
We are satisfied, but a lot of work stays for doing. Projects of future? All, we are a very young brand to which still he still has them a heap of things for which to fight to be consolidated.
To arouse the population on the need to pass to the sustainable mode is one of the missions that we have proposed ourselves but have many opened fronts. The sustainability is one of our those cannot be waived values but it is not our differential feature: to fight for that they eliminate absurd stereotypes, for to create culture of design and to work in order that when we dress our children it gives priority to the practical, comfortable and healthy side opposite to the unnecessary adornments. To promote the quality opposite to the hyperconsumption of the low cost, etc.
Probably the nearest challenge that we have now is to manage to extract to the light a new collection at which already we are employed and with the one that we are very deceived.
To finish, what would you advise the current students and future professionals of architecture?
That support the opened well eyes. The career helps to create habits of work, overcoming and commitment and allows to open small doors of knowledge but only it. Only it is a small base on which to start constructing everything else and everything else comes later.
That do not conform what "the rest" considers to be like normal, acceptable or good if they it do not come from this form, which they dare to be different if they feel it this way and do not give birth up to finding his place.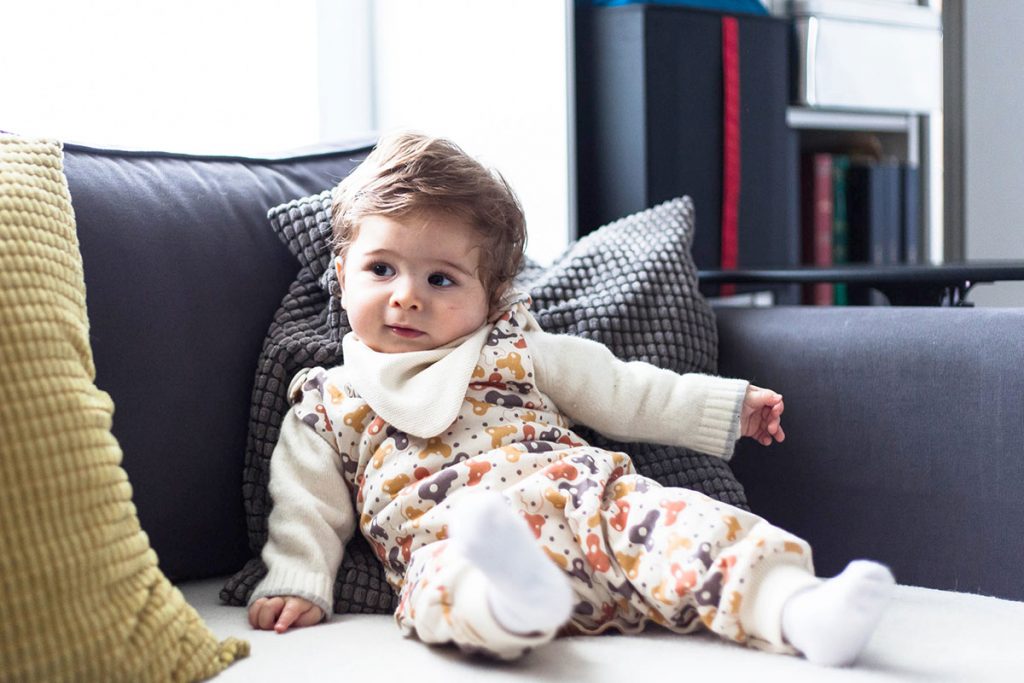 Cristina Aparicio · Cleoveo, bio articles that grow with your baby 
April 2018
Interview realized by Ana Barreiro Blanco and Alberto Alonso Oro. To be grateful for Cristina his time and predisposition with this small space.