Passed only sixteen years of the century twenty-one, this short period of time well might divide in two equal periods of eight years placing in the center of the above mentioned period the epicentre and explosive of the change in the structures, the strategies and the architectural production.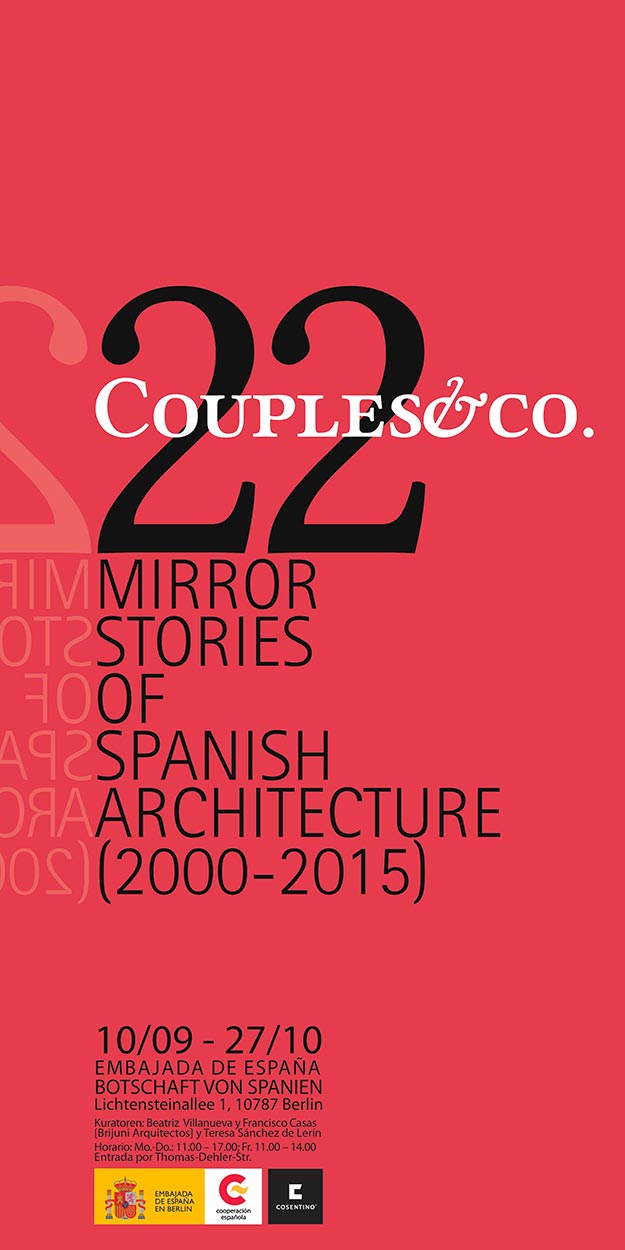 Couples & Co. 22 SPIEGELGESCHICHTEN SPANICHER ARCHITEKTEN, proposes one of many possible readings on the most recent history of the Spanish architecture. Across twenty-two studies of architecture organized concerning pairs, every equipment looks in a mirror where to discover how the latter sixteen years can be unfolded in two symmetrical and constant visions in the time, though asymmetric and discontinuous in the expositions and the results.
The hypotheses of item were presupposing the first generation of fifty-year-old major architects that they could have faced successfully to the new situation, generating offers equivalent to the already proved ones in Spanish territory, now abroad; the second generation of architects concerning forty years that, having constructed some works in our country, they had given up voluntarily  – or not – continuing doing it and on the other hand they have managed to enter new territories not necessarily tied to the construction; and finally a third generation of forty-year-old minor architects who have never constructed and, assuming the inability to do it, have thrown firmly to the conquest of other spaces where the discipline fades away and dilutes so that surprising scenes and new opportunities show.
Both the exhibition and his catalogue offer a possible response to these hypotheses and an approximation to the future of the Spanish architecture. Nevertheless, the different caps that despliegan before the spectator they invite to that this one interprets in a different way a recent history previous to the economic and social precipice of the end of the first decade of the century for, without epic but with a new look, to propose radical statements of major commitment and beauty.
Studies of architecture participants:
1.- ANTONIO JIMÉNEZ TORRECILLAS
2.- ARCHIKUBIK
3.- CHURTICHAGA Y DE LA CUADRA SALCEDO
4.- CRUZ Y ORTIZ
5.- DJARQUITECTURA
6.- ELAP
7.- MANSILLA & TUÑÓN
8.- EXANDOUNAMANO
9.- FAKE INDUSTRIES
10.- GAP
11.- GRUPO ARANEA
12.- MEDIOMUNDO
13.- MI5
14.- MMASA
15.- NIETO SOBEJANO
16.- OAB
17.- SELGAS CANO
18.- SOL89
19.- TALLER DE CASQUERÍA
20.- TEMPERATURAS EXTREMAS
21.- VAUMM
22.- ZULOARK
Curators: Beatriz Villanueva, Francisco Casas, Teresa Sánchez de Lerín
Couples & Co: 22 SPIEGELGESCHICHTEN
SPANISCHER ARCHITEKTEN (2000-2015)
From September 10 to October 27, 2015
Room of exhibitions of the Embassy of Spain"Spanien-Kultur"
Embassy of Spain
Lichtensteinallee 1 (Entrada por Thomas-Dehler-Straße)
10787 Berlin
Schedule of opening: from Monday until Thursday, from 11.00 to 17.00 and on Friday from 11.00 to 14.00
Inauguration: on September 09, 2015, 20.00 h
Búsqueda para satisfacer el conocimiento de la actividad arquitectónica y tangentes que se generan. La idea es crear un espacio para divulgar los diversos proyectos en busca de nueva inspiración y de intercambio.