The next days 18 and 19 March, celebrate in Granada the national Congress on the future of the architect. The reason of said congress is not another that find us with students, young architects, school representatives, representatives of the schools of architecture, etc. with the only end to generate a FORUM OF DEBATE about the so uncertain future of our profession.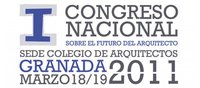 Friday, 18 March to the 9:00 – 19 March to the 14:00. Calm School of Architects of Granada
Búsqueda para satisfacer el conocimiento de la actividad arquitectónica y tangentes que se generan. La idea es crear un espacio para divulgar los diversos proyectos en busca de nueva inspiración y de intercambio.