DPR Barcelona. Independent publishing house with headquarters in Barcelona centred on topics of architecture and city. Across the development of experimental publications as hybrid books, digital expanded formats and mobile-books, they look actively trasgredir for the traditional forms of edition and distribution approaching what probably they are the titles of architecture in the future.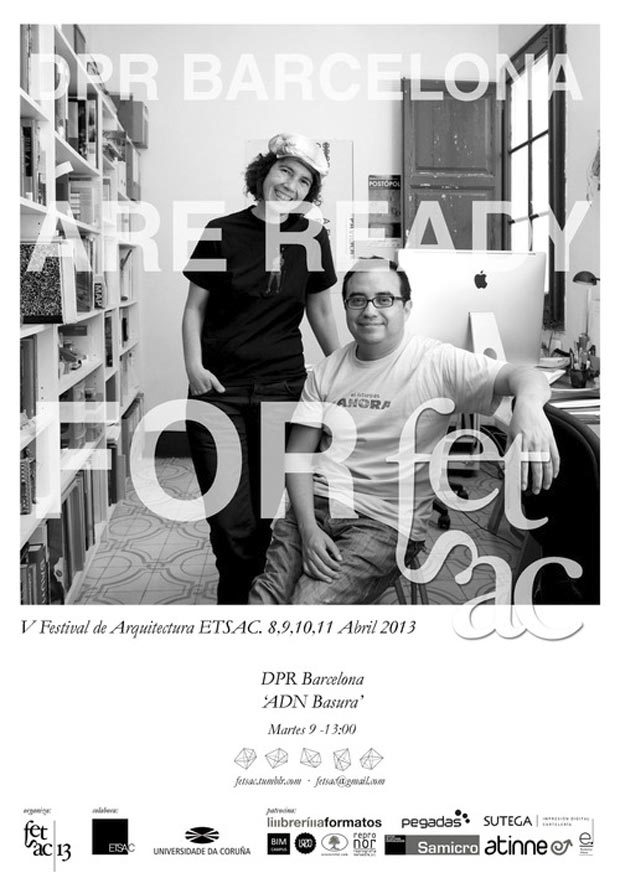 "Garbage DNA "
Garbage is known as DNA to the sequences of the genome that it does not codify as proteins. Nevertheless recent advances in genetics suggest that his paper is fundamental in the genome of every organism [though his functions have not been identified]. In an analogous way there exist in architecture professional practices that cannot be codified inside a conceptual conventional frame and for it to stay out of the channels of diffusion and architectural critique. New territories and forms of work that constitute constant our area of exploration as publishing house and as agents inside a network of practices on the other hand. In FetSac13 will explain how we move inside this unknown terra.
WEB:
Twitter:
César Reyes Nájera Arquitecto. Doctor in Materials and Systems of Bio – climatic Construction. Co-founder of dpr_barcelona is a publisher specialized in technology and city. Impeller of the entropicIQ platform centred in investigating the social and urban systems under a thermodynamic optics..
*Photography yielded by Ana Alejo
V Festival de Arquitectura ETSAC
Conference DPR-Barcelona
On Tuesday, the 9th – 13:00 h
Búsqueda para satisfacer el conocimiento de la actividad arquitectónica y tangentes que se generan. La idea es crear un espacio para divulgar los diversos proyectos en busca de nueva inspiración y de intercambio.