Jose Michael de Prada Poole. National prize of Architecture in 1975, has been a professor of the department of Architectural Projects of the ETSAM. It is pioneering in the investigation brings over of pneumatic structures in Spain, matter concerning which it centres on the thickness of his work. His architecture is impregnated with ecology, natural sciences and experimental engineering. His leitmotiv has been "not to leave brands that determine the future and far liberate for the change". This idea has demonstrated in all his projects, as the 'Instant City', an instantaneous city as response to the tourist boom.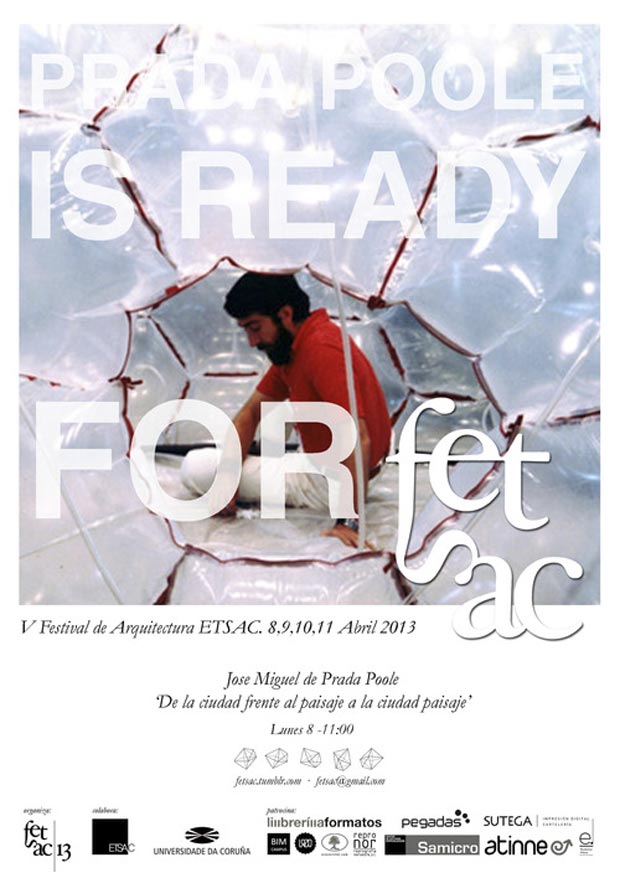 "Of the city Opposite to The Landscape to the City Landscape"
Of the investigation more proyectual dedicated when general models look on the organization and location of the future cities of down, or almost void, for environmental impact.
V Festival de Arquitectura ETSAC
on monday 8, april – 11:00 h.
Salón de Actos ETSAC.
Búsqueda para satisfacer el conocimiento de la actividad arquitectónica y tangentes que se generan. La idea es crear un espacio para divulgar los diversos proyectos en busca de nueva inspiración y de intercambio.