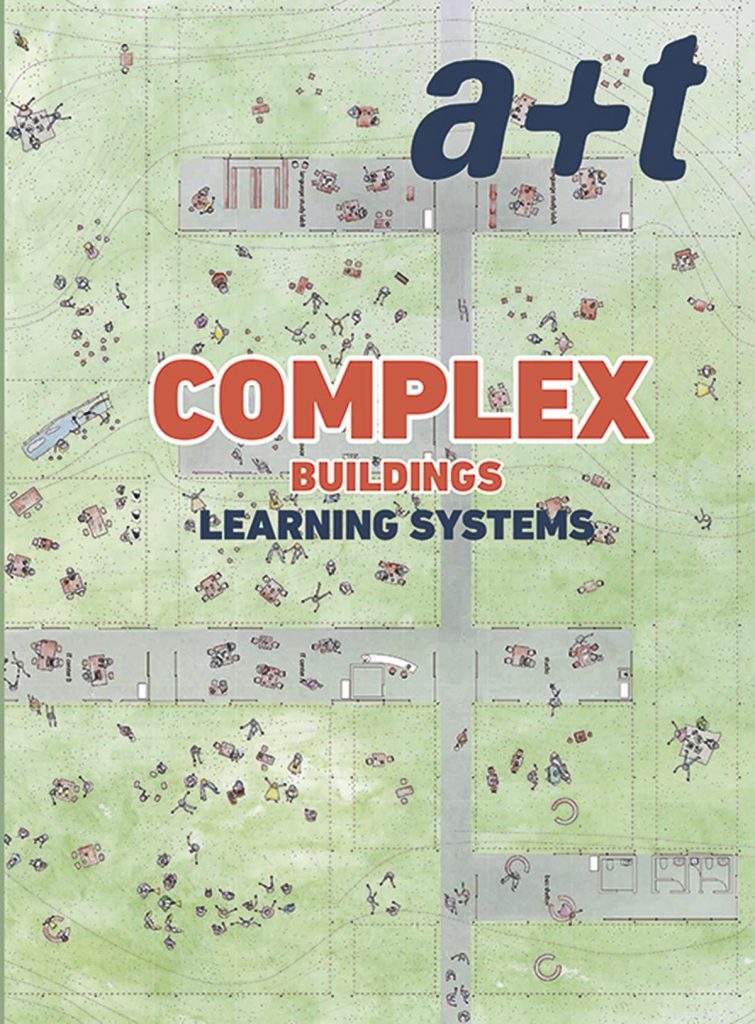 School buildings house complex systems. From kindergarten to the university faculty, the journey through learning levels consists of an accumulation of vital experiences arising from the interaction between these systems.
The educational function, so called by Functionalism, now builds its environments with new paradigms that reflect and respond to an increasingly diverse and complex social agenda.
a+t 50 Learning Systems is the third volume of the COMPLEX BUILDINGS series.
CONTENTS 
Function is not Complex. We are. Aurora Fernández Per
The Complexity of Learning. Texts and drawings by Javier  Mozas
PRIMARY EDUCATION SYSTEMS
The Playhouse. COBE. Frederiksvej Kindergarten. Copenhagen (Denmark)
Passive Building/Active Space. NL Architects. Scholencampus De Vonk / De Pluim. Knokke-Heist (Belgium)
SECONDARY EDUCATION SYSTEMS
A Sustainable Agenda. C.F. Møller Architects. Copenhagen International School. Nordhavn, Copenhagen, (Denmark)
Learning Spaces beyond School. Rosenbaum + Aleph Zero. Children's Village Fundação Bradesco Canuanã School. Formoso do Araguaia Tocantins (Brazil)
HIGHER EDUCATION SYSTEMS.
Three Universes within One City. Gigon / Guyer. Francis Bouygues Building CentraleSupélec. Plateau de Saclay. Gif-sur-Yvette (France)
The Open Urban School. OMA. LabCity CentraleSupélec. Plateau de Saclay. Gif-sur-Yvette (France)
Low Density Architecture. Studio Velocity. Aichi Sangyo University Educational Center Language and IT. Okazaki-city, Aichi (Japan)