We you bring over the program of the announced Architecture Bioclimática Cycle that begins next Wednesday, the 10th of April. This cycle consists of cuatros with the following structure: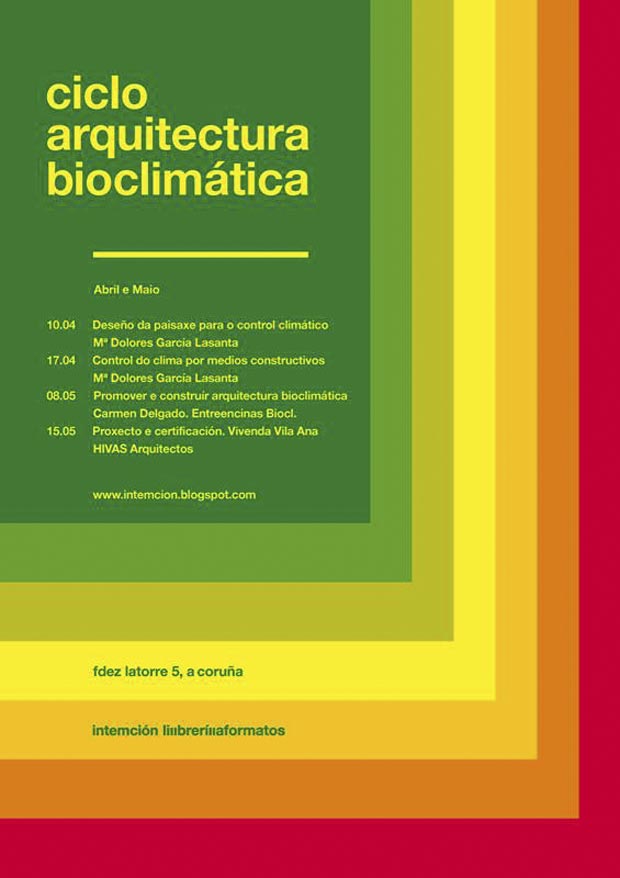 Wednesday On April 10 and 17
The teacher M ª Dolores García Lasanta will introduce us in the key concepts of the architecture bioclimática, in the design of the landscape for the climatic control and the control of the climate for constructive means.
Wednesday On May 8
The promoter and Vice-president of the Spanish Platform of Passivhaus, Carmen Delgado, us will bring his experience over in the complete process of management, promotion, construction and energetic certification of projects bioclimáticos, and to contribute his valuation brings over of two questions of current importance, can it be the efficient architecture a new professional way? And how and porqué to promote a more efficient architecture? Specially across the example constructed of the housing Entreencinas, the first housing with Official Certification Passivhaus of Asturias.(Casa Entreencinas)
Wednesday On May 15
The architect's office HIVAS, they us will present the project of the housing Villa Ana (Santiago de Compostela), a housing that from the project integrates in all the processes of work, the vocation of obtaining the energetic certifications PASSIVHAUS and BREEAM ES. ( See news )
This cycle forms a part of the activities of the Cultural Program intemción 2013. A program promoted from 2008 by the  Formatos Bookshop and organized by the Trespes Arquitectos study, and that Fernández Latorre Street, nº5 de A Coruña. (see bookshop room)
Búsqueda para satisfacer el conocimiento de la actividad arquitectónica y tangentes que se generan. La idea es crear un espacio para divulgar los diversos proyectos en busca de nueva inspiración y de intercambio.