The place
The project of Riveira's Community center, it is born as response to an initial offer of a building of two plants on a plot in Riveira's town hall forming a part of Oleiros's rural core. A place marked by the rural character of the buildings that surround it inside a landscape characterized by the omnipresence of the granite and constructed for centuries for to be able to play the role of many generations who found in the territory his way of subsistence and who understood the landscape as his first identity.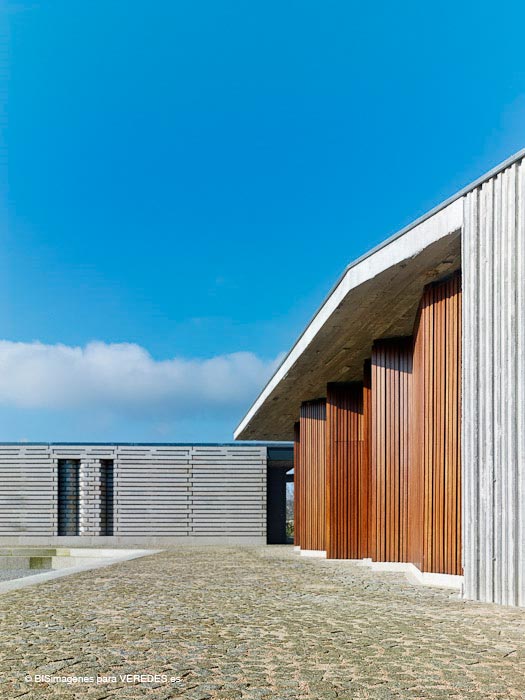 The public thing
The definition of the public space is a fundamental element of the project. The exterior space that the building embraces reaches the same relevancy that the building in yes same and the offer emphasizes in trying to achieve something more than another object constructed in a rural core and to worry first of all for generating by means of the joint of his volumes a public space that serves to receive different type of social functions, specially importantly in a rural environment where the public space limits itself to the area of the ways and his intersections.
In altars of this strategy the project fragments the program in two differentiated volumes that complement each other, for between them to achieve a space of relation in a rural environment.
The versatile thing
The community center tries to achieve simultaneously a building that could receive different uses and besides the fact that they could be bankers during the time. The longitudinal volume specializes itself in an office space for different associations, whereas the most short volume placed on the north edge solves as a space multiuses divisible by means of sliding panels that manage to annotate it in minor spaces that could work as classrooms of different size according to the different activities.
Inside an understanding like a building of variable function during the time, the whole furniture has been designed so that it was apilable and easily storablly to be able to be adapted to the different uses of the social volume – conferences, classrooms, workshops, exhibitions – without for it to have to modify his basic structure.
The material thing
As for his materialization a great effort has been realized not to have to use skins, elements of copulation, or false coatings. Constructivly the building is solved by noble materials by a vocation of genuineness, eliminating any track of ended, of superposed element. The material appears as is it is hoping that it ages in a natural and like that way to join better his more immediate environment.
Definitively one has tried to achieve a versatile building concerning a public space in a place where the public thing is a strange element and the scanty spaces of relation.
Work: Community center in Ribeira
Location: Lugar de Oleiros, Ribeira, A Coruña, Galicia, España
Author: Carlos Seoane
Architects collaborators: Óscar Fuertes, Eduardo Castrillón, Soledad Bugallo
Engineer of Ways: Marcial de la Fuente
Rigger: Jesús Garcia, Luis Romero
Promoter: town hall Ribeira
Year: 2014
Construction: Augasmestas
Stone: Sograni
Metal: Inalpa, Pablo Martínez
Carpentry: Corral and Couto
Fotógrafos: Juan Rodríguez – Héctor Santos-Díez | BISimages
+ cseoane.com
Awards
1er prize COAG public equipment 2014-15
Selected prizes FAD 2015
Búsqueda para satisfacer el conocimiento de la actividad arquitectónica y tangentes que se generan. La idea es crear un espacio para divulgar los diversos proyectos en busca de nueva inspiración y de intercambio.