The intervention in this building of the 70s destined to give training courses to unemployed that has workshops of weld, calderería, electronics, etc.
It claims: to rehabilitate the general deficiencies and to improve the isolation of all the stays adapting them to the requirements of the current regulation besides the extension of classrooms in the only free zone of the enclosure.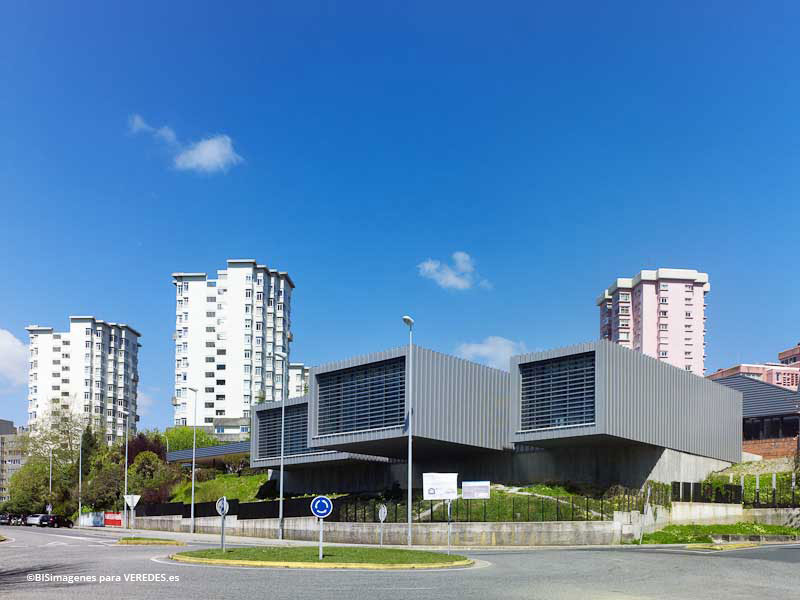 This extension, which faces Ferrol's shipyards another side of her laughs, it conforms by means of three big parallelepipedic volumes of metallic skin that servants shelter the new classrooms workshop and the spaces and of connection with the former center.
Due to the geological characteristics of the plot and in relation with the shipyards these three big volumes are placed on the natural bank towards the street in flight and on a socle of concrete.
Work: Occupational Center in Ferro
Authors: Hermo Iglesias Veiga Arquitectos | Víctor Hermo Sánchez, Juan Iglesias Veiga, Iván López Veiga
Collaborators: Mª Carmen Carballeira Rodríguez, Anabel Ortiz Conlledo, Eva Mª Flores Vergara
Year: 2008-2012
Location: Avda. del Mar, Caranza, Ferrol, Galicia, Spain
Promoter: Consellería de Traballo e Benestar
Construction: UTE Elecnor – Gomez Crespo S.L.
Structure: Francisco Carballo _Carolo Losado
Facilities: Indugal
Photography: Héctor Santos-Díez | BISimages | Iglesias Veiga arquitectos
Búsqueda para satisfacer el conocimiento de la actividad arquitectónica y tangentes que se generan. La idea es crear un espacio para divulgar los diversos proyectos en busca de nueva inspiración y de intercambio.