The architects we are of celebration. The centenary (1913-2013) of three big architects; Coderch, Of the Jack and Fisac, deserves that we dedicate part of our time and enthusiasm. The days and the exhibition take as a monographic content concrete aspects of the works of these three big architects and the importance of his architectural legacy.
The commemorative acts of the centenary of these teachers include, close to diverse exhibitions of his more significant works and educational activities, a cycle of conferences on the work of the same ones. These activities and conferences will have a duration of one week from 23 until September 27.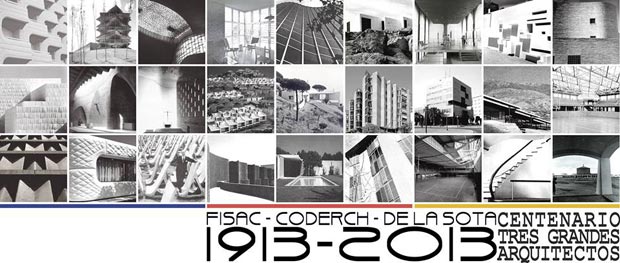 Inside the programmed exhibitions, one will present in the Library of the School of Architecture, master copies of the project of the Hotel Three Islands (1972) and I project of residential blocks, Fisac's works realized in Canaries (Fuerteventura) and bibliographical sample of Fisac, Coderch and Of the Jack. This exhibition will remain opened until October 4.
We will finish the week with the celebration of diverse presentations on the 26th and 27th of September. For it, one relies on three teachers of the School of Architecture, connoisseurs and experts of the works of these architects and of two experts in Fisac's work, that they will contribute to the assistants to these days a critical and analytical look.
The conferences of the first day will begin with an academic act; a magisterial class given by two teachers of the school:
· Hugo Ventura Rodríguez
· Juan Rafael Pérez Cabrera.
Later we will continue with presentations on relevant aspects of the work of Coderch, Of the Jack and Fisac that will be given by three teachers of the School of Architecture:
· José Sosa Díaz Saavedra
· José Luis Gago Vaquero
· Hugo Ventura Rodríguez.
The second day of the presentations will devote itself to Michael Fisac's work, to his patents, to his "bones", and to the relation with the work executed by someone of the referees. This day, we will take two external architects as guests:
· Fermín González Blanco
· Bruce Fairbanks
Finally, they will finish the days with a debate between all the interveners.
COMMISSIONERS:
Dolores Cabrera López
Ovidio Macho Mishal
Búsqueda para satisfacer el conocimiento de la actividad arquitectónica y tangentes que se generan. La idea es crear un espacio para divulgar los diversos proyectos en busca de nueva inspiración y de intercambio.