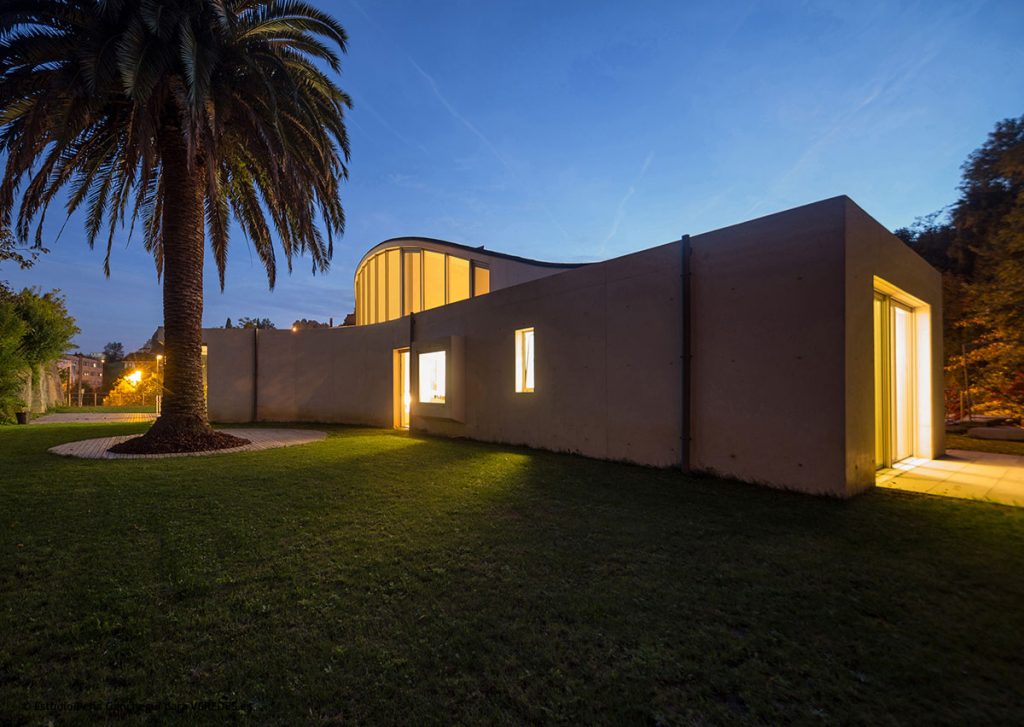 The particular attributes offered by the plot shape the house: Its level 3 meters above the street, the astonishing layered rock wall at the bottom of the plot, the beautiful existing palm, and the presence of two car-parks located South and West of the plot. All of them have been, along with the orientation (N-S, following the elongated form of the plot) and the program of needs (a house for a two-children family), determining factors in the Roteta House formalization.
Taking distance from the West limit, which is excavated at street level to organize the entrance, the building is developed in a linear way. The sequence starts from North with the children's rooms, continues with the toilet rooms and the parents' room, and ends in the kitchen, from where the living-room grows, linked with the garden through a porch open to the South.
The white concrete wall that protects the house is replaced on the South side by a glazed closure, along the living-room wing. The external appearance of this space contrasts with the linear volume, whose curved geometry, coated with zinc, stands out from the previous one, seeking the Eastern light.
The house situation on the plot divides the exterior space into 4 different areas: the entrance courtyard already mentioned (which organizes both the road and the pedestrian access) on the West, a private garden linked to the secondary rooms (characterized by the presence of the quarry) on the North, another linked to the main one (around the palm tree) on the East, and the main garden linked to the living room, on the South.
Work: Casa Roteta House
Location: Donostia (Spain)
Authors: Rocío Peña, Mario Sangalli (Estudio Peña Ganchegui)
Collaborators: Jonathan Chanca, Josemari López, Edorta Subijana
Quantity Surveyor: Josemari Roteta
Structural engineering: Inak Ingeniaritza
Facilities engineering: GE & asociados
Photography: Edorta Subijana
Year: Project,2011, Competed, 2016
+ ganchegui.com
Búsqueda para satisfacer el conocimiento de la actividad arquitectónica y tangentes que se generan. La idea es crear un espacio para divulgar los diversos proyectos en busca de nueva inspiración y de intercambio.