"Casa Paz", is located in a housing development built in the 60's, approximately 70Km. outside of Madrid. The area is considered a conventional residential zone, of no specific architectural interest, built using heterogeneous topologies and materials. The housing development, called Rio Cofio, is located on the outskirts of the village Robledo de Chavela; there at the edge of a cliff, a 1,400 m2 steeply sloped lot overlooks a small river. The property is accessed by a road that runs right above it.
Directly in front, facing west over the valley, the mountain rises again, creating a natural park that is especially protected. When we first saw this lot, we felt it essential to be able to reach this area with the house; to be able to hang in the middle of the valley, suspended at the top of a tree, almost at the other side, listening to the murmur of the Cofio River directly below. From here, we had to resolve a technical, functional and, mainly, economical problem. The need to work practically without any resources led us to sharpen our wits and to administer the work ourselves, subcontracting all of the professionals one-by-one. None of them (all local trade professionals), nor any of us, had run into such a structural problem as this one when building a house before.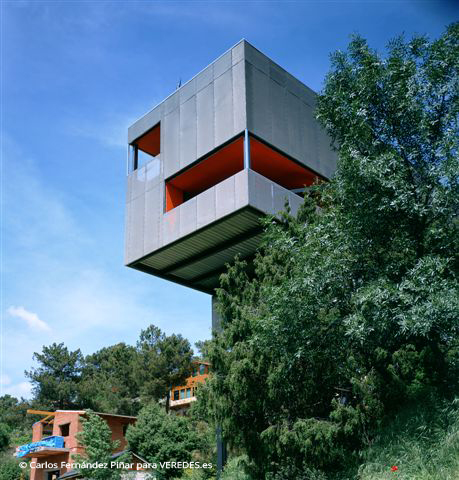 How could we build this there without financial backing and achieve a unique space for the two people that were to live there? We began to think: an iron structure like those of the visionary Russian Constructivists, a work by Tony Carr, a chair by Shapiro, a piece by Max Hill; something heavy and light at the same time; gravity, an issue; the scale, an instrument to work with; a large table or a small ship. In the end, we were searching for a linear house with a rise to it. The straight line and an interior staircase with 90 cm. deep steps as in a garden, reuniting all functions. Below it, a small therapeutic pool, 2 m. wide by 10 m. long.
The entire design is developed inside a metal, "cubic like" structure (parallelepiped)  clad with a skin stretched sheet metal (deployé), resting on a reinforced concrete base – the container for the pool water and for the gas, heater, water treatment tanks, etc. The guts of this iron artifact, where all the vital fluids are concentrated.  All of this, more than 15 meters above the river. Nine HEB 300 carry the load the ground.  These columns are the only contact the house has with the ground. To maintain structural equilibrium and a certain gravitational logic, the house is suspended 5.5 m. over the river without any support, and the same amount is projects towards the road, where there it ends up being only 40 cm. above ground at the entrance.  By doing this, a balance in weight is achieved; apart from placing the heavy elements over the cement frame, thus lowering the center of gravity.
The crane that was available only reached 18 m., that is only as far as the concrete box.  We were not going to be able to construct the cantilever that projected out towards the river.  The solution consisted in erecting the entire metal cage and then sliding it into position over rails using manual winches, as if it were a train.
In short, this house in which Paz and her husband Tomas presently live was an adventure and we are grateful to them for their trust and courage.  It is a home with which, according to them, they wholly identify.
Work: Casa Paz
Location: Urbanización Río Cofio. Robledo de Chavela, Madrid. Spain.
Año: 2006
Autor: Arturo Franco (architect) and Fabrice van Teslaar (architect)
Collaborator: Diego Castellanos (Architect of interiors and coordinator of the work )
Rigger: Salvador Baños
Promoter/Owner: Paz Fernandez/Tomas Rodríguez
Superficie: 363.0 m2
Total budget: Coste m2: 280.000 €. 771 euros/m2
Photography: Carlos Fernandez Piñar.
+ arturofranco.es
+ diegocastellanos.es
Recognitions:
– Selected prizes ENOR 2007
– Selected to take part in the itinerant exhibition JAE (young Spanish architects) promoted by the Department of Promotion for 2008
– Selected to take part in the program NEXT (very young Spanish architects) promoted by the Foundation Architects' Box for 2007
Búsqueda para satisfacer el conocimiento de la actividad arquitectónica y tangentes que se generan. La idea es crear un espacio para divulgar los diversos proyectos en busca de nueva inspiración y de intercambio.