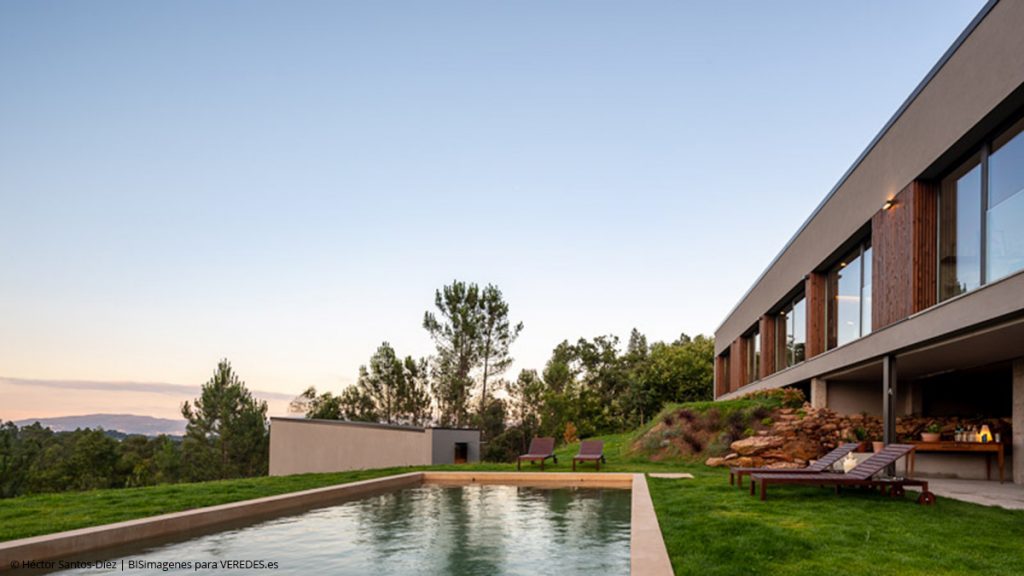 The position of the house is marked by the granite outbreak.
A large mass of stone was waiting for us below, which made us rethink the whole project to let us be guided by that new element that appeared on the scene.
Thus, the building sits lightly on that stone base, a compact housing by necessity that is only violated with the slit that the entrance produces to always take care of that arrival at home.
The subsoil has given us the indication of the level and it will be the stunning views towards the forests of Oia that tell us how to orient ourselves.
In such a way that we propose a deliberately opaque house on three facades, showing a certain degree of autism and absence from the neighbors.
A small entrance preamble, with a beautiful maple and surrounded by wood, welcomes us. Contrasting the hard image that the house can give in its distance to mold itself to the reception of the one who arrives.
The hall, after approaching a facade that has covered our views, returns all the roundness of them, now from inside we can enjoy the landscape from that elevated position that has commanded us to have the subsoil.
This cleft allows us to generate a space independent of the rest of the house that will be the main bedroom, a place that seeks to have that character of absence with respect to the rest of the house.
An open day area mixes its uses and, like the rest of the house, uses the bottom forests as a backdrop for those uses. Two more rooms complete the housing program. These rooms, which also have a direct entrance from the outside, take us to the facade the second condition on the neutral box.
The north facade changes and becomes the longitudinal window that the view seemed to require.
A small pool in earth-colored microcement seeks to move away the chlorinated image of blue pools and remind more of the almost greenish ponds that are generated on the ground.
Work: Casa Maceira
Authors: Castroferro Arquitectos [María González Ferro + Jordi Castro Andrade]
Collaborating Architects: Joana Covelo Alonso, Jacobo Pérez Castiñeiras, Alba Teiga Guzmán, Laura Vázquez Seoane
Photography: Héctor Santos-Díez
Year: May 2019
Location: Figueiró, Tomiño, Galicia, España
+ castroferro.com
Búsqueda para satisfacer el conocimiento de la actividad arquitectónica y tangentes que se generan. La idea es crear un espacio para divulgar los diversos proyectos en busca de nueva inspiración y de intercambio.