The area, with form of L, pronounced slope in diagonal and magnificent conference in the northern part and in the western part is the point of item of the project.
The housing consists of two volumes maclados that place in the vertex of the L, dividing of this form the area in a series of spaces well annotated with uses differentiated according to his height, topography, soleamiento and conference.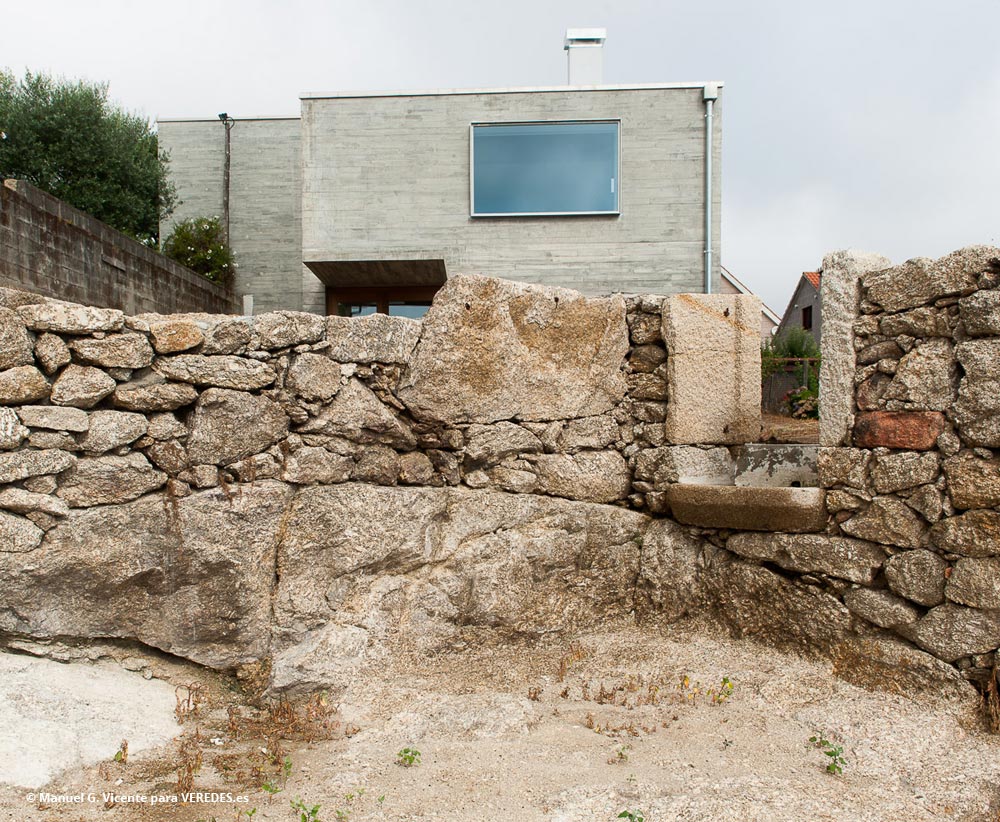 There are established two levels, one of entry to the low level, and a principal level contains the zones of being and the swimming pool.
The arrival to the house takes place across the remains of an existing building in the low level of the plot, the take-offs of his walls and a great rock they are in use as zone of parking.
Towards this zone, the house opens two hollows, the entry, which is protected by the projecting one of concrete, and a seat window that allows a panoramic sight on Bueu from the principal bedroom.
In the principal plant the volume is perforated in two of his foreheads, north and south, doing that the principal room is a zone of union between the sunny well zones and the sea, which of this form has a strong presence in all this level.
The geometry of the cover does that this space has a great height in his point of union with the volume that contains the stairs and the principal bedroom, balancing the north south direction with the orientation this one, which marks the access and the presence of the city.
A swimming pool of concrete in the south and a step in the north exit they will complete the intervention, giving way to the zones of being exterior.
Work: House in Bueu
Location: A Carrasqueira, Bueu, Galicia, Spain
Arquitectos: Villacé and Cominges (José Villacé and Martín de Cominges Carvallo)
Riggers: Jordán Romero Sobral, Sancho Páramo Cerqueira
Collaborators: María Pintos Pavón, Verónica Gallego Sotelo
Structure: Antonio Reboreda Martínez
Construction: Construcciones Antón
Promotors: Carolina Bernárdez Pena, Miguel Chapela González
Photography: Manuel G. Vicente
Búsqueda para satisfacer el conocimiento de la actividad arquitectónica y tangentes que se generan. La idea es crear un espacio para divulgar los diversos proyectos en busca de nueva inspiración y de intercambio.