Francisco Sitjá's house is a project of Jenaro of the Source and Domínguez fulfilled in 1886, although the application of license would not be requested until 29 of September 1889. The errand of this building is presided over by Pedro M. Sitjá in the name of its son Francisco Sitjá Coca, which resided in Barcelona. Precisely, the project of this takeover building such as a reference the sketch made by the famous Catalan architect José Domènech i Estapá. Thus, in the report of the project, Jenaro of the Source does to appear that the design of the building is carried out after adapting the sketch to demanded heights and flats by the owner.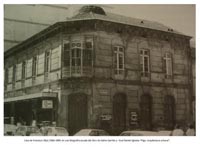 The building does show of the distinctive eclectic style of Jenaro of the Source. This is, a remarkable decoration in the façade with broad repertoire ornamental, the tendency to the flatness and the presence of a compact volume and an excellent job of cantería. Although in this building it is several elements that go out of its usual style such as an El Mirador of the chamfer, the broad kerb of the cornice or the cut dentado of the internal part and head office of the lintel, that subsequently will use in other works.
+ article is published in arquitecturavigo
Búsqueda para satisfacer el conocimiento de la actividad arquitectónica y tangentes que se generan. La idea es crear un espacio para divulgar los diversos proyectos en busca de nueva inspiración y de intercambio.