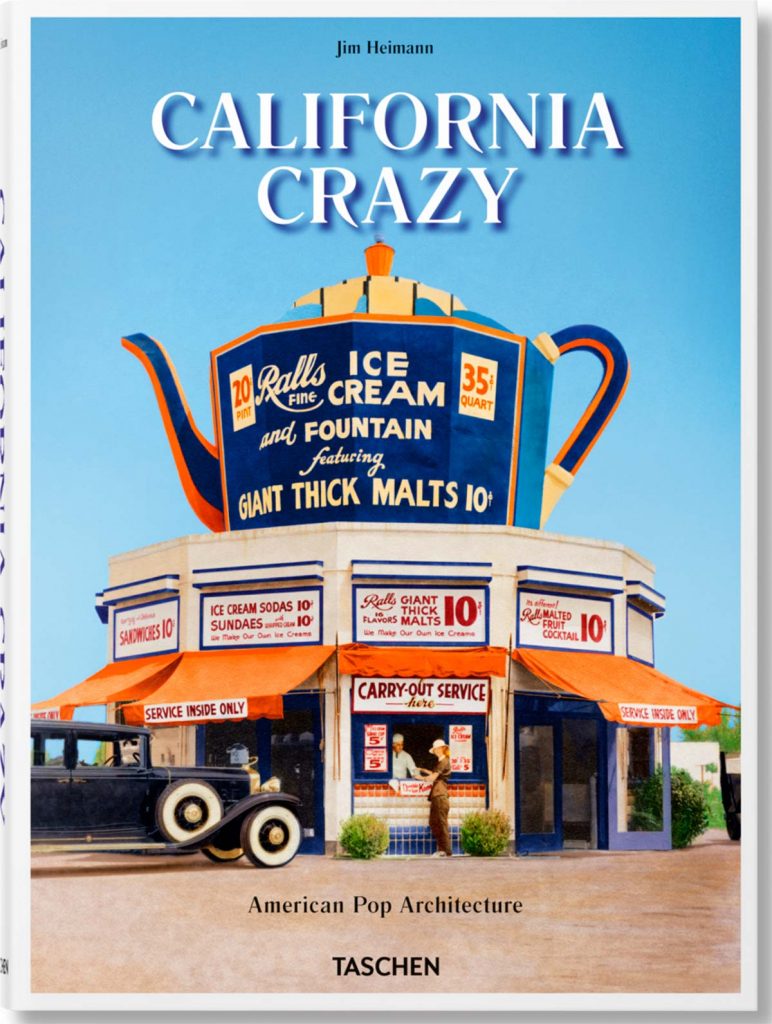 "Combine a free-thinking population with the desire to reinvent itself and you'll get the perfect breeding ground for the sweeping and the amazing to thrive".

Jim Heimann
At the dawn of the automobile era, the passion of Americans for travel gave rise to a new wave of imaginative entrepreneurs who catered to the needs of this new means of transport. Since the 1920s, striking buildings began to appear that attracted travelers with refreshments, provisions, souvenirs or a quick meal. The architectural conventions of the time made these road constructions qualify as "monstrosities".
However, they flourished, especially along the southern fringe of the country (known as the Sunbelt, the sun belt) and particularly in Southern California, where the owners gave free rein to their creative impulses in the form of giants and eccentric constructions: from owls, dolls, pigs and boats, to coffee makers and fruits. The symbolic charge was candid, however they were marginalized by history. But, in the last 40 years, the Californian architectural anomalies have recovered their integrity and are once again celebrated in this newly revised building compendium.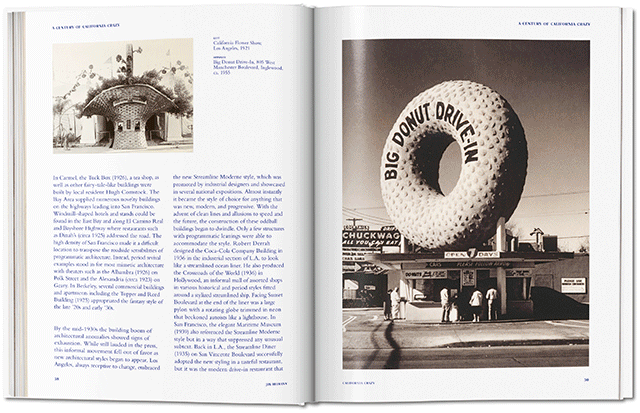 California Crazy is replete with the best examples of this architectural genre and includes essays that explore the precursor influences of that emerging architectural style. The unconventional landscapes and attitudes of the roads of Los Angeles and Hollywood that allowed the appearance of these buildings are also described.
In addition, it has the final essay by David Gebhard, who defined this vernacular movement almost 40 years ago. The California Crazy concept also encompasses domestic architecture, eccentric signage and the car as the original object.
About the editor.
Cultural anthropologist and graphic design historian Jim Heimann is executive editor of TASCHEN America and author of numerous books on architecture, popular culture and the history of the West Coast, Los Angeles and Hollywood. Its unique private collection has been exhibited in museums around the world and in dozens of books.
Búsqueda para satisfacer el conocimiento de la actividad arquitectónica y tangentes que se generan. La idea es crear un espacio para divulgar los diversos proyectos en busca de nueva inspiración y de intercambio.