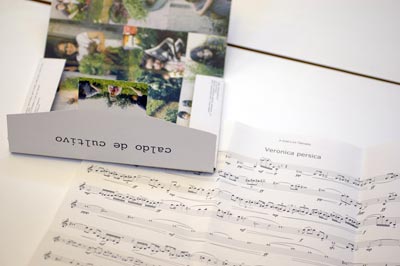 Caldo de Cultivo is a publication of Cultivos Culturáis, action of real work and multidisciplinary reflection surroundings to the development and care of the work with the hands in a huerta. In this project that coordinates and promotes initially the poet and oral narrator Celso Fdez Sanmartin have participated, musicians ( so many composers as you interpret, Benxamin Otero, José Luis Taboada), writers like James Sacré( France), Carlos Black, philosophers like Emilio Araúxo and from the architectural reflection and collaborating with the graphic section we, Cristina GNieto Peñamaría and Luis Gil Pita.
The TRUCK FARM AS ARCHITECTURE
Like architects, also Interests us the huerta from two very next perspectives to the architectural problem:
One in relation to the space:
Because the truck farm is the last prolongation of the house, of the domestic space. We think in the truck farm as place, like intimate space, although external and the discovered, tied to the uses and needs more direct of the lived in the interior. It is like this because the truck farm never is, and can not be, very move# away of the physical embryo of the house, as it needs care, cleaning, maintenance, like the own pieces of inside,the lar, the chambers, like the own spaces and inhabit of the interior.
Another in relation to the storm:
The truck farm, also interests us by his management, like metaphor of his space and temporary organisation. Productive space that precise of planeamento, management, forecast of the that it is necessary to promote and afterwards control. They are the times in which it can not  advance, accelerate, and exists the natural rhythm of the things and the imprevisión of the accident that  modela on the fly, without losing the perspective of the that procures  how predictable finally. Attention continued and the organisation of the tasks programmed, with the intensity and consciousness that it exists a time and there is not more than that. At all more and at all less. Truck farm, humble architecture of the very organised,in the space and in the time, with marked command and protected but without cover, absent of banalidad, like the good architecture,…..
Luis Gil Pita and Cristina Nieto Peñamaría. Architects
Santiago, february 2011
Arquitecto por la ETSA de A Coruña en 1997, desde ese año colabora en el estudio de Manuel Gallego Jorreto hasta 1999. Becado de investigación en Holanda en 2000-1, con un estudio sobre lo fronterizo y liminar en arquitectura, por la Diputación de A Coruña, fue posteriormente Profesor invitado en el área de proyectos de la Facultad de Arquitectura de Guimaráes, Universidade do Minho, del 2001 hasta el 2007. Desde el inicio de su carrera ha publicado asíduamente artículos y ha participado como editor en diferentes publicaciones alrededor de la arquitectura.