The Curbera Building (1939), in which the place is located, is a construction between dividing, of a height of 14 plants, destined to offices and housing. In the ground floor two business premises place located aside and to other one of the impressive portal of access to the building.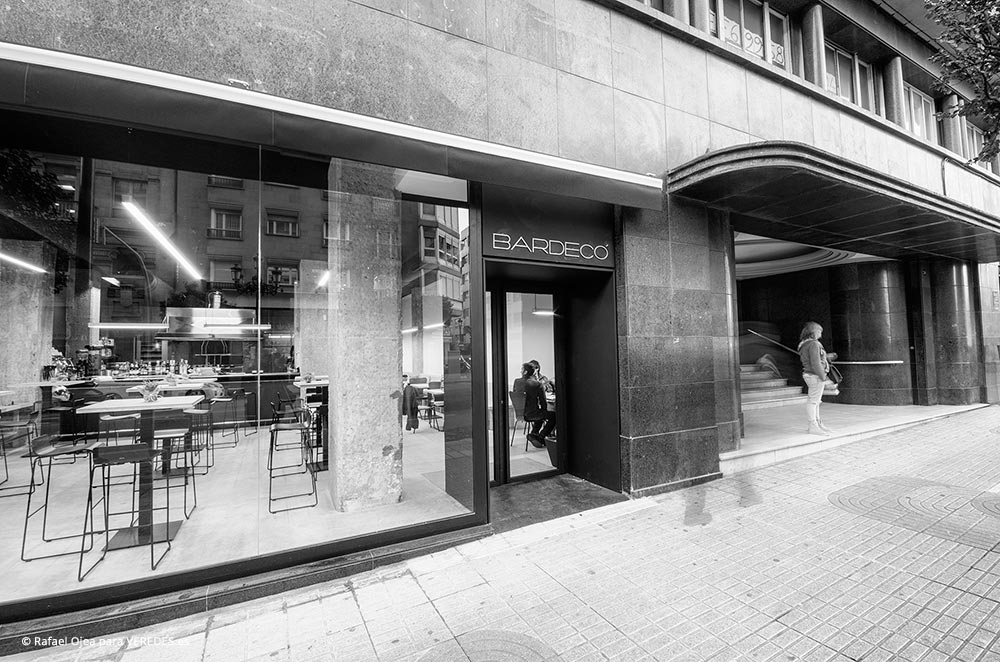 The main face of the building, of symmetrical composition, it answers to the formal criteria of the racionalist architecture and an influence is recognizable Art Deco. The use of the color in the exterior coating accentuates the character of the above mentioned composition, be used for the basement and central band the appeased one of stone of dark gray color whereas both lateral bodies of balconies re-dress in the appeased one of light gray color.
The place is located in the left wings of the portal, and spreads up to the back front. His previous organization in plant was distributing in a diaphanous room shared by the zone of bar and the zone of tables, and a back part, more compartimentada, with exit towards the later court, occupied by the humid quarters, kitchen and baths, on which a hillock was located for facilities. The place was not possessing any worthy element of mention for his decorative or singular value.
The offer departs from the idea of that the kitchen is the center of the place, joining her the space of bar and the rest of the room, except the zones that necessarily have to remain secret, wash and baths, which are solved in a closed box formalized with board of viroc, to that one accedes easily from the kitchen and the dining room.
The plant is solved in the shape of L, the long side coincides with the principal axis of access, from the entry to the later court, and the short one with opposite to the García Barbón street. In the long side the dining room places, with a calmer character and low tables, a new window being opened in the bottom to favor the entry of south, hotter light. In the short side, opposite to the great large window to the street, there are placed the high tables and the most informal zone. This double lighting, north – south, tints constant the interior of the place.
In the room the whole original height recovers, stopping to guess between the lights the installation of climate, painted black and joining with the acoustic top ceiling. The lights are unhooked to different heights, differentiating for the different intensity and distances the different environments that try to be obtained; more animated zone by calm dinner and zone of bar and bar … the game of light inside the place is constant, a day and night, provoking different experiences that follow the game of experimentation in the kitchen that characterizes Santi, maximum person in charge of the business.
Work: Bardecó Cafeteria
Location: García Barbón 30, Vigo, Pontevedra, Galicia, Spain
Architects: Villacé y Cominges (José Villacé y Martín de Cominges Carvallo)
Year: 2014
Fotografías: Rafael Ojea | Manuel G. Vicente
+ villace-cominges.com