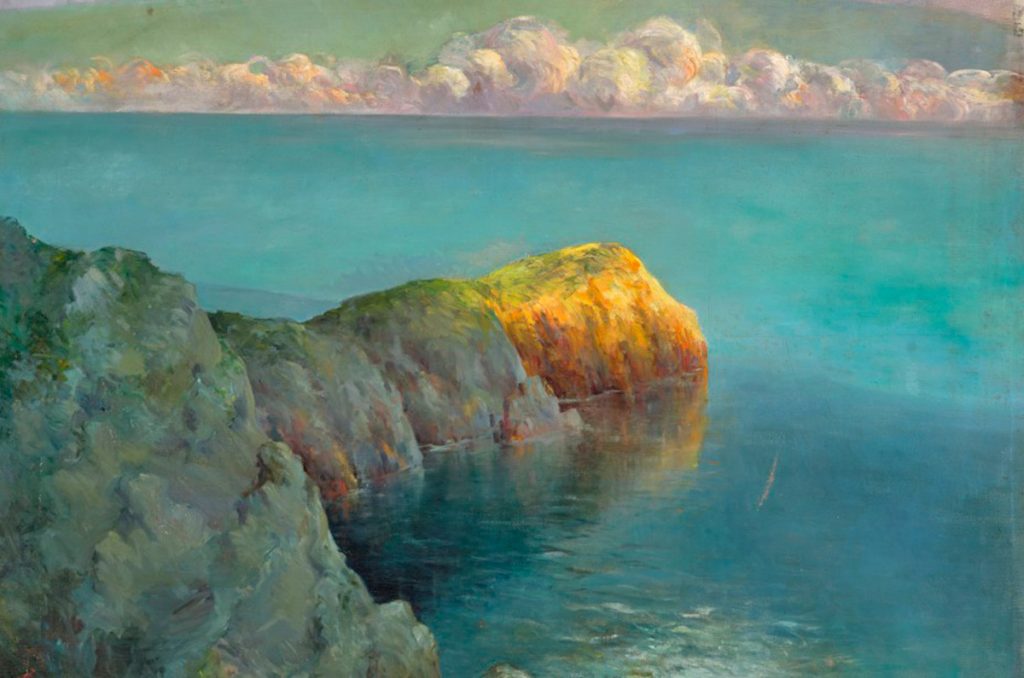 Recently, surfing the net, I found the picture Gulf of Capri, which Juan Manuel Botas Ghirlanda painted in the first decade of the last century and whose reproduction attached on this text. It is curious that the pictures and almost everything, is now seen more on the screens than in reality, although the impression is not the same. When I found it on the Internet, I remembered the last time I saw it, it was in an anthological exhibition of the painter, they had hung it only on a large wall at the bottom of the first room and although I had seen it many times in the Museo Municipal de Bellas Artes, I immediately associated it with a word: Malaparte.
That promontory on the island of Capri would not be the one chosen by the writer to build his house?
In 1905, Boots sold one of his greatest paintings to the City of Santa Cruz de Tenerife for a fortune, one thousand five hundred pesetas (approximately nine euros), Miguel Tarquis has written that at the same time the painter begins
«to do politics, buy with paintings or compliments the wills of the councilors »,
demonstrating that corruption is not only a contemporary phenomenon, and achieves the approval of the municipal plenary to grant him a scholarship of studies of three thousand pesetas per year, with this money, finally he could abandon his Lost island in the middle of Atlantic, moving to Rome, during his trip to Italy it is known that he was a season in Naples and surely from there crossed the Tyrrhenian to Capri.
Thirty years later, Malaparte acquired a steep terrain on the east coast of Capri called Punta del Massullo and commissioned Adalberto Libera for the project to build his house, much has already been written about this building and about El desprecio, some speaking only of Brigitte Bardot and others, more serious, extolling how Jean-Luc Godard uses that architectural space in a masterful way. It should be remembered that Liliana Cavani in La piel missed the possibilities that the building gave her and how they have taken advantage of some advertising directors.
It would be necessary to ask if today someone would be allowed to build that house in that place, on the waterfront, I do not know the Italian legislation, but I am sure that in Spain it would be practically impossible and that it is known that the legislation is not being criticized, because it is evident that destroying a landscape like the one that Boots painted is a savage one, but it is also evident that the Malaparte house is one of the most interesting buildings in the history of architecture.
Boots returned to his island but, according to Tarquis, he had "his mined chest. The models are so pretty! Rome and Paris are pernicious to any young man of an anarchic temperament like Boots. Madnesses of youth that cannot be repaired; pulmonary tuberculosis had become prey in his chest »- as can be seen Tarquis had very peculiar notions of medicine – a disease that was then inevitably fatal. The painter had just turned thirty-five when he died, and in those few years he had seen and lived much more than most of his island compatriots.
This could be a good end to this post, but the truth is that once the photographs of the house and the painting are compared, it does not seem that they are the same promontory, it is a pity, because finally the real thing loses the charm that it could have in Fiction.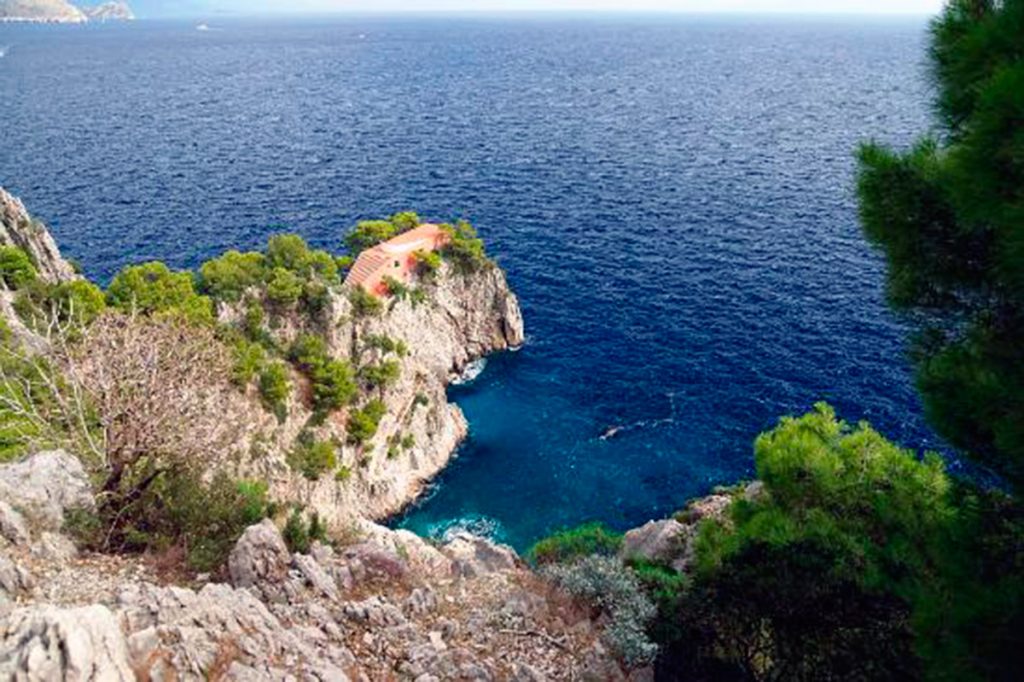 Jorge Gorostiza, PhD architect.
Santa Cruz de Tenerife, May  2019
Author of the blog Arquitectura+Cine+Ciudad
Doctor arquitecto, proyecta y construye edificios y desarrolla trabajos de urbanismo. Desde 1990, publica numerosos artículos sobre cine y arquitectura en medios de su localidad, revistas como Nosferatu, Nickleodeon, Academia, Lateral, Cahiers du Cinema… y en varios volúmenes colectivos. Entre el 2000 y el 2005 dirige la Filmoteca Canaria. Imparte conferencias sobre arquitectura y cine en instituciones como el CAAM en Gran Canaria, la UIMP, el CENDEAC en Murcia, INCUNA en Gijón, Fundación Telefónica, la ETS de Arquitectura y el CCCB de Barcelona, las ETS de Arquitectura de La Coruña, Sevilla, Valencia y SEU madrileña, La Ciudad de la Luz en Alicante, la UNED en Pamplona, en varios colegios de arquitectos, así como en las universidades del País Vasco, Gerona, Valladolid, Málaga, Granada, SEK en Segovia y CEES de Madrid. Jurado en varios festivales cinematográficos, como los de Alcalá de Henares (2001), San Sebastián (2002), Sitges (2003), Las Palmas (2005) y Documentamadrid (2005), y comisario de las exposiciones Constructores de quimeras. (Centro Conde Duque, Madrid, 1999) y La arquitectura de los sueños (Capilla del Oidor, Alcalá de Henares, 2001).
He publicado bastantes libros y muchos artículos, he impartido conferencias, he sido comisario de exposiciones y jurado en muchísmos festivales. Si quieren saber más no duden en consultar mi blog ARQUITECTURA + CINE + CIUDAD.