We understand that the building destined for Town hall of To Fonsagrada has to be a reflection of the own municipality, and this way to be an image identificativa and symbolic of his singular characteristics.
There appears a stony, rocky volume that is carved in 2 pieces inclined towards an interior porch.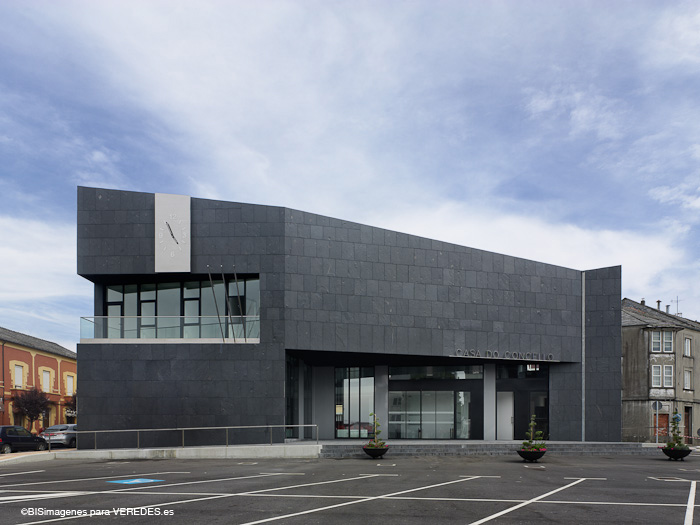 In search of the energy efficiency it proposes to create a volume compact but divided in two pieces that makes possible the double orientation N-S (adapted in this type of climate) with an interior axis as closed but drafty court that regulates the thermal needs.
The axes of the pieces of the building line up with the street and with the museum that forms the square presenting the visual principal ones towards the building and towards the avenue.
The hollows are opened perforating the building for the entry, the stop of the bus and the balcony towards the square.
The ground floor tries to be opened towards the square where there place the services of attention to the citizen and in addition to present the lounge of plenary sessions, as representative and glazed element generating the image of transparency that must offer the Town hall.
obra: A Fonsagrada Town hall
author: Hermo Iglesias Veiga Arquitectos (Víctor Hermo Sánchez, Juan Iglesias Babío,Iván López Veiga)
collaborators: Ana Mª Arbones Suances, Mª Carmen Carballeira Rodríguez, Anabel Ortiz Conlledo,José Ramón Noya
year: 2008-2012
location: c/ Rosalía de Castro, A Fonsagrada, Lugo, Galicia, Spain
promoter: Concello de A Fonsagrada
construction company: Asogal s.l.
structure: Francisco J. Carballo and Carolo Cosada
facilities: Eduardo Gómez and César Themudo Goday
photography: Héctor Santos-Díez | BISimages _Iglesias y Veiga Arquitectos
Búsqueda para satisfacer el conocimiento de la actividad arquitectónica y tangentes que se generan. La idea es crear un espacio para divulgar los diversos proyectos en busca de nueva inspiración y de intercambio.