After 1950,
"… If something characterized this moment, it is the extension of the fields you will discipline traditional, including that of the architecture. These fields became less definite and began to be interrelated. It is so sciences like the psychology, the sociology and the anthropology were mixed by the architecture, allowing to effect analysis of major complexity of the environment, of the habitat with which the architecture interacts. To understand this is necessary to define about what we speak when we speak about habitat. Imperial sand grouse and Gasset says in the matter: " Living is the form mas full of the being " y " living is to begin to be ", " without living the man does not manage to be, for this reason it strains in it and produces buildings, bridges and utensils " This new field is the whole human environment, a field abarcativo that includes the territory, the user, and his culture… "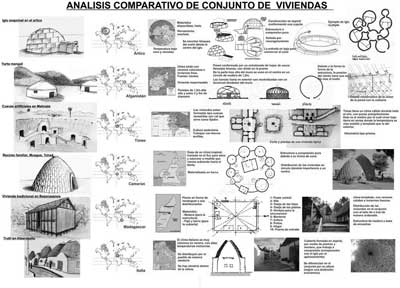 […]
Fragments selected of the text:
" The Vernacular Architecture like Introduction of the Current Education of the History of the Architecture", presented in the Meeting – workshop IV of Teachers and Investigators in History of the Design, Architecture and City.
Organized by the Institute of History of the Architecture and the Chair of History of the National Architecture of the Faculty of Architecture. University of the Republic. Uruguay, in November, 2010.
Authors: Arq. Alberto Alfaro, Arq. Rodrigo Bastardas, Arq. Juan Diego Martinez, Barbara Schünemann. All it departs from the educational equipment of our Chair Brandariz in the FADU-UBA
The images form a part of the work of the pupils in the workshop
+ article is published in arquitecturamashistoria.blogspot.com
Búsqueda para satisfacer el conocimiento de la actividad arquitectónica y tangentes que se generan. La idea es crear un espacio para divulgar los diversos proyectos en busca de nueva inspiración y de intercambio.