The perception of the rural territory of Galicia as a social, constructed space, becomes clear for anyone that has looked at it with something of attention at some time. This construction of the natural thing, which is done modélica in the materiality of the traditional architecture, in the unit between the house and the agricultural labors or in the conception of the spaces of community, the fields of holiday or the carballeiras, has not made but suffer an expansion so brutal as over-excited in the second half of the XXth century. This transformation of great part of the territory in a species of city garden disperses, continues and to great scale it runs parallel to the gradual abandon of the traditional logic marries – agro-aldea on that the form of life was constructed in the rural society.
To this new occupation of the territory, recognized so often in the so called "feismo", it answers the general planning with procedure that try to restrict it, often of form acrítica, with an excessive worry for the maintenance of the forms, appearances and materials badly so called traditional and with an insistent regulation of what (it is possible to do) that does not leave place to thinking about how (to do it).
To think about the globalidad of this social territory, and on partial aspects of the same one that with that the architecture has to deal as the scale, the activity, the planning, the landscape, the public space, the mobility, the energy, the house, etc. This meeting arises of "architecture and rural territory". It does it in addition from inside this territory, in Callobre's village, in To Highway, to conform as a place since to locate year a year, during the summer, in an idea also of holiday and community, to the reflection, to the interpretation of all this world, opened the one who has something that to say and whom it has time also to listen and to see what others, inside and out of Galicia, inside and out of the architecture, they could tell us.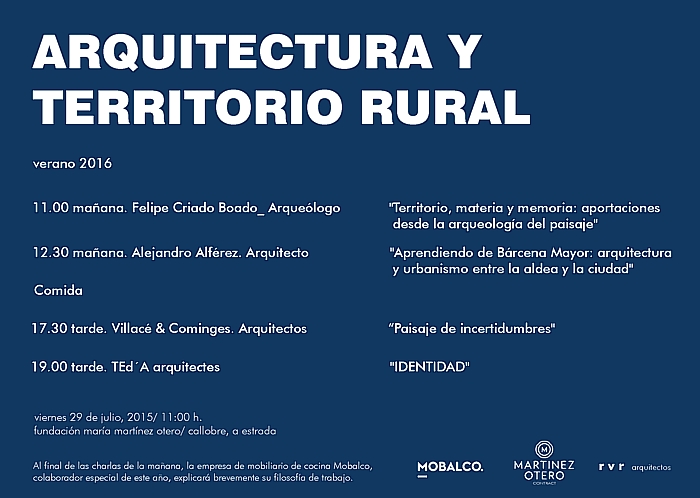 morning, 11.00 h
Felipe Criado Boado. Archeologist. Territory, matter and memory: contributions from the archaeology of the landscape.
Alejandro Alférez. Architect. Learning of Bárcena Mayor: architecture urbanism between the village and the city.
afternoon, 17.30 h.
Villacé & Cominges. Architects. Landscape of uncertainties.
TEd'A arquitectes. IDENTITY

Since always, we you request confirmation, since the appraisal is limited.
summer 2016 Architecture and rural territory
Fundación María Martínez Otero/ Callobre, A Estrada
Confirmation is requested:
phone 0034 630 070 874
e_mail josevalladares@rvr-arquitectos.es
Búsqueda para satisfacer el conocimiento de la actividad arquitectónica y tangentes que se generan. La idea es crear un espacio para divulgar los diversos proyectos en busca de nueva inspiración y de intercambio.