During the months of winter one of the activities that occupies of important way the leisure is the enjoy of the mountain. Equipments of different índole like shelters, hostels or stations of ski are surpassing little by little his simple condition of buildings of mountain to incorporate architectures that somehow improve the offer and the quality of the service offered.
To the equal that the tourist offer veraniega is incorporating to his offer the value added of the architecture superlativa of his hotels or services to be more competitive, using the architecture of avant-garde like element of catchword, the agents of the tourism of winter, the one who could designate tourism of mountain, also are demanding a new architecture for his buildings.
This situation in which the contemporary architecture  adentra in territories like the stations of ski, whose architectures traditionally have been of scarce quality and even played against of the landscape and the quality of the offer of services that these centres loaned, has seen  transformed by the need to compete between stations or different centres of mountain.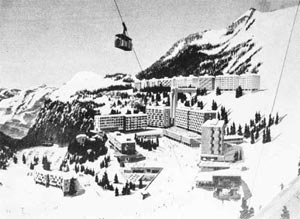 […]
VAUMM _ iñigo garcía odiaga _ publicado en MUGALARI 14.01.2011
+ article is published in vaumm.blogspot.com