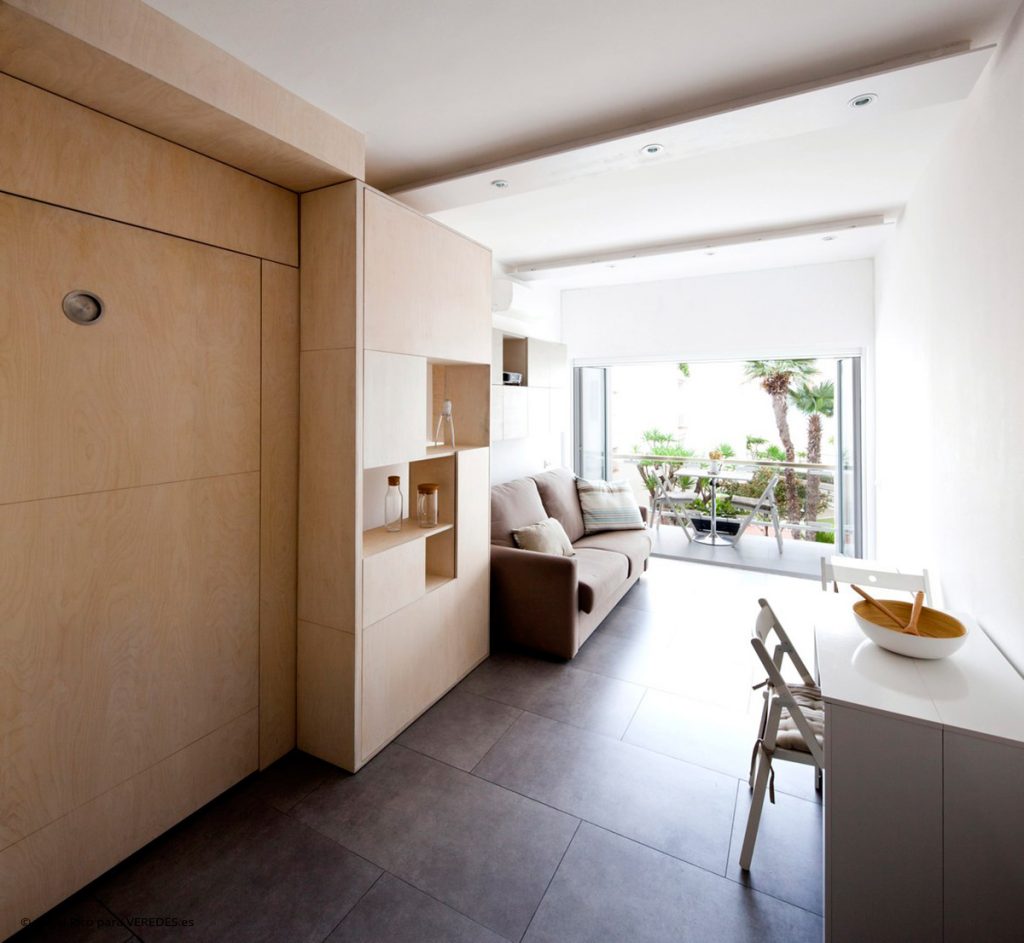 The apartment, close to Barcelona, is situated by the beach. Given: a single space of 20 m². In this space, the clients request the following program [722105]:
– A living-room to watch television with friends [7]
– A shower for two people [2]
– A terrace to have an aperitif at night with a kid [2+1=2]
– A dining-room for ten people [10]
– The possibility that five people can sleep in the apartment with some intimacy [5]
One furniture of variable geometry divided in three modules [kitchen, shelves and an individual bed] allows to adjust the space to the different uses. The shelves could be used, if necessary, as a folding screen. The door-wardrobe with access to the bathroom also opens the laundry area. The mezzanine over the bathroom can accommodate a bedroom for two people, which can be accessed through a ladder placed on the side wall. A folding table can be opened to have dinner. The storage space over the terrace keeps among other things, the ten chairs necessary for dining.
Work: MA Apartament. Internal renovation to an apartment on the mediterranean coast.
Author: Angel Rico Painceiras, Arq+
Location: Barcelona, Catalunya, Spain
Collaborators: Carolo Losada Soto (E³ Arquitectos_Design of structures)
Industrialists: New Joquesa S.L. (Contratista principal), Perez Mora S.L. (Carpintero madera)
Photography: Angel Rico
Video: 15-L. Films S.L
+ arqmais.net
Prizes and awards.
– Mention in X Bienal Alejandro de la Sota
– Selected in the Enor Prize 2017
Búsqueda para satisfacer el conocimiento de la actividad arquitectónica y tangentes que se generan. La idea es crear un espacio para divulgar los diversos proyectos en busca de nueva inspiración y de intercambio.