Reformulation of a public area: parking in the street Xuíz Falcone. Double street – double space.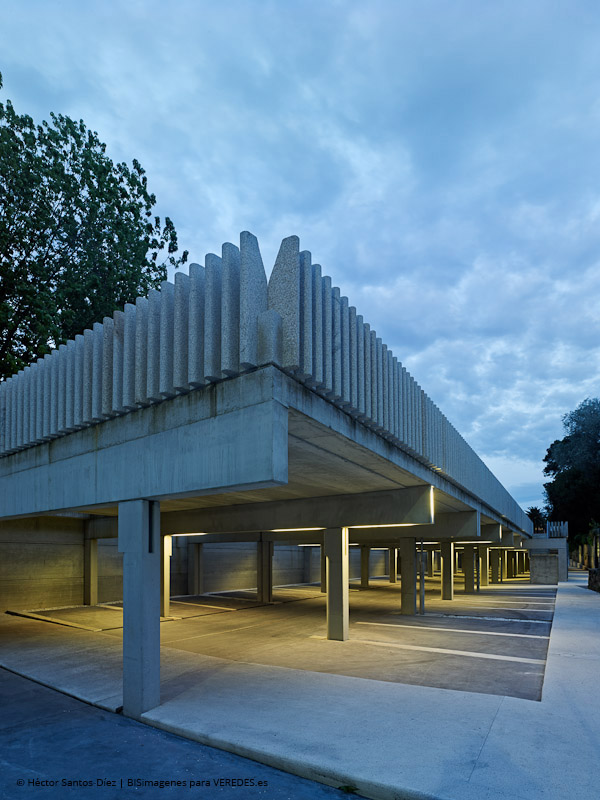 The project takes as an object the reformulation of the area of the street Xuíz Falcone.
In the origin of the project, and as element activator, there is the recovery of the original level of the street, disturbed by the aggressive landfill of the eighties. This propitiates a logical and natural transition with the Estate of the Marquess, and for extension, with her laugh and with the Atlantic Ocean.
The vertical displacement of the low one allows the disposition of two longitudinal superposed levels: it is to say, propitiates the disposition of two superposed streets, though opened the west one, as if about a building of two levels it was treating itself.
The double nature of the space demonstrates also in the uses. In the first sense, the most prosaic or functional, the double street behaves as a space of traffic and parking to two levels: this one will be his use, for this way saying it, "in the days of diary".
But in the second sense, the most poetical or festive, the transverse section transmutes into one "Double Space", and opens possibilities of alternative uses now only latent: from markets to cutlery or outdoors, of fairs of the book or gastronomic, of assemblies or meetings of the neighborhood, of debates, of games and of meetings. Definitively, of public and social events of varied condition and nature.
All these uses, properly of stay and of public dimension, can be now the punctual protagonists of the double street dedicated to the judge Falcone, in an optimistic mutation of the public space that opens latent possibilities today sleepy.
Work: Reformulation of a public area, parking in the Xuíz Falcone street. Double street – double space.
Authors: Salgado e Liñares arquitectos.
Architects: Alfonso Salgado Suárez e Francisco Liñares Túñez.
Engineer: Manuel Liñares Túñez.
Work equip: Carla Agra García, arquitecta, Michael Ángel Raposo Rodríguez, engeniero industrial technician, Sergio Sanchez Alcalde, draughtsman, Jaime Novoa Míguez, architect, Francisco Gonzalez la vare, rigger.
Start date: on January 15, 2015.
End date: on may 25, 2016.
Location: Rúa Xuíz Falcone, concello de Noia. Galicia. Spain
Budget of work: 693.161,16 EUROS
Promoter: Concello de Noia.
Construction: For administration.
Supply of stones: SOGRANI. Sonense de Granitos SL.
Photography: Héctor Santos-Díez | BISimages
+ salgadoeliñares.com
Búsqueda para satisfacer el conocimiento de la actividad arquitectónica y tangentes que se generan. La idea es crear un espacio para divulgar los diversos proyectos en busca de nueva inspiración y de intercambio.