On Tuesday, the 20th of January the exhibition is inaugurated in the room of exhibitions of the Delegation of the COAG in A Coruña, Andrés Fenández-Albalat Lois, Architect. The sample, opened until February 20, is the first exhibition of the architect native of Corunna and gathers material of his file, original planes, drawings, photographies and other documents of three of his works: Sargadelos's factory in Cervo, 50 housings subsidized in Fontán-Sada and San Fernando's parochial Core in Santiago de Compostela.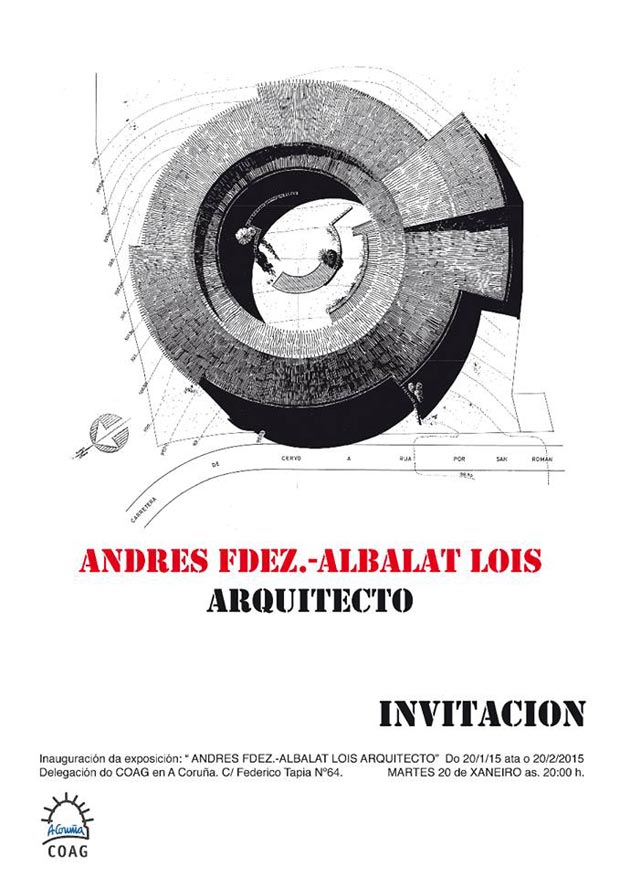 It is the third exhibition dedicated to the review of the original material proceeding from the file of different Galician architects that we realize and comisariamos inside the space of the COAG A CORUÑA. This series of exhibitions began with a recollection dedicated to Carlos Meijide re-visiting his projects of housings, principally of the building Clover, and it continued with the exhibition of the projects of the Market of Holy Shiny and of the Museum of Sacred Art, both in To Corunna, Manuel Gallego's work.
Andrés Fenández-Albalat Lois, Architect
20 de enero / 20 de febrero de 2015
Delegation of the COAG
c/ Federico Tapia, nº64, A Coruña, Galicia, Spain
Búsqueda para satisfacer el conocimiento de la actividad arquitectónica y tangentes que se generan. La idea es crear un espacio para divulgar los diversos proyectos en busca de nueva inspiración y de intercambio.