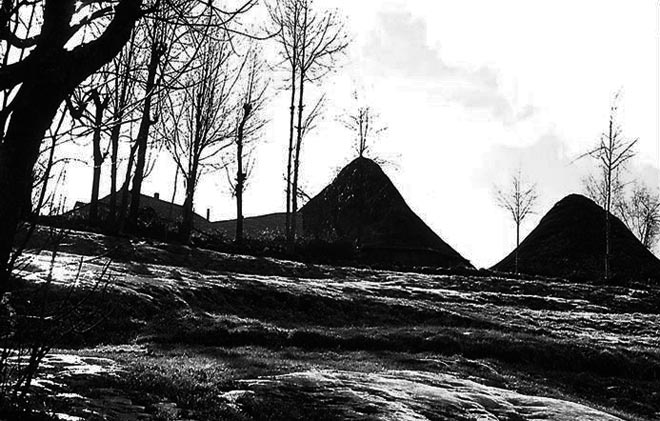 I have just returned from Piornedo, where we celebrate the days Memory and Matter Memory and Matter, organized by the Departamento de Composición of the Universidade it gives Corunna. Taking the traditional architecture as a topic and since I mark the landscape of the Ancares, have contributed my vision of «When the popular thing was modern», a tour for the relation between the second modernity and the vernacular heritage.
At the same time as he writes on the most modern architecture that is realized in Spain, Carlos Flores re-intensifies the interest for the «anonymous architecture», giving him the same importance that to the previous one, with articles like the published one in the Hogar y Arquitectura magazine exactly fifty years ago.
«We chase the return neither to a falsely traditional architecture nor the reappearance of floklorismos and regionalismos. It is a question of revealing how, in so many occasions, the architecture has come to convincing solutions sometimes without the intervention of the architect, in others I marry by means of the work of modest professionals that maybe for realizing his labor without stridencies not deifications have stayed in the anonymity, good that his work denotes, whom it it wants to see, his value and honesty».
Walking today on great part of our villages and peoples – since we could verify these days in the Ancares-, it seems that these words still have absolute force and that, of them, since of the vernacular architecture, it is possible – and necessarily – to continue learning:
«An architecture that has never been fashionable and that has born like resultant of a humble and conscious action, and that encloses a great lesson in these times in which good part of the architecture is prostituted by the levity and the snobismo».
Twenty years later that Flowers, Alejandro de la Sota wrote, pleading for a logical Architecture:
«The Architecture is intellectual or popular. The rest is a business».
Between companions of trade, we remember and share these lessons while it was falling down the long night on Piornedo.
antonio s. río vázquez . architect
a coruña. october 2012
Antonio S. Río Vázquez (A Coruña, 1981) es arquitecto por la E.T.S.A. de A Coruña, master en Urbanismo y doctor por la Universidade da Coruña. Especializado en teoría y diseño, su línea de trabajo se ha centrado en la investigación y divulgación del patrimonio arquitectónico moderno. Ha desarrollado proyectos de modo independiente y ha colaborado con varios estudios de arquitectura. Es socio fundador de Aroe Arquitectura. Es profesor en el Departamento de Proyectos Arquitectónicos, Urbanismo y Composición de la Universidade da Coruña, y ha sido profesor invitado en la Robert Gordon University de Aberdeen (Reino Unido), en la Universidade do Minho (Portugal) y en la Università degli Studi di Roma La Sapienza (Italia). Es miembro de la red UEDXX Urbanism of European Dictatorships during the XXth Century, del Grupo de Investigación en Historia de la Arquitectura IALA y del Grupo de Innovación Educativa en Historia de la Arquitectura. Ha formado parte del proyecto de investigación FAME Fotografía y Arquitectura Moderna en España, 1925-1965. Los resultados de sus investigaciones, tanto personales como conjuntas, han servido como aportación a eventos de debate y difusión científica y han sido publicados en libros y revistas.