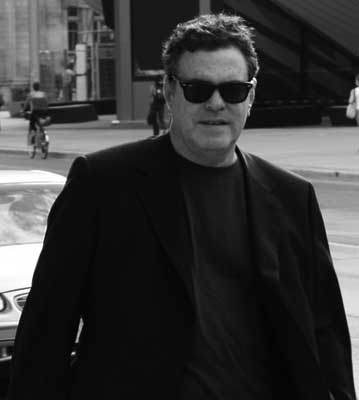 In two previous income I have published two texts, the first one of René Clair and second one Sigfried Giedion, on the relations between rolling a movie and constructing a building. Another day I found another text in the same sense, this time of the interesting israeli Amos Gitai (in the photography), certainly, son of the architect Munio Weinraub and student of architecture in Haifa and Berkeley.
Gitai was declaring:
«I believe that both processes have very much jointly, because in the architecture also you have a verbal text, a program of construction that he says to you: " Please, it realizes this type of program with these services ". Then you have to translate this verbal information into his form. As when you do a movie, you have a topic or a history, and have to create a form. Another thing that me pleases both means is that they are not intimate arts, because there is involved an industrial and social structure. Because of it, you happen for a long process to translate your idea across a great quantity of filters, until finally you obtain the result. The most important thing is if the structure works, the building gets up and does not fall, or the movie exists. There it is the backbone and the walls and the girders – to continue with this type of metaphor – and you can see them, but without they interfere with the interior spaces of the building or the movie. This way you have a structure that it allows you to read in the building or the movie, but without on interpreting the interior spaces, each one has a species of accumulative effect, as when you walk across a space and every corridor or room or the window that they give another vision of the same one, but it is known that it has a constant structure».
Jorge Gorostiza, architect. Author of the blog Arquitectura+Cine+Ciudad
Santa Cruz de Tenerife, may 2011
Doctor arquitecto, proyecta y construye edificios y desarrolla trabajos de urbanismo. Desde 1990, publica numerosos artículos sobre cine y arquitectura en medios de su localidad, revistas como Nosferatu, Nickleodeon, Academia, Lateral, Cahiers du Cinema… y en varios volúmenes colectivos. Entre el 2000 y el 2005 dirige la Filmoteca Canaria. Imparte conferencias sobre arquitectura y cine en instituciones como el CAAM en Gran Canaria, la UIMP, el CENDEAC en Murcia, INCUNA en Gijón, Fundación Telefónica, la ETS de Arquitectura y el CCCB de Barcelona, las ETS de Arquitectura de La Coruña, Sevilla, Valencia y SEU madrileña, La Ciudad de la Luz en Alicante, la UNED en Pamplona, en varios colegios de arquitectos, así como en las universidades del País Vasco, Gerona, Valladolid, Málaga, Granada, SEK en Segovia y CEES de Madrid. Jurado en varios festivales cinematográficos, como los de Alcalá de Henares (2001), San Sebastián (2002), Sitges (2003), Las Palmas (2005) y Documentamadrid (2005), y comisario de las exposiciones Constructores de quimeras. (Centro Conde Duque, Madrid, 1999) y La arquitectura de los sueños (Capilla del Oidor, Alcalá de Henares, 2001).
He publicado bastantes libros y muchos artículos, he impartido conferencias, he sido comisario de exposiciones y jurado en muchísmos festivales. Si quieren saber más no duden en consultar mi blog ARQUITECTURA + CINE + CIUDAD.