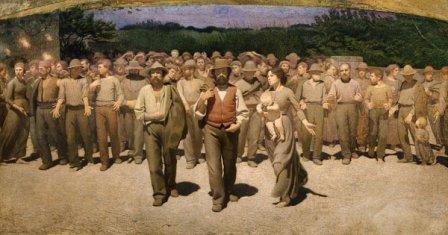 It is probable that many young persons do not know to what there refers the title of this entry of the blog, for others it will mean very much, so much of hope, since of lost illusions. Evidently it is the beginning of a strophe of a Spanish translation of La Internacional, the revolutionary excellent melody of last century. Though at this moment in Europe and, especially, in Spain it would be very nice that we were gathering in crowds to face to those who are massacring us, this post does not have revolutionary vanity.
Until a few years ago there were very few people studying the relations between Cinema, Architecture and City, and I must say that in Spain, after Juan Antonio Ramírez's fundamental book, us it was possible to possess the fingers of a hand and still they were exceeding fingers. Always there have been investigators who try to monopolize his speciality in order that always they entrust them the works, an attitude that does not make sense, because it is evident that all more people exists working on a topic, more it will be advanced in him, lucky every time there are more persons who are employed at these relations in that so much we are interested.
In the previous entry he was speaking about the extraordinary work of the Portuguese group Ruptura Silenciosa; also one has spoken in other occasions of Teatro Marittimo, the magazine that David Rivera directs, as well as of the classes that he and José Manuel García Roig give in the ETSA de la UPM; Luis Antonio Gutiérrez Cabrero goes many years investigating in this School and his pupils support the interest of these investigations; since also Javier Hernández Ruiz does it in the Escuela de Arquitectura of the UEM; architect Antonio Pizza is desarollando a máster in the máster of the ETSA de Barcelona with Celia Martín; Javier Rodríguez Barberán in the ETSA de Sevilla; Juan Calatrava in the ETSA de Granada; Maria Asunción Salgado has begun to write in the Huffinton Post about this topic and supports his blog Arquicine; out of Spain already one has spoken about the Festival de Cine y Arquitectura Santiago de Chile, by Andrés Daly in the same country, of Neumann, of Penz, of Pallasmaa; Richard Koeck is developing a great labor in the Universidad de Liverpool and with his company CineTecture…
Surely I forget many other investigators, but the message of this comment is that we should be able more of the work that we we all are doing, probably meet, or even, like in The International one, «to gather in crowds all».
Seguramente me olvido de muchos otros investigadores, pero el mensaje de este comentario es que deberíamos saber más del trabajo que estamos haciendo todos, quizás reunirnos, o incluso, como en La Internacional, «agruparnos todos».
Jorge Gorostiza, architect. Author of the blog Arquitectura+Cine+Ciudad
Santa Cruz de Tenerife, july 2012
Doctor arquitecto, proyecta y construye edificios y desarrolla trabajos de urbanismo. Desde 1990, publica numerosos artículos sobre cine y arquitectura en medios de su localidad, revistas como Nosferatu, Nickleodeon, Academia, Lateral, Cahiers du Cinema… y en varios volúmenes colectivos. Entre el 2000 y el 2005 dirige la Filmoteca Canaria. Imparte conferencias sobre arquitectura y cine en instituciones como el CAAM en Gran Canaria, la UIMP, el CENDEAC en Murcia, INCUNA en Gijón, Fundación Telefónica, la ETS de Arquitectura y el CCCB de Barcelona, las ETS de Arquitectura de La Coruña, Sevilla, Valencia y SEU madrileña, La Ciudad de la Luz en Alicante, la UNED en Pamplona, en varios colegios de arquitectos, así como en las universidades del País Vasco, Gerona, Valladolid, Málaga, Granada, SEK en Segovia y CEES de Madrid. Jurado en varios festivales cinematográficos, como los de Alcalá de Henares (2001), San Sebastián (2002), Sitges (2003), Las Palmas (2005) y Documentamadrid (2005), y comisario de las exposiciones Constructores de quimeras. (Centro Conde Duque, Madrid, 1999) y La arquitectura de los sueños (Capilla del Oidor, Alcalá de Henares, 2001).
He publicado bastantes libros y muchos artículos, he impartido conferencias, he sido comisario de exposiciones y jurado en muchísmos festivales. Si quieren saber más no duden en consultar mi blog ARQUITECTURA + CINE + CIUDAD.